Universums fem åldrar av Fred Adams & Greg Laughlin

Är det verkligen möjligt att redan nu skriva universums historia? Ja, faktiskt. Den moderna forskningen har klarlagt de viktigaste mekanismerna i världsalltets fysik så noga att man kan fastställa de fem åldrar som universum kommer att genomlöpa! Ursprungets tidsålder började med Stora smällen och såg materiens seger över antimaterien. Stjärnornas tidsålder är vår och domineras av stjärnornas livgivande lyskraft. Under Urartningens tidsålder kommer bruna dvärgar och mörk materia att härska och livet kommer att förgås. Så inträder De svarta hålens tidsålder, när den strålning som förutsagts av Stephen Hawking kommer att vara det enda ljus som alstras. Slutligen Mörkrets tidsålder, när fasövergångarna kanske ombildar universum. I denna fascinerande bok beskriver författarna de viktigaste egenskaperna hos universum under de fem mycket olika tidsåldrarna.
Symbolic Logic by David Agler

Brimming with visual examples of concepts, derivation rules, and proof strategies, this introductory text is ideal for students with no previous experience in logic. Symbolic Logic: Syntax, Semantics, and Proof introduces students to the fundamental concepts, techniques, and topics involved in deductive reasoning. Agler guides students through the basics of symbolic logic by explaining the essentials of two classical systems, propositional and predicate logic. Students will learn translation both from formal language into English and from English into formal language; how to use truth trees and truth tables to test propositions for logical properties; and how to construct and strategically use derivation rules in proofs. This text makes this often confounding topic much more accessible with step-by-step example proofs, chapter glossaries of key terms, hundreds of homework problems and solutions for practice, and suggested further readings.
Gula idéer sover lugnt

av Lars-Göran Alm


Gula idéer sover lugnt har uppdaterats och anpassats till ämnesplanen för filosofi 1 och 2. Det innebär bland annat att nutida riktningar, som postmodern och feministisk filosofi, tas upp och att moralfilosofin har fått större uttrymme. Precis som tidigare utgår Gula idéer sover lugnt från att filosofi är en intellektuell och social aktivitet. Genom att identifiera problem, ställa frågor och diskutera möjliga svar kan vi bättre lära känna och förstå vår värld. I den nya boken presenteras sex problemområden: moralfilosofi, samhällsfilosofi, språkfilosofi, kunskapsteori, vetenskapsteori och verklighetsteori. Tillsammans täcker de in frågor om allt från gott till ont till människans plats i tillvaron.



Skaparens lov av Tomas Anderman
Carl von Linné är en av Sveriges genom tiderna mest kända naturvetenskapsmän. Hela sitt vetenskapliga arbete såg han som ett led i Skaparens tjänst. "Han hade alltid vördnad och beundran för sin Skapare och sökte leda sin vetenskap till dess Auctor", skrev han. Genom naturvetenskapen lär vi känna Gud. Skaparens lov blir för Linné livets mening. Här beskrivs Linnés livsåskådning och berättas om bakgrunden till hans tankar i Bibelns vishetslitteratur och hos antika filosofer. Vi får följa hans brottning med frågan om vad som är sanning, när hans vetenskapliga rön inte stämde överens med Bibelns bokstav. Kunde "den gudsmannen Mose" ta fel om syndafloden? Kan nya arter utvecklas efter skapelsens ögonblick? Med exempel från Linnés resor i landet, hans dietföreläsningar och Nemesis divina ges en rad tidsbilder från livet på 1700-talet. I författarens egna reflektioner möter vi tanker om tron på Gud i vår egen tid, för oss som lever efter Darwin och med ett annat sätt att läsa Bibeln. Thomas Anderman är sedan 1978 kyrkoherde i Danmarks och Funbo församlingar utanför Uppsala. Hit hör Linnés Hammarby, Sävla, Lövsta och andra platser med anknytning till Linné. Bokens illustrationer är en serie bilder och texter över dessa och andra lokala linnéminnen.
Filosofisk tanke

av Jan S. Andersson


Filosofisk tanke är först och främst en lärobok för gymnasiet, men är användbar även i andra sammanhang som självstudier, studiecirklar och postgymnasiala studier. Filosofisk tanke täcker behovet av läromedel för såväl kursen filosofi A som kursen filosofi B.



Filosofen som inte ville tala

av Sten Andersson


"Filosofin börjar med mig", sade Ludwig Wittgenstein i sitt ungdomliga övermod och kröp ner i första världskrigets skyttegravar och skrev vår tids mest inflytelserika filosofiska verk: Tractatus. Tillsammans med namn som Einstein och Freud har hans tänkande förändrat hela vår moderna världsbild. Men han var så mycket mer än filosof. Han var en av Europas rikaste män som gav bort allt han ägde. Han gick omkring som en fattiglapp och prövade på alla tänkbara yrken. Han var folkskollärare, trädgårdsdräng, vaktmästare, ingenjör, uppfinnare, apoteksbiträde, drakflygare, arkitekt, musiker, fågelskådare och professor. Och han drömde om att bli läkare eller munk. Eller att ta livet av sig. Han hade allt det som vi förknippar med ett riktigt geni. Ett skarpt intellekt. Ett asketiskt och minst sagt udda liv. En karismatisk utstrålning i kombination med ett våldsamt humör som fick alla han mötte att darra av skräck. Och han levde på vansinnets gräns i en vansinnig tid. Han är den mest fascinerande och motsägelsefulla person man kan tänka sig. Det är svårt att inte bli berörd av hans sällsamma och tragiska historia. Filosofen som inte ville tala är den första riktigt omfattande biografin som skrivits på svenska om Ludwig Wittgensteins liv. Här får vi möta filosofen till vardags och i de mest absurda sammanhang. Den är oerhört välskriven och underhållande, av en författare som vet vad han talar om och kan förmedla det i ett slagfärdigt språk. Här finns allt från svart humor till svidande kritik av Wittgensteins inre krets. Boken kräver inga särskilda förkunskaper i filosofi. Det är människan Ludwig Wittgenstein som står i centrum. Varför han blev den han blev, och varför hans idéer ser ut som de gör. Och varför tigandets filosofi var så viktig för honom, vilket gett upphov till hans mest kända rad:"Wovon man nicht sprechen kann, darüber muss man schweigen." ("Om det man inte kan tala måste man tiga.")



Plato: A Very Short Introduction

by Julia Annas


This lively and accessible book focuses on the philosophy and argument of Plato's writings, drawing the reader into Plato's way of doing philosophy and the general themes of his thinking. It discusses Plato's style of writing: his use of the dialogue form, his use of what we today call fiction, and his philosophical transformation of myths. It also looks at his discussions of love and philosophy, his attitude towards women, and towards homosexual love. It explores Plato's claim that virtue is sufficient for happiness and touches on his arguments for the immortality of the soul and his ideas about the nature of the universe.
Skeptikerskolan av Andreas Anundi & C.J. Åkerberg
I dagens samhälle bombarderas du hela tiden med budskap. Försäljare, debattörer och reklambyråer försöker alla styra dina val. Det är lätt att bli lockad av enkla lösningar och fantastiska erbjudanden. Vad som behövs enligt Skeptikerskolan är en massiv dos av kritiskt sunt förnuft. Boken är ett verkningsfullt vapen mot bluffmakare, falska profeter och kvacksalvare. Men också en hisnande guide till den mänskliga fantasins mest vansinniga och uppseendeväckande teorier och idéer. Dina instruktörer är Andreas Anundi och C.J. Åkerberg, från den populära bloggen och hemsidan tankebrott.nu. De lär ut sina bästa knep för att genomskåda illasinnad propaganda och okunnig ryktesspridning.
Galileo's Finger by Peter Atkins
Why Galileo's Finger? Galileo, one of whose fingers is preserved in a vessel displayed in Florence, provides much of the impetus for modern science, pointing the way out of medieval ignorance. In this brilliant account of the central ideas of contemporary science, Peter Atkins celebrates the effectiveness of Galileo's symbolic finger for revealing the nature of our universe, our world and ourselves. Galileo's Finger takes the reader on an extraordinary journey that embraces the ten central ideas of current science. "By a great idea," writes Peter Atkins, "I mean a simple concept of great reach, an acorn of an idea that ramifies into a great oak tree of application, a spider of an idea that can spin a great web and draw in a feast of explanation and elucidation." With wit, charm, and patience, Atkins leads the reader to an understanding of the essence of the whole of science, from evolution and the emergence of complexity, to entropy, the spring of all change in the universe; from energy, the universalization of accountancy, to symmetry, the quantification of beauty; and from cosmology, the globalization of reality, to spacetime, the arena of all action. "My intention is for us to travel to the high ridges of science," Atkins tells us. "As the journey progresses and I lead you carefully to the summit of understanding, you will experience the deep joy of illumination that science alone provides." Galileo's Finger breaks new ground in communicating science to the general reader. Here are the essential ideas of today's science, explained in magical prose.
Darwin and Intelligent Design by Francisco J. Ayala
In this short but illuminating piece, world-renowned biologist Francisco Ayala addresses the notion of intelligent design – the notion that individual species are too complex to have developed through evolution and therefore must be the work of an intelligent designer, God. Ayala shows first just what the theory of evolution claims, and the range of questions it can answer. He then turns to the notion of intelligent design, as it is expounded today, and its weaknesses as a scientific or even a theological explanation of the complexity of the universe and all its creatures. Fully affirmative of religious conviction, Ayala's treatment is especially valuable for its clarity about the respective roles of science, faith, and theology and the questions they pose.
Atheism: A Very Short Introduction by Julian Baggini
Atheism is often considered to be a negative and rather dark belief, characterized by a rejection of values and purpose, as well as a fierce opposition to religion in all its forms. Julian Baggini sets out to dispel the myths that surround atheism and to show how a life without religious belief can be positive, meaningful, and moral. He also confronts the failure of officially atheist states in the twentieth century, such as the Soviet Union, and presents an intellectual case for atheism that rests as much on positive arguments for its truth as negative arguments against religion.
Aristotle: A Very Short Introduction by Jonathan Barnes

The influence of Aristotle, the prince of philosophers, on the intellectual history of the West is second to none. In this book, Jonathan Barnes examines Aristotle's scientific researches, his discoveries in logic and his metaphysical theories, his work in psychology and in ethics and politics, and his ideas about art and poetry, placing his teachings in their historical context.
The Artful Universe Expanded

by John D. Barrow

Our love of art, writes John D. Barrow, is the end product of millions of years of evolution. How we react to a beautiful painting or symphony draws upon instincts laid down long before humans existed. Now, in this enhanced edition of the highly popular The Artful Universe, Barrow further explores the close ties between our aesthetic appreciation and the basic nature of the Universe. Barrow argues that the laws of the Universe have imprinted themselves upon our thoughts and actions in subtle and unexpected ways. Why do we like certain types of art or music? What games and puzzles do we find challenging? Why do so many myths and legends have common elements? In this eclectic and entertaining survey, Barrow answers these questions and more as he explains how the landscape of the Universe has influenced the development of philosophy and mythology, and how millions of years of evolutionary history have fashioned our attraction to certain patterns of sound and color. This second edition features eight fascinating new sections covering such topics as the recent discoveries of extrasolar planets, the fashionable postmodernist rejection of science, and the discovery of the underlying mathematical structure of Jackson Pollock's work. Drawing on a wide variety of examples, from the theological questions raised by St. Augustine and C.S. Lewis to the relationship between the pure math of Pythagoras and the music of the Beatles, The Artful Universe Expanded covers new ground and enters a wide-ranging debate about the meaning and significance of the links between art and science.



The Book of Nothing by John D. Barrow
What conceptual blind spot kept the ancient Greeks (unlike the Indians and Maya) from developing a concept of zero? Why did St. Augustine equate nothingness with the Devil? What tortuous means did 17th century scientists employ in their attempts to create a vacuum? And why do contemporary quantum physicists believe that the void is actually seething with subatomic activity? You'll find the answers in this dizzyingly erudite and elegantly explained book by the English cosmologist John D. Barrow. Ranging through mathematics, theology, philosophy, literature, particle physics, and cosmology, The Book of Nothing explores the enduring hold that vacuity has exercised on the human imagination. Combining high-wire speculation with a wealth of reference that takes in Freddy Mercury and Shakespeare alongside Isaac Newton, Albert Einstein, and Stephen Hawking, the result is a fascinating excursion to the vanishing point of our knowledge.
The Constants of Nature

by John D. Barrow

Reality as we know it is bound by a set of constants – numbers and values that dictate the strengths of forces like gravity, the speed of light, and the masses of elementary particles. In The Constants of Nature, Cambridge Professor and bestselling author John D. Barrow takes us on an exploration of these governing principles. Drawing on physicists such as Einstein and Planck, Barrow illustrates with stunning clarity our dependence on the steadfastness of these principles. But he also suggests that the basic forces may have been radically different during the universe's infancy, and suggests that they may continue a deeply hidden evolution. Perhaps most tantalizingly, Barrow theorizes about the realities that might one day be found in a universe with different parameters than our own.



Impossibility by John D. Barrow
In Impossibility, John D. Barrow – one of our most elegant and accomplished science writers – argues convincingly that there are limits to human discovery, that there are things that are ultimately unknowable, undoable, or unreachable. Barrow first examines the limits of the human mind: our brain evolved to meet the demands of our immediate environment, and much that lies outside this small circle may also lie outside of our understanding. He investigates practical impossibilities, such as those imposed by complexity, uncomputability, or the finiteness of time, space, and resources. Is the universe finite or infinite? Can information be transmitted faster than the speed of light? The book also examines deeper theoretical restrictions on our ability to know, including Gödel's theorem, which proved that there were things that could not be proved. Finally, having explored the limits imposed on us from without, Barrow considers whether there are limits we should impose upon ourselves. Weaving together this intriguing tapestry, Barrow illuminates some of the most profound questions of science, from the possibility of time travel to the very structure of the universe.
The Infinite Book by John D. Barrow
For a thousand years, infinity has proven to be a difficult and illuminating challenge for mathematicians and theologians. It certainly is the strangest idea that humans have ever thought. Where did it come from and what is it telling us about our Universe? Can there actually be infinities? Is matter infinitely divisible into ever smaller pieces? But infinity is also the place where things happen that don't. All manner of strange paradoxes and fantasies characterize an infinite universe. If our Universe is infinite then an infinite number of exact copies of you are, at this very moment, reading an identical sentence on an identical planet somewhere else in the Universe. Now infinity is the darling of cutting edge research, the measuring stick used by physicists, cosmologists, and mathematicians to determine the accuracy of their theories. From the paradox of Zeno's arrow to string theory, Cambridge professor John D. Barrow takes us on a grand tour of this most elusive of ideas and describes with clarifying subtlety how this subject has shaped, and continues to shape, our very sense of the world in which we live. The Infinite Book is a thoroughly entertaining and completely accessible account of the biggest subject of them all – infinity.
New Theories of Everything by John D. Barrow
Will we ever discover a single scientific theory that tells us everything that has happened, and everything that will happen, on every level in the Universe? The quest for the theory of everything – a single key that unlocks all the secrets of the Universe – is no longer a pipe-dream, but the focus of some of our most exciting research about the structure of the cosmos. But what might such a theory look like? What would it mean? And how close are we to getting there? In New Theories of Everything, John D. Barrow describes the ideas and controversies surrounding the ultimate explanation. Updating his earlier work Theories of Everything with the very latest theories and predictions, he tells of the M-theory of superstrings and multiverses, of speculations about the world as a computer program, and of new ideas of computation and complexity. But this is not solely a book about modern ideas in physics – Barrow also considers and reflects on the philosophical and cultural consequences of those ideas, and their implications for our own existence in the world. Far from there being a single theory uniquely specifying the constants and forces of nature, the picture today is of a vast landscape of different logically possible laws and constants in many dimensions, of which our own world is but a shadow: a tiny facet of a higher dimensional reality. But this is not to say we should give up in bewilderment: Barrow shows how many rich and illuminating theories and questions arise, and what this may mean for our understanding of our own place in the cosmos.
Pi in the Sky by John D. Barrow
John D. Barrow's Pi in the Sky is a profound – and profoundly different – exploration of the world of mathematics: where it comes from, what it is, and where it's going to take us if we follow it to the limit in our search for the ultimate meaning of the universe. Barrow begins by investigating whether math is a purely human invention inspired by our practical needs. Or is it something inherent in nature waiting to be discovered? In answering these questions, Barrow provides a bridge between the usually irreconcilable worlds of mathematics and theology. Along the way, he treats us to a history of counting all over the world, from Egyptian hieroglyphics to logical friction, from number mysticism to Marxist mathematics. And he introduces us to a host of peculiar individuals who have thought some of the deepest and strangest thoughts that human minds have ever thought, from Lao-Tse to Robert Pirsig, Charles Darwin, and Umberto Eco. Barrow thus provides the historical framework and the intellectual tools necessary to an understanding of some of today's weightiest mathematical concepts.

jh

The World Within the World by John D. Barrow
"The supreme task of the physicist," Einstein said, "is to arrive at those universal elementary laws from which the cosmos can be built up by pure deduction." In The World Within the World, eminent astronomer John D. Barrow offers a thought-provoking examination of the premise behind Einstein's remark. Are there really laws of Nature that exist independently of human thought? Is it possible to discover a Grand Unification Theory? Indeed, is it possible that there aren't really any laws of Nature at all? Barrow is eminently qualified to address these questions. Highly regarded both as scientist and philosopher of science, he co-wrote (with Frank J. Tipler) The Anthropic Cosmological Principle, which was acclaimed by a wide array of reviewers, including Sky & Telescope ("fascinating [...] a tour de force"), Science ("a marvelous treasure trove"), American Scientist ("[an] impressive work on the philosophical issues of modern cosmology"), and The New York Times ("a book that impels the reader to think"). Here he offers a wide-ranging study of the evolving concept of laws of Nature – from the magical notions of primitive cultures, to the ideas of Plato, Aristotle, Newton, and Darwin, to the recent work of Einstein and Dirac. The World Within the World is the first serious attempt to address the philosophical and theological problems raised by modern physics and mathematics. It goes well beyond the familiar ground of relativity and quantum theory to consider the latest ideas about chaos, black holes, and superstrings. As did his previous book, it will generate considerable debate among scientists, philosophers, and theologians, as well as among general readers curious about the world and how we understand it.
Men of Mathematics by E.T. Bell

From one of the greatest minds in contemporary mathematics, Professor E.T. Bell, comes a witty, accessible, and fascinating look at the beautiful craft and enthralling history of mathematics. Men of Mathematics provides a rich account of major mathematical milestones, from the geometry of the Greeks through Newton's calculus, and on to the laws of probability, symbolic logic, and the fourth dimension. Bell breaks down this majestic history of ideas into a series of engrossing biographies of the great mathematicians who made progress possible – and who also led intriguing, complicated, and often surprisingly entertaining lives. Never pedantic or dense, Bell writes with clarity and simplicity to distill great mathematical concepts into their most understandable forms for the curious everyday reader. Anyone with an interest in math may learn from these rich lessons, an advanced degree or extensive research is never necessary.
The Grapes
of Math by
Alex Bellos
From triangles, rotations, and power laws, to cones, curves, and the dreaded calculus, Alex Bellos takes you on a journey of mathematical discovery with his signature wit and limitless enthusiasm. He sifts through more than 30,000 survey submissions to uncover the world's favorite number and meets a mathematician who looks for universes in his garage. He attends the World Mathematical Congress in India and visits the engineer who designed the first roller-coaster loop. "Channeling the spirit of Martin Gardner [...] Bellos introduces fascinating characters, from the retired cab driver in Tucson whose hobby is factoring prime numbers, to swashbuckling astronomer Tycho Brahe, who lost his nose in a duel over a math formula. Through intriguing characters, lively prose, and thoroughly accessible mathematics, Bellos deftly shows readers why math is so important, and why it can be so much fun." (Publishers Weekly, starred review.) Get hooked on math as Bellos delves deep into humankind's turbulent relationship with numbers, revealing how they have shaped the world we live in.
The Seventy Great Mysteries of the Natural World by Michael J. Benton
Never before have we been so aware of the need to understand our planet and the life that lives upon it. Almost daily we read about or experience massive changes in the environment and the natural world around us. But what do we really know about the functioning of the Earth and of life? What do we still have to learn? Here, over sixty of the world's most eminent scientists – from France and Germany to Italy and the Netherlands, from the UK and USA to India and Australia – give us privileged insights into their cutting-edge research and findings. The volume's seven sections explore the origins of our planet and of life; the inner and outer workings of the Earth; the concept and evidence for evolution; biogeography and environments; plants and animals; animal behavior; and the future. We journey from the core of the Earth to the top of Mount Everest, from microbes living without oxygen in the deepest oceans to the remarkable ways in which bees communicate. We investigate the secrets of animal locomotion and migration, the rigors of life in the desert and just how many species there may be in existence. An extraordinary range of questions is addressed. Were the dinosaurs warm-blooded? Why do mammals rule the world? Which was the largest volcanic eruption ever? How did the eye evolve? Why do we have five fingers and toes? Has there always been ice at the poles? Are humans the only animals with consciousness? Is the largest living thing a whale, a giant redwood, or a fungus? And what will happen to climates in the future? Visually stunning and highly topical, The Seventy Great Mysteries of the Natural World is of the outermost relevance to the future of our species and our planet.
Döden, livet och verkligheten av Lars Bergström

Den här boken behandlar klassiska filosofiska problem – det som brukar kallas 'eviga frågor' – och min ambition har varit att den ska kunna läsas av i stort sett vem som helst som intresserar sig för sådant. Jag har försökt undvika att drunkna i detaljer, tekniska utredningar, idéhistoriska referenser och andra sidospår, även om dessa i och för sig ofta kan vara viktiga. Mina essäer är därför korta, och facktermer förekommer nästan inte alls. Några exempel på de eviga frågor jag diskuterar är följande: Finns det några skäl att vara rädd för döden? Kan vi någonsin göra något annat än det vi faktiskt gör? Vad är det som gör en handling moraliskt riktig? Har människor en själ? Vad består verkligheten av? Vad är människovärde för något? Finns det några självklara sanningar? Finns det några absoluta sanningar? Varför finns det någonting snarare än ingenting? Kan vi veta att det finns någonting? I så fall hur? Har livet någon mening? Lars Bergström är professor emeritus i praktisk filosofi vid Stockholms universitet och är också känd röst i radioprogrammet Filosofiska rummet i P1.
Ethics: A Very Short Introduction by Simon Blackburn

Our self-image as moral, well-behaved creatures is dogged by scepticism, relativism, hypocrisy, and nihilism, by the fear that in a Godless world science has unmasked us as creatures fated by our genes to be selfish and tribalistic, or competitive and aggressive. In this clear introduction to ethics Simon Blackburn tackles the major moral questions surrounding birth, death, happiness, desire and freedom, showing us how we should think about the meaning of life, and how we should mistrust the soundbite-sized absolutes that often dominate moral debates.
Think: A Compelling Introduction to Philosophy by Simon Blackburn

This is a book about the big questions in life: knowledge, consciousness, fate, God, truth, goodness, justice. It is for anyone who believes there are big questions out there, but does not know how to approach them. Think: A Compelling Introduction to Philosophy sets out to explain what they are and why they are important. Simon Blackburn begins by putting forward a convincing case for the study of philosophy and goes on to give the reader a sense of how the great historical figures such as Descartes, Hume, Kant, and Wittgenstein have approached its central themes. Each chapter explains a major issue, and gives the reader a self-contained guide through the problems that philosophers have studied. The large scope of topics covered range from skepticism, the self, mind and body, and freedom to ethics and the arguments surrounding the existence of God. Lively and approachable, this book is ideal for all those who want to learn how the basic techniques of thinking shape our existence.
Språket, medvetandet och världen av Hans Blomqvist
Språket, medvetandet och världen är främst avsedd som lärobok i filosofi på gymnasiet, men den kan med fördel läsas av alla som vill få en introduktion till ämnet filosofi. Boken utgår från grundläggande frågeställningar om språk, kunskap, verklighet, etik och politik och redogör för de svar som olika filosofiska inriktningar som fenomenologi, hermeneutik, existentialism, thomism, marxism, feministfilosofi ger på dessa frågor. Dessutom uppmärksammas sambandet mellan logik, datorer och artificiell intelligens. Författaren undervisar sedan många år i filosofi vid Komvux i Göteborg.
UFO – i myt och verklighet av Håkan Blomqvist
UFO – oidentifierade flygande föremål – populärt kallade flygande tefat, har under mer än fyrtio år fascinerat människor, både som myt och gåta. Den här boken är den första kritiska granskningen av UFO som kult och myt, skriven av en svensk författare. Den är också en exposé över svensk UFO-historia och en plädering för seriös och förutsättningslös UFO-forskning.
Torsken som krympte av Katja Bargum & Hanna Kokko
Torsken som krympte slår upp dörrarna till evolutionens ändlösa party, där miljarder år, virus, fjärilar, människor och alla möjliga snyltgäster deltar, inte i sämja, utan själviskt och försvarande sitt eget hörn. Evolution innebär konstant förändring och valen görs enligt stundens behov, inte med tanke på morgondagen. Det finns ingen stor plan – evolutionen är oändamålsenlig och ibland till och med vansinnig med tanke på artens överlevnad. Hur ska man annars beskriva ödlor vars aggressiva parningsriter leder till populationens evolutionsmässiga självmord? Eller den kortsiktiga människan, som trots sin intelligens verkar gräva sin egen grav?
Godless by Dan Barker
After almost 20 years of evangelical preaching, missionizing, and Christian songwriting, Dan Barker "threw out the bath water and discovered that there is no baby". In Godless, Barker describes the intellectual and psychological path he followed in moving from fundamentalism to freethought. Godless includes sections on biblical morality, the historicity of Jesus, biblical contradictions, the unbelievable resurrection, and much more. It is an arsenal for skeptics and a direct challenge to believers. Along the way, Barker relates the positive benefit readers will experience from learning to trust in reason and human kindness instead of living in fear of false judgment and moral condemnation.
Evolutionsbiologi av Mats Björklund
Boken börjar med en grundlig genomgång av den logiska uppbyggnaden av evolutionsteorin, och de tre faktorer som främst påverkar evolutionen, nämligen variation, ärftlighet och selektion. Dessa tre faktorer behandlas senare utförligt i var sitt kapitel som berör genetisk och fenotypisk variation, vad ärftlighetsbegreppet innebär, hur selektion fungerar, samt skillnaden mellan selektion och slump. Boken innehåller dessutom kapitel om evolutionär utvecklingsbiologi, hur nya arter uppstår samt hur man kan spåra den evolutionära historien. Boken avslutas med ett kapitel om människans evolution samt hur kön och könsroller uppstått. Boken tar upp en rad kontroversiella begrepp såsom genetisk determinism, slumpens roll och socialdarwinism. Boken syftar till att ge en allmän introduktion till evolutionsteorin och dess logiska uppbyggnad. Boken syftar dessutom till att ge den historiska bakgrunden till evolutionsteorin, samt en inblick i några av de viktigaste evolutionsbiologiska frågeställningarna. Boken kräver inga djupare bakgrundskunskaper i biologi och vänder sig därmed till alla som är intresserade av evolutionsbiologi. Den har med stor framgång använts på kvällskurser för alla studerande oavsett bakgrund (från teologer och humanister till naturvetare) med den kan även med fördel användas som introducerande litteratur på grundkurser i biologi.
Fear of Knowledge by
Paul Boghossian
The academic world has been plagued in recent years by scepticism about truth and knowledge. Paul Boghossian, in his long-awaited first book, sweeps away relativist claims that there is no such thing as objective truth or knowledge, but only truth or knowledge from a particular perspective. He demonstrates clearly that such claims don't even make sense. Boghossian focuses on three different ways of reading the claim that knowledge is socially constructed – one as a thesis about truth and two about justification. And he rejects all three. The intuitive, common-sense view is that there is a way things are that is independent of human opinion, and that we are capable of arriving at belief about how things are that is objectively reasonable, binding on anyone capable of appreciating the relevant evidence regardless of their social or cultural perspective. Difficult as these notions may be, it is a mistake to think that recent philosophy has uncovered powerful reasons for rejecting them. This short, lucid, witty book shows that philosophy provides rock-solid support for common sense against the relativists; it will prove provocative reading throughout the discipline and beyond.
A Manual for Creating Atheists by
Peter Boghossian
For thousands of years, the faithful have honed proselytizing strategies and talked people into believing the truth of one holy book or another. Indeed, the faithful often view converting others as an obligation of their faith – and are trained from an early age to spread their unique brand of religion. The result is a world broken in large part by unquestioned faith. As an urgently needed counter to this tried-and-true tradition of religious evangelism, A Manual for Creating Atheists offers the first-ever guide not for talking people into faith – but for talking them out of it. Peter Boghossian draws on the tools he has developed and used for more than twenty years as a philosopher and educator to teach how to engage the faithful in conversations that will help them value reason and rationality, cast doubt on their religious beliefs, mistrust their faith, abandon superstition and irrationality, and ultimately embrace reason.
Svenska kyrkor av Ann Catherine Bonnier, Göran Hägg och Ingrid Sjöström
En guide till Sveriges främst kulturskatt – kyrkorna. Boken visar de 200 viktigaste kyrkorna och lyfter fram det som är typiskt för varje landskap. Kyrkorna är våra äldsta byggnader. De höjde sig över slätter och skogar redan för 1 000 år sedan och har använts utan avbrott. Varje generation och epok har satt sina avtryck. Boken visar även på dolda tecken och öppnar rum som inte tidigare varit kända för allmänheten. Svenska kyrkor guidar till Sveriges historia: kungar och drottningar, katastrofer och plötslig rikedom. Men boken är också historien om de människor som bott runt kyrkorna från medeltiden fram till i dag – deras ansträngningar och drömmar. Boken är illustrerad med 1 000 nytagna fotografier och hundratals kartor. Till varje kyrka hör en vägbeskrivning och uppgifter om öppetförhållande.
The Discoverers by Daniel J. Boorstin
The Discoverers is a vivid, sweeping, and original history of man's greatest adventure: his search to discover the world around him – the relationship of the heavens to his own planet, the elusive and mysterious dimension of time, the vast and colorful range of plants and animals, the intricate workings of his own body, the surprising variety of human societies past and present – by the Pulitzer Prize-winning author of The Americans, now the Librarian of Congress. His flair for the vivid anecdote, for fresh points of view, and for the dramatic relationship of ideas has made his the most readable of our eminent historians. Daniel J. Boorstin's story of our world is not the usual succession of battles and empires and political leaders, but a tale of discoveries and beginnings. In this book the long human quest for what man does not yet know becomes a mystery story played by a vast cast on an ever changing stage. Boorstin sees every discovery as an episode of biography. The heroes of this saga are men with an insatiable hunger for knowledge and the courage to venture into the unknown. He puts flesh on many familiar names – Herodotus, Thucydides, Ptolemy, Galen, Marco Polo, Copernicus, Kepler, Galileo, Newton, Faraday, Marx, Freud – and resurrects from almost forgotten history some truly remarkable figures. His narrative reveals not only mankind's imaginative leaps forward in its search for knowledge, but the obstacles that had to be overcome: the illusions we held about the continents and the seas before Columbus and Balboa and Magellan, about the past before Petrarch and Winckelmann, Thomsen, and Schliemann, about the human body before Paracelsus and Vesalius and Harvey, about the physical world and the atom before Newton and Dalton and Einstein. Why didn't the Chinese discover America? Why were people so slow to learn that the earth goes around the sun? How and why did we begin to think of "species" of plants and animals? How, when, and why did people begin digging in the earth to learn about the past? How did the study of economics begin? These are but a few of the fascinating questions that Dr Boorstin answers in The Discoverers. And finally, "this is a story without end", writes Dr Boorstin, for the world remains "a boundless stage for discoveries to come. The most important words ever written on the maps of human knowledge are terra incognita – unknown territory".
Til at stwdera läkedom av Gunnar Broberg (red.)
Tusen år av svensk läkekonst och medicinsk forskning är ämnet för denna antologi. I tio studier erbjuder några av våra mer namnkunniga idé- och lärdomshistoriker fascinerande läsning om bland annat skendödens historia, religionens makt, människomaskiner, pesten, kurorter samt synen på medicin som konstform eller naturvetenskap. Ett antal bildessäer av bokens redaktör, professor Gunnar Broberg, tar avstamp i ett stort svenskt bildmaterial och associerar kring så vitt skilda ämnen som skolmedicin, konsten att dö, hygien, piller och medicinska instrument. Tillsammans ger text och bild en unik överblick av vårt lands rika medicinhistoria och visar hur synen på människokroppen, och därmed relationen läkare–patient, förändrats genom tiderna. Boken är även en outsinlig källa till referenser och vidare läsning om denna del av vår historia.
The Ascent of Man by Jacob Bronowski
Dr Jacob Bronowksi's classic traces the development of human society through our understanding of science. First published in 1973 to accompany the groundbreaking BBC television series, it is considered one of the first works of "popular science", illuminating the historical and social context of scientific development for a generation of readers. In his highly accessible style, Dr Bronowski discusses human invention from the flint tool to geometry, agriculture to genetics, and from alchemy to the theory of relativity, showing how they all are expressions of our ability to understand and control nature. In this new paperback edition, The Ascent of Man inspires, influences, and informs as profoundly as ever.
Gud & Darwin av C.R. Bråkenhielm & Torbjörn Fagerström
Den biologiska forskningen levererar i rask takt nya insikter om vår evolution från svanlös trädlevande apa till modern människa. Även mänskliga kulturyttringar som moral och gudstro visar sig ha biologiska rötter, som sträcker sig miljontals år tillbaka i tiden. Kulturvetenskaperna betraktar ofta människans sociala, psykologiska och religiösa liv som isolerade fenomen. I denna bok låter författarna de kultur- och religionsvetenskapliga teorierna om människan förenas med evolutionsbiologins kunskaper om livets ursprung och sammanhang.
The Philosophy Book by Will Buckingham

To the complete novice, learning about philosophy can be a cause for dread. The Philosophy Book uses innovative graphics and creative typography to help demystify hard-to-grasp concepts for those new to philosophy, cutting through the haze of misunderstanding, untangling knotty theories, and shedding light on abstract concepts. Aimed at anyone with a general interest in how our social, political, and ethical ideas are formed, as well as students of philosophy and politics, The Philosophy Book breathes new life to a subject that is often regarded as esoteric and academic.
Filosofiska frågor av Staffan Carlshamre

Vem är jag? Varför ska jag bry mig om andra? Vad är rättvisa? Finns själen i hjärnan? Vad är verklighet? Vad gör livet värt att leva? Filosofin är äldre än alla vetenskaper, en skatt av tankar som människor har tänkt genom årtusenden, men filosofin har aldrig varit mer levande än nu. Vad tänker vår tids filosofer om de eviga frågorna? Är de gamla grekerna aktuella än i dag? Filosofiska frågor – äventyr i tankens värld väcker många tankar och tar med sig läsaren rakt in i dagens filosofiska debatt om verklighet, kunskap, politik och moral.
Sense & Goodness Without God
by
Richard Carrier
If God does not exist, then what does? Is there good and evil, and should we care? How do we know what's true anyway? And can we make sense of this universe, or our own lives? Sense & Goodness answers all these questions in lavish detail, without complex jargon. A complete worldview is presented and defended, covering every subject from knowledge to art, from metaphysics to morality, from theology to politics. Topics include free will, the nature of the universe, the meaning of life, and much more, arguing from scientific evidence that there is only a physical, natural world without gods or spirits, but that we can still live a life of love, meaning, and joy.
Dr. Richard Carrier, world renowned philosopher and historian, explains the four reasons he does not accept the Christian religion, describing four facts of the world that, had they been different, he would believe. He is brief, clear, and down to earth, covering the whole topic in under ninety pages of easy-to-read explanation. Those four reasons are God's silence, God's inaction, the lack of evidence, and the way the universe looks exactly like a godless universe would, and not at all like a Christian universe would, even down to its very structure. Dr. Carrier addresses all the usual replies to these claims, in ways you might not have heard before, relying on his wide experience in debating and studying these issues all over the world for more than fifteen years. A perfect book to introduce yourself, or your friends, to why fewer educated people are embracing Christianity than ever before. Ideal for handing out to door-to-door missionaries.
From Eternity to Here
by
Sean Carroll

Why do we remember the past, but not the future? Why don't we meet people who grow younger as they age? Why do things, left by themselves, tend to become messier and more chaotic? What would Maxwell's Demon say to a Boltzmann Brain? The answers can be traced to the moment of the Big Bang – or possibly before. Time pervades our lives –we keep track of it, lament its loss, put it to good use. The rhythms of our clocks and our bodies let us measure the passage of time, as a ruler lets us measure the distance between two objects. But unlike distances, time has a direction, pointing from past to future. From Eternity to Here examines this arrow of time, which is deeply ingrained in the universe around us. The early universe – the hot, dense, Big Bang – was very different from the late universe – cool, empty, expanding space – and that difference is felt in all the workings of Nature, from the melting of ice cubes to the evolution of species. The arrow of time is easy to perceive, much harder to understand. Physicists appeal to the idea of entropy, the disorderliness of a system, which tends to increase according to the celebrated Second Law of Thermodynamics. But why was entropy ever small in the first place? That's a question that has been tackled by thinkers such as Ludwig Boltzmann, Stephen Hawking, Richard Feynman, Roger Penrose, and Alan Guth, all the way back to Lucretius in ancient Rome. But the answer remains elusive. The only way to understand the origin of entropy is to understand the origin of the universe – by asking what happened at the Big Bang, and even before. From Eternity to Here discusses how entropy relates to black holes, cosmology, information theory, and the existence of life. The book tells a story that starts in the kitchen, where we can turn eggs into omelets but never the other way around, and takes us to the edges of the universe. Modern discoveries in cosmology – dark energy and the accelerating universe – and quantum gravity – the possibility of time before the Big Bang – come together to suggest a picture of a multiverse in which the arrow of time emerges naturally from the laws of physics.
Axel Hägerström av
Ernst Cassirer
Ernst Cassirer (1874–1945) är förmodligen den mest kände filosof som varit professor vid ett svenskt universitet. På flykt undan nazismen kom han till Sverige 1935, stannade i sex år och blev svensk medborgare. I sin studie över Axel Hägerström (1868–1939) ställer Cassirer sitt eget tänkande i relation till värdenihilismens upphovsman. Men boken ger inte bara en intressant belysning av Hägerströms filosofi, utan breddar och fördjupar dessutom bilden av Cassirers eget tänkande: inget av hans övriga verk innehåller en så utförlig diskussion av etik och rättsfilosofi. Intresset för Cassirers filosofi växer även internationellt. Hägerströmstudien är under utgivning i Tyskland och har nyligen översatts till franska.
Religion Refuted
by
Daniel Chaney

Religion Refuted stands out among atheist books for two reasons. First, it examines the case against religion in greater depth than do most atheist books – guiding the reader on a fascinating journey through the philosophical arguments as well as relevant insights from science and history. Second, the book is richly spiced with humor. Religion Refuted goes beyond pointing out flaws in religious arguments to illuminate the positive side of a rational life. The book is crammed full of intriguing insights into how the human brain works, the foundations of reason, and ways for society to resolve moral conflicts. The reader is taken on a fascinating tour of the universe and an ominous preview of its fate. Next is a trip back to the early days of Christianity in search of the historical Jesus. Religion Refuted offers an insightful critique of the three paths to religious belief: natural theology, personal experience, and faith. Religion Refuted is targeted at scientifically literate and inquisitive readers. Be aware that it doesn't offer a dumbed down presentation. By the time the reader gets through the first chapter, it is obvious that this is a thinking person's book. But as the book progresses, the reader increasingly appreciates the author's casual tone, dry humor, and passion for the truth. This book is a fun read. In the course of this intellectual journey, the reader will explore these questions: (*) How might we detect intelligent design?(*) Is the universe fine-tuned for human life? (*) Does the Big Bang or quantum fluctuation bolster the case for God? (*) Is religion the foundation of morality? (*) Does objective morality exist? (*) Is science amoral? (*) How might we prove miracles? (*) Can we apply Bayesian math to miracles? (*) Was Jesus a historical person? (*) Is the Bible inerrant? (*) How can we reconcile suffering with a loving God? (*) Is human logic premised on the existence of God? (*) Are reason and faith compatible?
Good Math by Mark C. Chu-Carroll

Mathematics is beautiful – and it can be fun and exciting as well as practical. Good Math is your guide to some of the most intriguing topics from two thousand years of mathematics: from Egyptian fractions to Turing machines; from the real meaning of numbers to proof trees, group symmetry, and mechanical computation. If you've ever wondered what lay beyond the proofs you struggled to complete in high school geometry, or what limits the capabilities of the computer on your desk, this is the book for you. Why do Roman numerals persist? How do we know that some infinities are larger than others? And how can we know for certain a program will ever finish? In this fast-paced tour of modern and not-so-modern math, computer scientist Mark Chu-Carroll explores some of the greatest breakthroughs and disappointments of more than two thousand years of mathematical thought. There is joy and beauty in mathematics, and in more than two dozen essays drawn from his popular Good Math blog, you'll find concepts, proofs, and examples that are often surprising, counterintuitive, or just plain weird. Mark begins his journey with the basics of numbers, with an entertaining trip through the integers and the natural, rational, irrational, and transcendental numbers. The voyage continues with a look at some of the oddest numbers in mathematics, including zero, the golden ratio, imaginary numbers, Roman numerals, and Egyptian and continuing fractions. After a deep dive into modern logic, including an introduction to linear logic and the logic-savvy Prolog language, the trip concludes with a tour of modern set theory and the advances and paradoxes of modern mechanical computing. If your high school or college math courses left you grasping for the inner meaning behind the numbers, Mark's book will both entertain and enlighten you.


The Language of God by Francis Collins
Dr Francis Collins, head of the Human Genome Project, is one of the world's leading scientists. He works at the cutting edge of the study of DNA, the code of life. Yet he is also a man of unshakable faith in God and scripture. Dr Collins believes that faith in God and faith in science can coexist within a person and be harmonious. In the Language of God he makes his case for God and for science. He has heard every argument against faith from scientists, and he can refute them. He has also heard the needless rejection of scientific truths by some people of faith, and he can counter that, too. He explains his own journey from atheism to faith, and then takes readers for a stunning tour of modern science to show that physics, chemistry, and biology can all fit together with belief in God and the Bible. The Language of God is essential reading for anyone who wonder about the deepest questions of faith: Why are we here? How did we get here? What does life mean?
Introduction to Logic by Irving M. Copi

The 14th edition of Introduction to Logic, written by Copi, Cohen & McMahon, is dedicated to the many thousands of students and their teachers – at hundreds of universities in the United States and around the world – who have used its fundamental methods and techniques of correct reasoning in their everyday lives. To those who have not previously used or reviewed Introduction to Logic we extend the very warmest welcome. Please join us and our international family of users! Let us help you teach students the methods and principles needed in order to distinguish correct from incorrect reasoning. Introduction to Logic is a proven textbook that has been honed through the collaborative efforts of many scholars over the last five decades. Its scrupulous attention to detail and precision in exposition and explanation is matched by the greatest accuracy in all associated detail. In addition, it continues to capture student interest through its personalized human setting and current examples.

Why Evolution Is True by Jerry Coyne
Among the wonders that science has uncovered about the universe, no subject has sparked more fascination and fury than evolution. Yet in all the ongoing debates about creationism and its descendant, "intelligent design", one element of the controversy is rarely mentioned: the evidence, the empirical truth of evolution by natural selection. And that evidence is vast, varied, and magnificent, drawn from a huge spectrum of scientific inquiry ranging from genetics, anatomy, and molecular biology to paleontology and geology. Why Evolution Is True is a succinct and accessible summary of the fact supporting Darwinian evolution. Scientists today are finding species splitting in two, observing natural selection changing animals and plants before our eyes, and discovering more and more fossils capturing change in the past - dinosaurs that have sprouted feathers, fish that have grown limbs. Jerry Coyne eloquently shows that evolution does not destroy the beauty of life but enhances it. Reading this book will explain why so many scientist have dedicated their careers to resolving this debate, and why education administrators fervently fight legislation demanding that science curricula include equal time for anti-Darwinian theories. By demonstrating the "indelible stamp" of the processes first proposed by Darwin, Jerry Coyne clearly confirms that evolution is more than just a theory: it is a fact - a fact that cannot be doubted by anyone with an open mind.

50 Mathematical Ideas You Really Need to Know by
Tony Crilly
Who invented zero? Why 60 seconds in a minute? How big is infinity? Where do parallel lines meet? And can a butterfly's wings really cause a storm on the far side of the world? In 50 Mathematical Ideas You Really Need to Know, Professor Tony Crilly explains in 50 clear and concise essays the mathematical concepts – ancient and modern, theoretical and practical, everyday and esoteric – that allow us to understand and shape the world around us. Packed with diagrams, examples and anecdotes, this book is the perfect overview of this often daunting but always essential subject. For once, mathematics couldn't be simpler. Contents include: Origins of mathematics, From Egyptian fractions to Roman numerals; Pi and primes, Fibonacci numbers and the golden ratio; What calculus, Statistics and algebra can actually do; The very real uses of imaginary numbers; The Big Ideas of relativity, Chaos theory, Fractals, Genetics and hyperspace; The reasoning behind Sudoku and code cracking, Lotteries and gambling, Money management and compound interest; Solving of Fermat's last theorem and the million-dollar question of the Riemann hypothesis.
The Seashell on the Mountaintop
by
Alan Cutler

Seventeenth-century scientists were baffled: How did the fossils of seashells find their way to the tops of mountains? Nicolaus Steno, hailed by Stephen Jay Gould as "the founder of geology," solved the puzzle, looking directly at the clues left in the layers of the Earth. Paradoxically, at the same time his ideas were undermining the Bible's authoritative claim as to the age of the planet, Steno was entering the priesthood and rising to bishop. He would ultimately be venerated as a saint and beatified by the Catholic Church in 1988. A thrilling tale of scientific investigation and the portrait of an extraordinary genius, The Seashell on the Mountaintop is the story of how a scientist-turned-priest forever changed our understanding of the Earth and created a new field of science.
Stjärnor och äpplen som faller av Ulf Danielsson
Stjärnor och äpplen som faller är en bok om fysiken och universum. Ulf Danielsson berättar levande och åskådligt om hur världen hänger ihop - och hur man genom tiderna har trott att den hänger ihop. Från antikens och egyptiernas världsbilder går han ända fram till de senaste rönen kring svarta hål, kvarkar och strängar. För att förklara olika teorier tar han gärna omvägen över en helt vardaglig sfär, eller över Harry Martinsson, C. S. Lewis och Marcel Proust. Med humor och fantasi förklarar han några av de märkvärdigaste saker man kan fundera på en kväll när man ligger under stjärnhimlen.
Den bästa av världar av Ulf Danielsson
Uppstod universum av en slump? Kommer apokalypsen också att bero på tillfälligheter? Eller finns det en tanke bakom skapelsen? Ulf Danielsson tar oss med på en resa genom årmiljarder, från universums första ögonblick, via den tidiga, frenetiska expansionen, förbi mörka tidsåldrar utan stjärnor och fram till ett universum som vaknat till liv och medvetande. Allt detta har en historia. En historia som låter sig berättas. De två kulturerna - naturvetenskap och humaniora - har var för sig försökt fixera människans plats i ett förvirrande världsallt, utan förutsättningar att ge uttömmande svar på de viktiga frågorna. Har vetenskapen utrymme för en gud? Är världen ändamålsenlig eller bara ett ofullgånget försök? Hur ska vi förstå skönheten, slumpen, meningen med universum? Ulf Danielsson är en lysande pedagog som med lätt hand tar oss från det allra minsta till det allra största. En bok om vad vi kan veta om världen - och hur vi kan veta det.


Mörkret vid tidens ände
av
Ulf Danielsson
Vi står inför en ny revolution inom fysiken, där bilden av vårt universums mörka och okända sida sakta börjar klarna. Den saknade pusselbiten av partikelfysiken har hittats genom upptäckten av Higgs partikeln och det är dags att ta nästa steg. Med hjälp av strängteorin målas en bild upp av ett världsallt oändligt mycket större än vad vi tidigare trott. Vårt universum är kanske bara en liten del av ett obegripligt storslaget multiversum som vi bara precis börjat ana vidden av. I boken får vi stifta bekantskap med den mörka materien och den mörka energin som fysikerna fort farande vet mycket lite om. Vi utforskar de mörka tidsåldrarna före Big Bang, får en skymt av hur det gick till när vårt universum skapades och följer historien vidare in i en avlägsen och hotande framtid. Mörkret vid tidens ände tar dig till den absoluta forskningsfronten. Ulf Danielsson beskriver den mest stor slagna vetenskapen med sin karaktäristiska och poetiska prosa. När du läst den kommer du aldrig att se på stjärnhimlen på samma sätt igen.
The Voyage of the Beagle by Charles Darwin
When the Beagle sailed out of Davenport on 27 December 1831, Charles Darwin was twenty-two and setting off on the voyage of a lifetime. It was to last five years and transform him from an amiable and somewhat aimless young man into a scientific celebrity. Even more vitally, it was to set in motion the intellectual currents that culminated in the arrival of The Origin of Species in Victorian drawing-rooms in 1859. His journal, reprinted here in a shortened version, is vivid and immediate, showing us a naturalist making patient observations, above all in geology. As well as a profusion of natural history in detail, it records many other things that caught Darwin's eye, from the civil war in Argentina to the new colonial settlements of Australia. The editors have provided and excellent introduction and note for this Penguin Classics edition, which also contains maps and appendices, including an essay on scientific geology and the Bible by Robert FitzRoy, Darwin's friend and captain of the Beagle.
Superforce by Paul Davies
"Like many compelling images, it may turn out to be a mirage, but for the first time in the history of science we can form a conception of what a complete scientific theory of the world will look like." A new theory of the universe is emerging from recent discoveries in fundamental physics and cosmology. Some scientists now believe that all of nature is ultimately under the control of a single superforce, which weaves together space, time and matter into a unified field theory. Bringing together the frontiers of high energy particle physics and cosmology, the superforce explains what cause the Big Bang that gave birth to the universe, and how the foundations for the cosmic structures we now see were forged in the microseconds that followed. It also suggest a bizarre new idea - that space and time are in reality eleven-dimensional, with the unseen dimension of space masquerading as nuclear and electromagnetic forces. Writing with clarity and elegance Paul Davies, recently describer in the New York Times as "one of the most adept science writers on either side of the Atlantic", relates the story of these awesome new advances; "With the superforce unleashed, we could change the structure of space and time, tie our own knots in nothingness and build matter to order. Controlling the superforce would enable us to construct and transmute particles at will, thus generating exotic forms of matter. We might event be able to manipulate the dimensionality of space itself, creating bizarre artificial worlds with unimaginable properties." Paul Davies, himself a research scientist in this subject area, believes that we might soon realize man's age-old dream - a unified theory of all existence.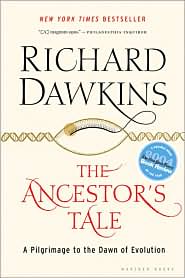 The Ancestor's Tale by Richard Dawkins
The renowned biologist and thinker Richard Dawkins present his most expansive work yet: a comprehensive look at evolution, ranging from the latest developments in the field of his own provocative views. Loosely based on the form of Chauser's Canterbury Tales, Dawkins's Tale takes us modern humans back through four billion years of life on our planet. As the pilgrimage progresses, we join with other organisms at the forty "rendezvous points" where we find a common ancestor. The band of pilgrims swells into a vast crowd as we join first with other primates, then with other mammals, and so on back to the first primordial organism. Dawkins's brilliant, inventive approach allows us to view the connections between ourselves and all other life in a bracingly novel way. It also lets him shed bright new light on the most compelling aspects of evolutionary history and theory: sexual selection, speciation, convergent evolution, extinction, genetics, plate tectonics, geographical dispersal, and more. The Ancestor's Tale is at once a far-reaching survey of the latest, best thinking on biology and a fascinating history of life on Earth. Here Dawkins shows us how remarkable we are, how astonishing our history, and how intimate our relationship with the rest of the living world.
An Appetite for Wonder by Richard Dawkins
With the 2006 publication of The God Delusion, the name Richard Dawkins became a byword for ruthless skepticism and "brilliant, impassioned, articulate, impolite debate" (San Francisco Chronicle). his first memoir offers a more personal view. His first book, The Selfish Gene, caused a seismic shift in the study of biology by proffering the gene-centered view of evolution. It was also in this book that Dawkins coined the term meme, a unit of cultural evolution, which has itself become a mainstay in contemporary culture. In An Appetite for Wonder, Richard Dawkins shares a rare view into his early life, his intellectual awakening at Oxford, and his path to writing The Selfish Gene. He paints a vivid picture of his idyllic childhood in colonial Africa, peppered with sketches of his colorful ancestors, charming parents, and the peculiarities of colonial life right after World War II. At boarding school, despite a near-religious encounter with an Elvis record, he began his career as a skeptic by refusing to kneel for prayer in chapel. Despite some inspired teaching throughout primary and secondary school, it was only when he got to Oxford that his intellectual curiosity took full flight. Arriving at Oxford in 1959, when undergraduates"left Elvis behind" for Bach or the Modern Jazz Quartet, Dawkins began to study zoology and was introduced to some of the university's legendary mentors as well as its tutorial system. It's to this unique educational system that Dawkins credits his awakening, as it invited young people to become scholars by encouraging them to pose rigorous questions and scour the library for the latest research rather than textbook"teaching to" any kind of test. His career as a fellow and lecturer at Oxford took an unexpected turn when, in 1973, a serious strike in Britain caused prolonged electricity cuts, and he was forced to pause his computer-based research. Provoked by the then widespread misunderstanding of natural selection known as"group selection" and inspired by the work of William Hamilton, Robert Trivers, and John Maynard Smith, he began to write a book he called, jokingly,"my bestseller." It was, of course, The Selfish Gene. Here, for the first time, is an intimate memoir of the childhood and intellectual development of the evolutionary biologist and world-famous atheist, and the story of how he came to write what is widely held to be one of the most important books of the twentieth century.
The Blind Watchmaker by Richard Dawkins
The watchmaker belongs to the eighteenth-century theologian William Paley, who made one of the most famous creationist arguments: Just as a watch is too complicated and to functional to have sprung into existence by accident, so too must all living things, with their far greater complexity, be purposefully designed. It was Charles Darwin's brilliant discovery that put the lie to these arguments. But only Richard Dawkins could have written this eloquent riposte to the creationists. Natural selection - the unconscious, automatic, blind, yet essentially nonrandom process that Darwin discovered - has no purpose in mind. If it can be said to play the role of a watchmaker in nature, it is the blind watchmaker. Acclaimed as perhaps the most influential work on evolution written in this century, The Blind Watchmaker offers an engaging and accessible introduction to one of the most important scientific discoveries of all time.
Climbing Mount Improbable by Richard Dawkins
How could such an intricate object as the human eye - so complex and working so precisely - have come about by chance? In writing, described by the New York Times as "a masterpiece", Richard Dawkins builds a carefully reasoned and lovingly illustrated argument for evolutionary adaptation as the mechanism for life on earth. The metaphor of "Mount Improbable" represents the combination of perfection and improbability that we find in the seemingly "designed" complexity of living things. Dawkins skillfully guides the reader on a breathtaking journey through the mountain's passes and up its many peaks on the long, improbable path to perfection. Evocative illustrations accompany his eloquent descriptions of extra ordinary adaptations such as the teeming populations of figs, the intricated silken world of spiders, and the evolution of wings on the bodies of flightless animals. And through it all runs the thread of DNA, the molecule of life, responsible for its own destiny on an unending pilgrimage through time.
The God Delusion by Richard Dawkins
Discover magazine recently called Richard Dawkins "Darwin's Rottweiler" for his fierce and effective defense of evolution. Prospect magazine voted him among the top three public intellectuals in the world (along with Umberto Eco and Noam Chomsky). Now Dawkins turns his considerable intellect on religion, denouncing its faulty logic and the suffering it causes. He critiques God in all his forms, from the sex-obsessed tyrant of the Old Testament to the more benign (but still illogical) Celestial Watchmaker favored by some Enlightenment thinkers. He eviscerates the major arguments for religion and demonstrates the supreme improbability of a supreme being. He shows how religion fuels war, foments bigotry, and abuses children, buttressing his points with historical and contemporary evidence. In so doing, he makes a compelling case that belief in God is not just irrational, but potentially deadly. Dawkins has fashioned an impassioned, rigorous rebuttal to religion, to be embraced by anyone who sputters at the inconsistencies and cruelties that riddle the Bible, bristles at the inanity of "intelligent design," or agonizes over fundamentalism in the Middle East or Middle America.
The Greatest Show on Earth by Richard Dawkins
Charles Darwin's masterpiece, On the Origin of Species, shook society to its core on publication in 1859. Darwin was only too aware of the storm his theory of evolution would provoke. But he would surely have raised an incredulous eyebrow at the controversy still raging a century and a half later. Evolution is accepted as scientific fact by all reputable scientists and indeed theologians, yet millions of people continue to question its veracity. In The Greatest Show on Earth Richard Dawkins takes on creationists, including followers of 'Intelligent Design' and all those who question the fact of evolution through natural selection. In this brilliant tour de force he pulls together the incontrovertible evidence that underpins it. Like a detective arriving on the scene of a crime, he sifts through fascinating layers of scientific facts and disciplines to build a cast-iron case: from the living examples of natural selection in birds and insects; the 'time clocks' of trees and radioactive dating that calibrate a timescale for evolution; the fossil record and the traces of our earliest ancestors; to confirmation from molecular biology and genetics. All of this, and much more, bears witness to the truth of evolution. The Greatest Show on Earth comes at a critical time: systematic opposition to the facts of evolution is now flourishing as never before, especially in America. In Britain and elsewhere in the world, teachers witness insidious attempts to undermine the status of science in their classrooms. Richard Dawkins provides unequivocal evidence that boldly and comprehensively rebuts such nonsense. At the same time he shares with us his palpable love of the natural world and the essential role that science plays in its interpretation. Written with elegance, wit and passion, it is hard-hitting, absorbing and totally convincing.
River Out of Eden by Richard Dawkins
How did the replication bomb we call "life" begin and where in the world, or rather, in the universe, is it heading? Writing with characteristic wit and an ability to clarify complex phenomena (the New York Times described his style as "the sort of science writing that makes the reader feel like a genius"), Richard Dawkins confronts this ancient mystery.
The Selfish Gene by Richard Dawkins
The Selfish Gene caused a wave of excitement among biologist and the general public when it was first published in 1976. Its vivid rendering of a gene's eye view of life, in lucid prose, gather together the strands of thought about the nature of natural selection into a conceptual framework with far-reaching implications for our understanding of evolution. Time has confirmed its significance. Intellectually rigorous, yet written in non-technical language, The Selfish Gene is widely regarded as a masterpiece of science writing, and its insights remain as relevant today as on the day it was published.
Unweaving the Rainbow by Richard Dawkins
Did Newton "unweave the rainbow" by reducing it to its prismatic colors, as Keats contended? Did he, in other words, diminish beauty? Far from it, says acclaimed scientist Richard Dawkins; Newton's unweaving is the key to much of modern astronomy and to the breathtaking poetry of modern cosmology. Mysteries don't lose their poetry because they are solved: the solution often is more beautiful than the puzzle, uncovering deeper mysteries. With the wit, insight, and spellbinding prose that have made him a best-selling author, Dawkins takes up the most important and compelling topics in modern science, from astronomy and genetics to language and virtual reality, combining them in a landmark statement of the human appetite for wonder.
Intuition Pumps and Other Tools for Thinking
by Daniel C. Dennet
Over a storied career, Daniel C. Dennett has engaged questions about science and the workings of the mind. His answers have combined rigorous argument with strong empirical grounding. And a lot of fun. Intuition Pumps and Other Tools for Thinking offers seventy-seven of Dennett's most successful "imagination-extenders and focus-holders" meant to guide you through some of life's most treacherous subject matter: evolution, meaning, mind, and free will. With patience and wit, Dennett deftly deploys his thinking tools to gain traction on these thorny issues while offering readers insight into how and why each tool was built. Alongside well-known favorites like Occam's Razor and reductio ad absurdum lie thrilling descriptions of Dennett's own creations: Trapped in the Robot Control Room, Beware of the Prime Mammal, and The Wandering Two-Bitser. Ranging across disciplines as diverse as psychology, biology, computer science, and physics, Dennett's tools embrace in equal measure light-heartedness and accessibility as they welcome uninitiated and seasoned readers alike. As always, his goal remains to teach you how to "think reliably and even gracefully about really hard questions." A sweeping work of intellectual seriousness that's also studded with impish delights, Intuition Pumps offers intrepid thinkers – in all walks of life – delicious opportunities to explore their pet ideas with new powers.
50 Philosophy Ideas (Yor Really Need to Know) by Ben Dupré
Have you ever lain awake at night fretting over how we can be sure of the reality of the external world? Perhaps we are in fact disembodied brains, floating in vats at the whim of some deranged puppet-master? If so, you are not alone – and what's more, you are in exalted company. For this question and others like it have been the stuff of philosophical rumination for centuries, from Plato to Popper. In a series of accessible and engaging essays, 50 Philosophy Ideas (You Really Need to Know) introduces and explains the problems of knowledge, consciousness, identity, ethics, belief, justice and aesthetics that have troubled the minds of great thinkers for centuries, from the ancient Greeks to the present day. Contents include: The brain in a vat, Plato's cave, Cogito ergo sum, The mind-body problem, The boo/hurrah theory, Ends and means, The categorical imperative, Acts and omissions, The rights of animals, The gambler's fallacy, Paradigm shifts, Occam's razor, Positive and negative freedom, Theories of punishment and Just war.
Science and Nonbelief by Taner Edis
Scientists have raised questions about religious belief since the earliest development of scientific thought. Over the centuries, as science has become ever more sophisticated and answered many of the questions previously in the domain of religion, more and more people have developed a skeptical point of view regarding religion. Today, many scientists are nonbelievers with a secular, science-based perspective. In this wide-ranging overview, physicist and acclaimed science writer Taner Edis examines the relationship between today's sciences and religious nonbelief. Beginning with a brief history of science and philosophical doubt, Edis goes on to describe those theories in contemporary science that challenge spiritual views by favoring a naturalistic conception of the world. He provides a very readable, nontechnical introduction to the leading scientific ideas that impinge upon religious belief in the areas of modern physics and cosmology, evolutionary biology, and cognitive and brain science. He also shows how science supplies naturalistic explanations for allegedly miraculous and paranormal phenomena and explains widespread belief in the supernatural. Finally, he addresses the political context of debates over science and nonbelief as well as questions about morality. Complete with an historical chronology, an extensive annotated bibliography, and selections from primary sources, Science and Nonbelief is an indispensable and accessible reference work on the subject.
Sverige är fantastiskt av Stefan Edman
I fyra kapitel om kusthav, skogsrike, bondeland och skummande vatten ger Stefan Edman en nyanserad bild av vårt lands natur och kultur och av aktuella miljöhot. Han menar att vi behöver en pånyttfödelse av helighetskänslan inför naturens vishet, "en häpnad som föder varsamhet och ansvar".
Jordens och själens överlevnad av Stefan Edman & Martin Lönnebo
"Vartenda barn vet att Moder Jord svettas i feber. Tror du vi kan bota henne?" Så avslutar Stefan Edman sitt första brev till Martin Lönnebo i denna "science-fiction-brevväxling" skriven med fokus tio år framåt i tiden - år 2018. Med utgångspunkt från de vetenskapliga fakta och prognoser som finns till hands skriver de till varandra om sådant de hoppas på och sådant som förskräcker. Här blandas fantasi med fakta och naturvetenskap med filosofi och teologi. Allt kretsande kring frågan: Hur skapar vi en hållbar utveckling för båden jordens och själens landskap? Men mitt under brevväxlingen inträffar det som många varnat för - en naturkatastrof av gigantiska dimensioner som tycks slå allt i spillror...
Planeten havet av Stefan Edman
I denna lustfyllda fotobok tar författaren och biologen Stefan Edman oss med på en svindlande resa ovan och under ytan. Vi möter ett fantasieggande djurliv, från minsta organism till delfiner och gigantiska blåvalar. Här finns storm och stiltje, öar och stränder, fyrar och fartyg - och till synes ändlösa horisonter. Detta är en hoppfull bok, skriven med stor kunskap, öppna sinnen och med djup vördnad inför världshavens närmast ofattbara vidder.
Djurens evolution av Johan Eklöf
Evolutionen och livets utveckling är en lång historia att beskriva. I denna bok får du en sammanfattad och kort koncis version som på ett lättsinnat sätt förklarar att det för 12 000 år sedan fanns hobbitar och att de första valarna vandrade på land. I Djurens evolution får du även veta att vi är mitt inne i ett massutdöende, att vi är nära släkt med sjöpungar samt att de första fåglarna var de sista dinosaurerna. Man skulle kunna säga att dinosaurierna fortfarande finns ibland oss som fåglar. Du får även reda på vad en sjöpung är om du inte redan vet och mycket annat som du sannolikt inte hade en aning om! Kort och gott sammanfattar boken hela evolutionens förlopp från livets uppkomst till nutid vilket ger en flera miljoner års överblick från livets början till dagens människa efter de senaste vetenskapliga rön som framkommit i vetenskaplig litteratur. Boken bjuder även på en hel del anekdoter och är ypperlig för en kort resa. Följ med på en resa miljontals år under en kort stund, en kunskapsresa om livet, här har du underhållande och grundläggande biologi. Detta är ett allmänbildande verk som du borde läsa! Boken är skriven av Johan Eklöf som är doktor i zoomorfologi, han är bl.a. även fladdermusexpert. Djuren är illustrerade av Olof Helje, 3D-grafiker och zoolog (fil mag). Här är alla förhistoriska varelser återskapade från ben till kött av en och samma person som både är zoolog samt illustratör. Detta ger bokens bilder av förhistoriska varelser hög noggrannhet med ett anmärkningsvärt realistiskt resultat. Längst bak i boken finns även en ordlista med termer förklarade på ett kortfattat och snabbläst sätt av författaren.
Filosofins grunder av Rolf Ekman
Filosofins grunder beskriver filosofiska problemställningar, strömningar och idéer, ochd deras ursprung och idéhistoriska anknytning. Boken ger på så sätt en översikt av utvecklingen från klassisk till vår tids filosofi. Innehållet är väl disponerat dels i färdighetsmomenten logik, semantik, argumentationsanalys och vetenskapsteori, dels i momenten etik, kunskapsteori, verklighetsuppfattningar och modern filosofi. Efter varje kapitel finns en sammanfattning av centrala begrepp och olika filosofers idéer och grundsyn.
Vad är filosofi? av Tryggve Emond & Bengt Hansson

Vad är filosofi? är en grundbok i filosofi med flera nya grepp i presentationen av ämnet. Boken är väl lämpad för den som vill inhämta de första grunderna i filosofin men också som referensbok efter avslutade studier. Boken är indelad i en filosofihistorisk och en systematisk del, som kompletterar varandra, vilket ger möjlighet till flera olika pedagogiska uppläggningar. Den historiska delen börjar med de tidigaste grekiska tänkarna på 500-talet f.Kr. och förs ända fram till vår egen tid.
Nyfiken på jorden? av Per Enghag
Nyfiken på jorden? vänder sig till dem som söker en ökad förståelse för vår fascinerande planet. Författaren Per Enghag öppnar dörren till den kunskap om jorden som byggts upp under mer än 2500 år. Här presenteras några av naturvetenskapens verkliga visionärer och upptäckter som förändrat vår syn på världen och oss själva. Nyfiken på jorden? är uppdelad i två band. I första delen ligger fokus på den fast grunden, från jordens innersta kärna till marken omedelbart under våra fötter. Här behandlas även solen som är förutsättningen för livet på jorden och månen, vår närmaste grannet i rymden. Vi tar avstamp hos antikens människor, som ställde frågor om naturen själv. Vad består materien av? Vilken form har jorden? Och vilka lagar styr vår värld? I andra delen ligger fokus på dne dynamiska planeten med dess vindar, havsströmmar, våldsamma vulkanutbrott, smältande glaciärer och vandrande kontinenter. Här behandlas jordens klimat och de ofta dramatiska klimatförändringar som har ägt rum i det förgångna. Boken ger en grund att stå på i faktaflödet kring orsaker till den globala uppvärmning och en klarare bild av de stora utmaningar som vi människor och vår jord står inför.

Djuren och människan av Lars Johan Erkell (red.)
Biologin är en vetenskap som det är svårt att vara likgiltig inför - den påverkar starkt vår syn på världen och på oss själva. Biologin får också en allt större roll i människors vardag, och då inte bara för tillvarons materiella aspekter, även det naturvetenskapliga tankesättet blir allt mer aktuellt. I dag utvecklas biologin med rasande fart och expanderar också in på nya områden. Exempelvis söker beteendeekologin ge evolutionärt grundade förklaringar till djurs - och människors - beteenden, och försöker också svara på frågan om moralens ursprung, en fråga som tidigare varit förbehållen teologin och filosofin. Molekylärbiologins utveckling har givit oss helt nya redskap för att förstå och manipulera livets molekylära processer och öppnar svindlande perspektiv med såväl möjligheter som utmaningar. Syftet med denna bok är ett ge en inblick i en dynamisk och fascinerande vetenskap. Den diskuterar naturvetenskapens historia och vetenskapsfilosofi, förhållandet mellan religion och vetenskap, liksom konflikten mellan evolutionsbiologin och "intelligent design". Vidare behandlas evolutionens mekanismer, arter och artbildning, biologiska aspekter på sexualitet och fortplantning, samarbetets biologi, frågan om moralen har sin grund i biologin samt de pseudovetenskapliga ideologierna socialdarwinism och eugenik. Boken vänder sig till all som är intresserade av biologi och dess relation till människan, kulturen och samhället. Den kräver inga särskilda förkunskaper.
Surely You're Joking, Mr. Feynman! by Richard Feynman
Richard Feynman (1918-1988), winner of the Nobel Prize in physics, thrived on outrageous adventures. Here he recounts in his inimitable voice his experience trading ideas on atomic physics with Einstein and Bohr and ideas on gambling with Nick the Greek; cracking the uncrackable safes guarding the most deeply held nuclear secrets; accompanying a ballet on his bongo drums; painting a naked female toreador - and much else of an eyebrow-raising nature. In short, here is Feynman's life in all its eccentric glory - a combustible mixture of high intelligence, unlimited curiosity, and raging chutzpag.
The Meaning of it All by Richard Feynman
What is science? Does it have an intrinsic value? Can the scientist believe in God? What is the value of doubt? At the peak of his career, maverick genius Richard Feynman gave three public lectures addressing the questions that most inspired and troubled him. Provocative and hugely entertaining, they are brought together in this volume.
Arvet från Darwin
av
Birgitta Forsman
Evolutionsteorin har förändrat vår världsbild på ett sätt som inte alla uppskattar. Ända sedan Darwins tid har man varit rädda för att hans insikter om livets och människans utveckling ska göra Gud överflödig och rycka undan grunden för all moral. En biologisk människosyn ses av en del som sämre än en religiös och romantisk. Somliga tror att darwinismen leder till rasism, sexism och allmänt förfall. I Arvet från Darwin granskar Birgitta Forsman både Darwins egna synsätt och de åsikter som senare förts fram av darwinister och antidarwinister. Hon visar att Darwin varken var rasist eller sexist. Tvärtom var han långt före sin tid, inte bara i sin vetenskap utan också i sina värderingar. Arvet från Darwin hävdar också att det inte finns någon anledning att bygga moral på religion. Det är hög tid att ge plats för en icke-religiös etik! I Arvet från Darwin vill hon belysa evolutionsteorins betydelse för mänsklig existens, bortom de fördomar och rädslor som länge har dominerat bilden.




Gudlös etik
av
Birgitta Forsman
Sverige är ett av världens mest sekulariserade länder. Ändå finns fortfarande en utbredd uppfattning om att etik hör ihop med religion. I Gudlös etik argumenterar Birgitta Forsman för att etiken måste befrias ur religionens tvångströja – av två skäl. För det första är de religiösa moralreglerna inte så bra som många gärna vill tro. För det andra är sökandet efter svar på dagens moralfrågor i uråldriga skrifter en usel metod att bedriva etik. Författaren punkterar den nu populära myten att religion går lätt att förena med vetenskap och att vi kan tacka kristendomen för vår högre utbildning. Boken innehåller också många exempel på hur moral byggd på religion kan orsaka onödigt lidande.
20 politiska filosofer av Gunnar Fredriksson
Filosoferna har bara tolkat världen, men det gäller att förändra den. Karl Marx berömda yttrande om att filosofernas uppgift är att förändra världen står som motto för Gunnar Fredrikssons nya bok. Här samsas vänsterteoretiker som Marx och Bakunin med konservatismens fader Burke, feminismens grundläggare Mary Wollstonecraft med nazisten Alfred Rosenberg och västerländska tänkare som Karl Popper och John Rawles med och filosofer från andra kulturkretsar som Kon Fu Tze, Edward Said och nobelpristagaren Amartya Sen.
25 filosofer av Gunnar Fredriksson
Har du börjat glömma det du en gång visste om Platon, Spinoza och Nietzsche? Är du nyfiken på Thales, de Beauvoir eller Barthes? I 25 korta kapitel presenteras här den västerländska idéhistoriens 25 främsta tänkare. Från Thales – den förste filosofen – till Roland Barthes – som filosoferade om allt från fribrottning och Tour de France till mode och tvättmedel. Gunnar Fredriksson berättar underhållande och initierat om deras filosofi och deras liv. Inte minst lägger han stor vikt vid att beskriva den tid och det samhälle som de verkade i. För filosofi är inte bara idéer som ploppar upp i skallen på det ena eller andra geniet. Filosofi växer fram i dialog med, eller i motstånd mot, samtiden och historien.
David Hume av Gunnar Fredriksson
David Hume (1711-1776) är en av upplysningens främsta filosofer och klassisk skeptiker. Han kritiserade med tidens moderna vetenskap som grund fördomar och mystifikationer. Han var en betydande moralfilosof som överraskade genom att betona känslornas roll. Moral och därmed också politik följer inte enbart av fakta utan måste grundas på värderingar. Hume blev känd som kritiker av religion och kyrka och förföljdes av teologerna. De lyckades stoppa den kanske främste engelskspråkige filosofen genom tiderna från att få en akademiska tjänst i sin hemstad. I dag, när religionerna åter blivit en maktfaktor och new age-tänkandet breder ut sig. är Humes idéer lika aktuella och kontroversiella som någonsin.
Spinoza av Gunnar Fredriksson
Spinoza (1632–1677) hör till de klassiska filosoferna. Han utvecklade en liberal teologi och en politisk filosofi om tolerans och yttrandefrihet som förebådar upplysningsidéerna och den moderna demokratin. Bland annat för sin kritiska Bibelläsnings skull förföljdes han av det religiösa etablissemanget och uteslöts ur den judiska församlingen i Amsterdam. Han försörjde sig sedan som hantverkare och slipade linser. Bortsett från en ungdomsskrift kunde Spinoza inte publicera sig under sin livstid.. Etiken och andra efterlämnade verk förbjöds omedelbart såsom "profana, ateistiska och hädiska". I sin nya bok redogör Gunnar Fredriksson för Spinozas liv och verk och liksom i sina båda tidigare böcker om Wittgenstein (1993) och Schopenhauer (1996) är han angelägen om att förankra sina resonemang i vår tids litterära och politiska debatt.
Love and Math
by
Edward Frenkel

What if you had to take an art class in which you were only taught how to paint a fence? What if you were never shown the paintings of van Gogh and Picasso, weren't even told they existed? Alas, this is how math is taught, and so for most of us it becomes the intellectual equivalent of watching paint dry. In Love and Math, renowned mathematician Edward Frenkel reveals a side of math we've never seen, suffused with all the beauty and elegance of a work of art. In this heartfelt and passionate book, Frenkel shows that mathematics, far from occupying a specialist niche, goes to the heart of all matter, uniting us across cultures, time, and space. Love and Math tells two intertwined stories: of the wonders of mathematics and of one young man's journey learning and living it. Having braved a discriminatory educational system to become one of the twenty-first century's leading mathematicians, Frenkel now works on one of the biggest ideas to come out of math in the last 50 years: the Langlands Program. Considered by many to be a Grand Unified Theory of mathematics, the Langlands Program enables researchers to translate findings from one field to another so that they can solve problems, such as Fermat's last theorem, that had seemed intractable before. At its core, Love and Math is a story about accessing a new way of thinking, which can enrich our lives and empower us to better understand the world and our place in it. It is an invitation to discover the magic hidden universe of mathematics.

Nästan allt om människan av Johan Frostegård
När vi ser på oss själva och funderar på vår plats i universum behövs många sorters svar. Johan Frostegård argumenterar för att evolutionsteorin ger både viktiga frågor och svar som vi inte brukar bry oss om. Som att en genetiskt grundad benägenhet att bete oss på ett visst sätt inte betyder att vi är styrda eller determinerade att uppträda just så. Eller att slumpen snarare än något annat har lett till att vi människor i dag dominerar livet på Jorden. När vi 200 år efter Charles Darwins födelse ser att hans teori kastar ett oväntat ljus över kroppen, sjukdomar och vårt sätt att leva finns goda skäl för såväl humanister, samhällsvetare och medicinare med öppna sinnen att läsa mer om evolutionen och det naturliga urvalet.
Olösta forntidsgåtor av Gerhard Gadow
"Våra förfäder hade besök från rymden", hävdar Erich von Däniken i sina böcker Olösta gåtor ur mänsklighetens förflutna och Tillbaka till stjärnorna. Gerhard Gadow har ägnat ett år att i detalj granska en del av den framgångsrika amatörforskarens uppgifter och bevisar här genom jämförelser av text och källor hur diskutabla de flesta av hans påståenden är. Däniken kan inte göra anspråk på att vara vare sig originell eller vetenskapligt tillförlitlig: å enda sidan har han ordagrant skrivit av sina hemulsmän, t.o.m. övertagit deras skrivfel, å andra sidan har han helt ansvarslöst bortsett från eller t.o.m. förfalskat vetenskapliga rön om dessa inte passat in i hans mönster.
Fads & Fallacies by Martin Gardner
This witty and engaging book examines the various fads, fallacies, strange cults and curios panaceas which at on time or another have masqueraded as science. Not just a collection of anecdotes but a fair, reasoned appraisal of eccentric theory, it is unique in recognizing the scientific, philosophic and sociological-psychological implications of the wave of pseudoscientific theories which periodically besets the world. To this second revised edition of a work formerly titled In the Name of Science, Martin Gardner has added new, up-to-date material to an already impressive account of hundreds of systematized vagaries. Here you will find discussions of hollow-earth fanatics like Symmes; Velikovsky and wandering planets; Hörbiger, Bellamy and the theory of multiple moons; Charles Fort and the Fortean Society; dowsing and the other strange methods for finding water, ores and oil. Also covered are such topics as naturopathy, irisdiagnosis, zone therapy, food fads; Wilhelm Reich and orgone sex energy; L. Ron Hubbard and Dianetics; A. Korzybski and General Semantics. A new examination of Bridey Murphy is included in this edition, along with a new section on bibliographic reference material.
Introduction to Logic by
Harry J. Gensler
Introduction to Logic combines likely the broadest scope of any logic textbook available with clear, concise writing and interesting examples and arguments. Its key features, all retained in the Second Edition, include: simpler ways to test arguments than those available in competing textbooks, including the star test for syllogisms; a wide scope of materials, making it suitable for introductory logic courses (as the primary text) or intermediate classes (as the primary or supplementary book); engaging and easy-to-understand examples and arguments, drawn from everyday life as well as from the great philosophers; a suitability for self-study and for preparation for standardized tests, like the LSAT; • a reasonable price (a third of the cost of many competitors); exercises that correspond to the LogiCola program, which may be downloaded for free from the web. This Second Edition also: arranges chapters in a more useful way for students, starting with the easiest material and then gradually increasing in difficulty; provides an even broader scope with new chapters on the history of logic, deviant logic, and the philosophy of logic; expands the section on informal fallacies; includes a more exhaustive index and a new appendix on suggested further readings; updates the LogiCola instructional program, which is now more visually attractive as well as easier to download, install, update, and use.




What Would Socrates Say? by Alexander George

What Would Socrates Say? helps the armchair philosopher solve age-old quandaries and contemporary ethical dilemmas. (*) If no one ever loves me during my lifetime – if I don't have a relationship – will I not have lived a good life? (*) Do the advances in the field of biotechnology threaten our moral values? (*) Are there any reasons to have a child that aren't selfish? (*) Is there no such thing as bad art? (*) What's the difference between a terrorist and a freedom fighter? (*) Am I morally bound to tell my sex partner if I fantasize about someone else while making love to him or her? These are among the profound, paradoxical, playful, and classic questions asked and answered in this book drawn from AskPhilosophers.org, the popular website created by some of today's most highly esteemed philosophers. Using their knowledge of the arguments laid down by the likes of Aristotle, Camus, Locke, and Socrates, and their own insightful interpretations, they break down tough issues in a digestible, personal, and even humorous style. Included are questions on today's hot-button topics (war, euthanasia); timeless conundrums about religion and morality (how do we know God exists?); personal perplexities about adultery, child-rearing, and sex; and a few lighthearted topics like whether it's right to let your kids believe in Santa. Featuring real questions from real people around the world– doctors, lawyers, the uneducated, the elderly, and even young children (for example, "If everything has an opposite, like night and day, then what's the opposite of a banana?")– this book is for anyone seeking enlightenment on a complicated or an elusive concept relevant to the lives we lead today. Whether you agree with the answers given or not, this book reminds us of Socrates' famous words– "a life unexamined is not worth living" – and, in doing so, encourages us to think a little more deeply, a little more critically, and, well, a little more philosophically about how we make our way in the world
Kaos av James Gleick
Kaosforskning är en ny vetenskap som har vuxit fram det senaste decenniet. Matematiker, fysiker, biologer, astronomer, ekonomer har börjat förstå naturens mångfald på ett nytt sätt. Ordning och mönster framträder där tidigare det slumpartade, det tillfälliga, det oförutsägbara - kort sagt kaos - härskade. Bakom en yta av ordning döljer sig kaos, men djupt inne i kaos råder en annan och sällsammare ordning. Kaosforskningen är typiskt tvärvetenskaplig. Den binder samma oregelbundenheter som inte verkar ha något gemensamt från vädret opålitlighet till hjärtats komplicerade rytmer, från snöstjärnans form till virvlarna i ökensanden. Trots sitt ursprung i den högre matematiken är kaos en vetenskap om världen runtomkring oss. Den ställer och besvarar frågor som varje barn har ställt: Varför ser molnen ut som de gör? Varför stiger röken i spiraler? Hur blir det virvlar i strömmande vatten? I Kaos berättar James Gleick historien om en idé, som samtidigt skrämde och fascinerade de forskare som började tränga in i den. Gleick beskriver de förbluffande och oväntade upptäckter dessa vetenskapsmän gjorde: Edward Lorenz fjärilseffekt, som ligger bakom vädrets oförutsägbarhet och stabilitet; Mitchell Feigenbaums universella konstant, framkallad av hans tankar om natur och konst; Benoit Mandelbrots fraktaler som gett upphov till en ny naturens geometri. Kaos är vetenskaplig upptäcktshistoria. Boken berättar, med huvudpersonernas egna ord, om deras konflikter och besvikelser och deras lyckokänslor inför en ny upptäckt. Det är historien om en revolution, en ny vetenskaps födelse. Den som har läst Kaos ser på världen med nya ögon.
Matematik för nyfikna av Paul Glendinning

Matematik för nyfikna är en inspirerande introduktion till matematikens underbara värld. Här lär du dig om allt ifrån primtal till differentialekvationer på nolltid! Oavsett tidigare kunskaper så är Matematik för nyfikna ett idealiskt uppslagsverk både för den som på kort tid vill lära sig om en enskild teori och för den som vill följa matematikens utveckling genom historien. Varje begrepp presenteras på ett uppslag som utgörs av en illustration och en förklaring på högst 200 ord. Med sitt kompakta format fungerar Matematik för nyfikna som praktisk referensbok och är även en perfekt present till den vetgirige. Paul Glendinning är matematikprofessor vid University of Manchester. Glendinning har publicerat många vetenskapliga artiklar och tidigare skrivit en lärobok om kaosteorin.
En obekväm sanning av Al Gore
Under en lång rad år har vi kunnat se hur medeltemperaturen rakat i höjden, glaciärer smält bort, orkaner växt i styrka och tropiska sjukdomar sprider sig allt längre norrut. Effekterna av den globala uppvärmningen är ett av de absolut största hoten mot vår jord. Ändå väljer vi att blunda. I En obekväm sanning tar USA:s förre vicepresident Al Gore ett samlat grepp om klimatfrågan. Med engagemang, allvar och skärpa redogör han för växthuseffekten och dess konsekvenser, och uppmanar oss alla att ta vårt ansvar för den jord vi så småningom ska läma efter oss till våra barn. Och vi har inte lång tid på oss. Ska vi lyckas rädda vår planet måste vi göra något radikalt - och vi måste göra det nu.
Ever Since Darwin by Stephen Jay Gould
The kernel of Darwin's theory is that those who survive are better adapted to life than those who do not. But the theory is as threatening as it is simple, for it takes us, so to speak, out of the action.We like to think of ourselves as tops on evolution's ladder. In fact, we are only the last surviving branch on a bush. We rarely consider how short a time, geologically speaking, we have been on Earth, or how soon we may disappear.

Flamingons leende av Stephen Jay Gould
Varför verkar flamingons näbb sitta uppochned? Utplånades dinosaurierna för att en asteroid störtade på jorden? Har syndafloden avsatt några geologiska lämningar? Varför är hanar i allmänhet mindre än honor? Inget ämne är omöjligt för Stephen Jay Gould, en mästare bland populärvetenskapliga författare. Ingen kan diskutera konsekvenserna av utvecklingslärnan kunnigare och roligare än han. Gould älskarr att berätta om vetenskapliga strider och om märkliga idéer som samtiden tog på allvar men som vi inte bara skal skratta åt idag - att förstå varför felaktiga idéer är felaktiga kan vara matnyttigare än att veta varför rätt är rätt. Gould berättar om den gamla trätan kring frågan om Adam kunde ha en navel och han uppträder som engagerad försvarsadvokat för bönsyrsorna när de anklagas för sexuell kannibalism.
Leonardo's Mountain of Clams and the Diet of Worms by Stephen Jay Gould
Leonardo's Mountain of Clams an the Diet of Worms is a collection of best-selling scientist Stephen Jay Gould's popular essays from Natural History magazine (the longest-running series of scientific essays in history). In this collection, selected by Library Journal as one of the Best Science and Technology Books of 1998, Gould consciously and unconventionally formulates a humanistic natural history, a consideration of how humans have learned to study and understand nature, rather than a history of nature itself. With his customary brilliance, Gould examines the puzzles and paradoxes great and small that build nature's and humanity's diversity and order. In affection short biographies, he depicts how scholars grapple with problems of science and philosophy as he illuminates the interaction of the outer world with the unique human ability to struggle to understand the whys and wherefores of existence.
Life's Grandeur by Stephen Jay Gould
In his characteristically iconoclastic and original way, Gould argues that progress and increasing complexity are not inevitable features of the evolution of life on Earth. Further, if we wish to see grandeur in life, we must discard our selfish and anthropocentric view of evolution and learn to see it as Darwin did, as the random but unfathomably rich source of "endless forms most beautiful and wonderful".
The Lying Stones of Marrakech
by
Stephen Jay Gould
In his latest collection of essays, bestselling scientist Stephen Jay Gould once again offers his unmistakable perspective on natural history and the people who have tried to make sense of it. Gould is planning to bring down the curtain on his nearly thirty-year stint as a monthly essayist for Natural History magazine, the longest-running series of scientific essays in history. This, then, is the next-to-last essay collection from one of the most acclaimed and widely read scientists of our time. In this work of twenty-three essays, selected by Booklist as one of the top ten science and technology books of 2000, Gould covers topics as diverse as episodes in the birth of paleontology to lessons from Britain's four greatest Victorian naturalists. The Lying Stones of Marrakech presents the richness and fascination of the various lives that have fueled the enterprise of science and opened our eyes to a world of unexpected wonders.
The Mismeasure of Man by Stephen Jay Gould
When published in 1981, The Mismeasure of Man was immediately hailed as a masterwork, the ringing answer to those who would classify people, rank them according to their supposed genetic gifts and limits. And yet the idea of innate limits - of biology as destiny - dies hard, as witness the attention devoted to The Bell Curve, whose arguments are here so effectively anticipated and thoroughly undermined by Stephen Jay Gould. In this edition Dr. Gould has written a substantial new introduction telling how and why he wrote the book and tracing the subsequent history of the controversy on innateness right through The Bell Curve. Further, he has added five essays, in a separate section at the end, on questions of The Bell Curve in particular and on race, racism, and biological determinism in general. These additions strengthen the claim of this book to be "a major contribution toward deflating pseudobiological 'explanations' of our present social woes."
The Panda's Thumb
by
Stephen Jay Gould
Were dinosaurs really dumber than lizards? Why, after all, are roughly the same number of men and women born into the world? What led the famous Dr. Down to his theory of mongolism, and its racist residue? What do the panda's magical "thumb" and the sea turtle's perilous migration tell us about imperfections that prove the evolutionary rule? The wonders and mysteries of evolutionary biology are elegantly explored in these and other essays by celebrated natural history writer Stephen Jay Gould.
Questioning the Millennium
by
Stephen Jay Gould
In this new edition of Questioning the Millennium, best-selling author Stephen Jay Gould applies his wit and erudition to one of today's most pressing subjects: the significance of the millennium. In 1950 at age eight, prompted by an issue of Life magazine marking the century's midpoint, Stephen Jay Gould started thinking about the about the approaching turn of the millennium. In this beautiful inquiry into time and its milestones, he shares his interest and insights with his readers. Refreshingly reasoned and absorbing, the book asks and answers the three major questions that define the approaching calendrical event. First, what exactly is the concept of a millennium and how has its meaning shifted. How did the name for a future thousand-year reign of Jesus Christ on earth get transfered to the passage of a secular period of a thousand years in the current human history? When does the new millennium really begin: January 1, 2000, or January 1, 2001? (Although seemingly trivial, the debate over this issue tells an intriguing story about the cultural history of the twentieth century.) And why must our calendars be so complex, leading to our search for arbitrary regularity, including a fascination with millennia? This revised edition begins with a new extensive preface on a key subject not treated in the original version. As always, Gould brings into his essays a wide range of compelling historical and scientific fact, including a brief history of millennial fevers, calendrical traditions, and idiosyncrasies from around the world; the story of a sixth-century monk whose errors in chronology plague us even today; and the heorism of a young autistic man who has developed the extraordinary ability to calculate dates deep into the past and future. Ranging over a wide terrain of phenomena - from the arbitrary regularities of human calendars to the unpredictability of nature, from the vagaries of pop culture to the birth of Christ - Stephen Jay Gould holds up the mirror to our millennial passions to reveal foibles, absurdities, and uniqueness - in other words, our humanity.
Äventyret Människan av Eirik Granqvist
I begynnelsen skapade Gud himmel och jord. Men hur skapades människan? Och vad hände när hon hade skapats? Här berättas hela historien från världens födelse fram till i dag, lättillgängligt men med stor kunskap, många aha-upplevelser och mycket mänsklig humor. På köpet får vi en exposé över de första människorna i Finland. Varifrån kom de och vad fick dem att bosätta sig i Varggrottan i Kristinestad? Eirik Granqvist har haft ledande befattningar vid naturhistoriska museer i flera länder och grundade 1985 Préhistorama, museum över människans utveckling i Sydfrankrike. 2009–2010 var han professor vid Shanghais museum för vetenskap och teknologi, vårterminen 2011 arbetade han i utbildningsuppdrag vid Thailands naturhistoriska museum i Bangkok.
Russell: A Very Short Introduction by A. C. Grayling

Bertrand Russell (1872-1970) is one of the most famous and important philosophers of the twentieth century. In this account of his life and work A. C. Grayling introduces both his technical contributions to logic and philosophy, and his wide-ranging views on education, politics, war, and sexual morality. Russell is credited with being one of the prime movers of Analytic Philosophy, and with having played a part in the revolution in social attitudes witnessed throughout the twentieth-century world. This introduction gives a clear survey of Russell's achievements across a wide range.
Wittgenstein: A Very Short Introduction by A. C. Grayling

Ludwig Wittgenstein (1889-1951) was an extraordinarily original thinker, whose influence on twentieth-century thinking far outside the bounds of philosophy alone. In this engaging Introduction, A. C. Grayling makes Wittgenstein's thought accessible to the general reader by explaining the nature and impact of Wittgenstein's views. He describes both his early and later philosophy, the differences and connections between them, and gives a fresh assessment of Wittgenstein's continuing influence on contemporary thought.
Darwin: A Life in Science by John Gribbin & Michael White
Charles Darwin, a man far ahead of his time, left an extraordinary scientific legacy – as influential to modern thought as Newton or Einstein. Yet, in his lifetime, Darwin's radical new interpretation of evolution, based on natural selection, earned him more antagonism than accolade. In fact, he face a barrage of criticism for his "heretical" new theories both from those closes to him and from the leading scientific and religious thinkers of the day. It was only in death that Darwin was finally recognized as a great scientist by the establishment and today his writings are regarded as seminal works for modern physics, astronomy and, above all, biology. Darwin: A Life in Science not only examines the man behind the science – a man plagued with ill health and personal tragedy – but it lucidly explains the enormous impact of his thinking on topics such as natural selection, evolution and genetics, and brings its readers up to date in terms of how Darwinism has molded scientific thought.
In the Beginning: The Birth of the Living Universe by John Gribbin
Is the Universe alive? Drawing on the latest measurements of the "ripples in time" that mark the birth of the Universe, John Gribbin goes beyond the Big Bang to address the questions of how and why the Universe came into being, and what its future evolution holds in store. His controversial contention is that the Universe itself can be regarded as a living entity which is not unique but which has evolved through Darwinian selection among a multitude of rival universes competing for existence in spacetime. This vision of the Universe as a product of evolution by natural selection echoes and extends the idea that all the living things on Earth may form an interlocking web which can be regarded as a single living organism, "Gaia". And on scales intermediate between that of a single planet and that of the entire Universe, whole galaxies of stars, like our Milky Way system, also show properties usually associated with living systems, and evidence of evolution. In synthesizing this new picture of the Universe in which we live, bestselling science writer John Gribbin explores and explains the significance of the discovery by NASA's COBE satellite of the birth bangs of creation itself, the nature of life and the way evolution works on Earth, the geography of the Universe and all it contains, and the way in which the "black hole bounce" enables the Universe to reproduce itself. A long the way we learn why the laws of physics should be as they are, and whether human beings have a special place in the living Universe. In the Beginning is John Gribbin's tour de force – science writing at its best.
In Search of Schrödinger's
Cat

by John Gribbin

Quantum theory is so shocking that Einstein could not bring himself to accept it. It is so important that it provides the fundamental underpinning of all modern sciences. Without it, we'd have no nuclear power or nuclear weapons, no TV, no computers, no science of molecular biology, no understanding of DNA, no genetic engineering. In Search of Schrödinger's Cat tells the complete story of quantum mechanics, a truth stranger than any fiction. John Gribbin takes us step by step into an ever more bizarre and fascinating place, requiring only that we approach it with an open mind. He introduces the scientists who developed quantum theory. He investigates the atom, radiation, time travel, the birth of the universe, superconductors and life itself. And in a world full of its own delights, mysteries and surprises, he searches for Schrödinger's Cat – a search for quantum reality – as he brings every reader to a clear understanding of the most important area of scientific study today – quantum physics. In Search of Schrödinger's Cat is a fascinating and delightful introduction to the strange world of the quantum – an essential element in understanding today's world.
Science: A History by John Gribbin
From our first realization that Earth was not the centre of the cosmos and that human beings are just one species of animal among many, to the Big Bang theory and the sub-microscopic study of the molecules that make us human, the incredible discoveries and inventions of scientists over the past 450 years have changed the way we see the universe - and ourselves. In this epic book John Gribbin tells the story of the people who made science and the turbulent times they lived in. As well as famous figures such as Copernicus, Darwin and Einstein, there are also the obscure, the eccentric, even the mad. This diverse cast includes, among others, Andreas Vesalius, landmark sixteenth-century anatomist and secret grave-robber; the flamboyant Galileo, accused of heresy for his ideas; the obsessive, competitive Newton, who wrote his rivals out of the history books; Gregor Mendel, the Moravian monk who founded modern genetics; and Louis Agassiz, so determined to prove the existence of ice ages that he marched his colleagues up a mountain to show them the evidence. Although we tend to think of science in terms of unique geniuses, here John Gribbin shows that more often it involves relatively ordinary people building step by step on the progress of previous generations - not out of lust for glory, but to satisfy their own intense curiosity about how the world works. Science: A History gives us a unique insight into the minds and hearts of the scientists without whom our lives would be unrecognizable.
Blotta Tanken av Peter Gärdenfors
Tänker vi i ord eller bilder? Hur behandlar hjärnan ord och begrepp? Hur har människans medvetande uppstått? Kan maskiner ha ett medvetande? Vilken typ av kunskap kan datorer hantera? Finns det något vi människor inte vill veta? Vilken giltighet har vetenskapliga teorier om sociobiologi och evolution? Dessa är några av de frågor som författaren behandlar. Han kombinerar sina filosofiska analyser med teorier från kognitionsforskning. Detta moderna område undersöker vårt tänkande utifrån nya resultat inom filosofi, psykologi, lingvistik och artificiell intelligens (AI). Peter Gärdenfors är professor i kognitionsforskning och verksam vid Lunds Universitet. Han är en av Skandinaviens internationellt mest välkända filosofer och har tidigare främst publicerat sina arbeten på amerikanska förlag och i engelskspråkiga vetenskapliga tidskrifter. Genom sin populära ton ger boken en utmärkt presentation av den moderna forskningen kring kunskap och tänkande.
Den Meningssökande Människan av Peter Gärdenfors
Varför genomsyras människans tillvaro av strävan efter mening? Vi söker ständigt efter betydelser och sammanhang, exempelvis i slumpartade händelser som lottovinster och genom att försöka tolka vad någon berättar. I alla kulturer finns myter om hur universum har skapats och vem som har makt över naturfenomenen. Gärdenfors menar att vår unika förmåga till framförhållning, samarbete och sökande efter orsaker har ökat chanserna för artens överlevnad. Men när människans hjärna väl har fått dessa förmågor kan hon inte låta bli att fundera över meningen med livet och andra existentiella frågor. I dag är det vanligt att anta att orsakerna till det mänskliga beteendet står att finna i vår biologiska natur. Med ett underhållande tvärvetenskapligt perspektiv argumenterar författaren för att en humanistisk och en biologisk syn på människan är möjlig att förena.

From Galileo to Newton by A. Rupert Hall
The near century (1630-1720) that separates the important astronomical findings of Galileo Galilei (1564-1642) and the vastly influential mathematical work of Sir Isaac Newton (1647-1727) represents a pivotal stage of transition in the history of science. As a result of the raging intellectual battle between tradition and innovation which began in the 15th century, science was penetrated by a new outlook which placed emphasis on experiment and observation. Galileo showed the promise of its new methods of discovery, Newton brought out their full force and effect. Galileo suffered from an attempt to censure scientific inquiry, Newton showed how science could discover the universal laws of nature. The triumph of this new outlook marked the birth of modern science. From Galileo to Newton describes those new patterns of thought that emerged during the time of great excitement and widespread controversy. It discusses the discoveries revealed by telescope and microscope in the work of Huygens and Leeuweenhoek, and the new speculations to which these gave rise, Boyle's attempts to include chemical experiments within a rational theory of matter, and those begun by Descartes to explain the workings of the body on the basis of chemical and physical principles, and the revolutionary ideas in astronomy which generated the transition from the Ptolemaic concept of the universe to the Copernican and the subsequent acceptance of the heliocentric system. Since the dawn of civilization man has tried to find logic in the mysterious and order in the chaotic. From Galileo to Newton will appeal to anyone who wants to know what modern science is all about and how it came into being. One of the foremost authorities of the history of science, Professor Hall is not only a scholar of great learning and originality, he also writes with clarity, liveliness, and a keen biographical sense.
A History of Western Philosophy by D. W. Hamlyn

Not since Bertrand Russell's immensely popular (though highly opinionated) History of Western Philosophy (1945) have many philosophers attempted to cover the entire range of Western philosophical thought in one volume. In this new work, Hamlyn (University of London) has succeeded not only in chronicling the lives of the greater philosophers from Thales to Merleau-Ponty but in showing the influence of their ideas within a wider social and historical context. The book thus serves as a concise general outline to the major trends of Western intellectual thought in addition to being an excellent resource on individual philosophers. A short but well-selected annotated bibliography is provided for those who wish to read further. Clearly written and up to date, this book is highly recommended for students and general readers.
Förklarade Mysterier av Sven Ove Hansson
Astrologi och tankeläsning, flygande tefat och stora sjöodjuret - sådana fenomen framställs nästan alltid som oförklarliga och övernaturliga. Förklarade mysterier är boken som tränger under ytan på det skenbart oförklarliga. Verkligheten blir ännu mer fascinerande när man försöker förstå den med hjälp av vetenskap och kritiskt tänkande. Här får du t.ex. veta hur slagrutan fungerar, hur Uri Geller böjer skedar och hur man går på glödande kol.
An Intelligent Person's Guide to Atheism by Daniel Harbour
The debate about atheism has, without a doubt, staled since the time of Bertrand Russell. In this incisive book, Daniel Harbour, returns to its core issues - the existence of God, the value of faith, the role of religion in society - and casts then in an entirely new light. The real question, he argues, is how we should consider our urge to understand the world. Only then can we ask ourselves whether atheism or theism forms part of a coherent worldview. This new debate between atheism and theism forces us into an investigation of philosophy, science, history, ethics, and aesthetics, and a desire for intellectual integrity and commitment to truth. It is very far removed from the usual listing of the errors of theism. Nor can atheism be equated with denialism. It holds real and practical implications for the place of religion and the obligations of atheists in our society.
The End of Faith by Sam Harris
This important and timely book delivers a startling analysis of the clash of faith and reason in the modern world. The End of Faith provides a harrowing glimpse of mankind's willingness to suspend reason in favor of religious beliefs, even when these beliefs inspire the worst of human atrocities. Harris argues that in the presence of weapons of mass destruction, we can no longer expect to survive our religious differences indefinitely. Most controversially, he maintains that "moderation" in religion poses considerable dangers of its own: as the accommodation we have made to religious faith in our society now blinds us to the role that faith plays in perpetuating human conflict. While warning against the encroachment of organized religion into world politics, Harris draws on insights from neuroscience, philosophy, and Eastern mysticism in an attempt to provide a truly modern foundation for our ethics and our search for spiritual experience.


Free Will by Sam Harris

A belief in free will touches nearly everything that human beings value. It is difficult to think about law, politics, religion, public policy, intimate relationships, morality – as well as feelings of remorse or personal achievement – without first imagining that every person is the true source of his or her thoughts and actions. And yet the facts tell us that free will is an illusion. In this enlightening book, Sam Harris argues that this truth about the human mind does not undermine morality or diminish the importance of social and political freedom, but it can and should change the way we think about some of the most important questions in life.
Letter to a Christian Nation by Sam Harris
In response to The End of Faith, Sam Harris received thousands of letters from Christians excoriating him for not believing in God. Letter to A Christian Nation is his reply. Using rational argument, Harris offers a measured refutation of the beliefs that form the core of fundamentalist Christianity. In the course of his argument, he addresses current topics ranging from intelligent design and stem-cell research to the connections between religion and violence. In Letter to a Christian Nation, Sam Harris boldly challenges the influence that faith has on public life in our nation.


The Moral Landscape by Sam Harris

Sam Harris's first book, The End of Faith, ignited a worldwide debate about the validity of religion. In the aftermath, Harris discovered that most people – from religious fundamentalists to non-believing scientists – agree on one point: Science has nothing to say on the subject of human values. Indeed, our failure to address questions of meaning and morality through science has now become the most common justification for religious faith. It is also the primary reason why so many secularists and religious moderates feel obligated to "respect" the hardened superstitions of their more devout neighbors. In this explosive new book, Sam Harris tears down the wall between scientific facts and human values, arguing that most people are simply mistaken about the relationship between morality and the rest of human knowledge. Harris urges us to think about morality in terms of human and animal well-being, viewing the experiences of conscious creatures as peaks and valleys on a "moral landscape." Because there are definite facts to be known about where we fall on this landscape, Harris foresees a time when science will no longer limit itself to merely describing what people do in the name of "morality"; in principle, science should be able to tell us what we ought to do to live the best lives possible. Bringing a fresh perspective to age-old questions of right and wrong, and good and evil, Harris demonstrates that we already know enough about the human brain and its relationship to events in the world to say that there are right and wrong answers to the most pressing questions of human life. Because such answers exist, moral relativism is simply false – and comes at increasing cost to humanity. And the intrusions of religion into the sphere of human values can be finally repelled: for just as there is no such thing as Christian physics or Muslim algebra, there can be no Christian or Muslim morality. Using his expertise in philosophy and neuroscience, along with his experience on the front lines of our "culture wars," Harris delivers a game-changing book about the future of science and about the real basis of human cooperation.
Science by Adam Hart-Davis
Fascinating, challenging, and enlightening, this book explores all aspects of scientific discovery from the Stone Age to the present day. From the development of levers and pulleys to the latest, cutting-edge developments in cloning and nanotechnology, it captures the subject in a uniquely accessible, exciting, and visual way. The book covers all the major disciplines including physics, chemistry, biology, astronomy, technology, maths, and earth sciences. Key discoveries, theories, and concepts are made crystal clear, from the earliest observations of the stars through the "Eureka" moment of scientific experimentation to modern-day genetics and quantum physics. Every topic is brilliantly brought to life with specially commissioned diagrams and stunning images. The human face of science is revealed through profiles of the life and work of some of the world's greatest minds, such as Aristotle, who influenced scientific thought for hundreds of years, and Albert Einstein, whose theories of relativity enabled a revolution in 20th-century physics. The brainwaves that transformed the way we live - such as the battery, the steam engine, the telephone, and radio - are clearly explained, along with the key events that led from idea to invention. The incredible leaps in scientific understanding that ultimately transformed the way people view the world are highlighted, from Darwin's revolutionary Theory of Evolution to ground breaking experiments that confirmed the structure of DNA. Illustrated panels reveal how complex scientific concepts are applied in today's world, from carbon nanotubes used to make lightweight cycle frames to the measurement of seismic waves for improved earthquake prediction. Illuminating links are established throughout the book to highlight the causes and consequences of each key scientific development, from gunpowder to the World Wide Web. Comprehensive cross-referencing and lavish timelines add greater depth to the extraordinary story of human discovery. A stand alone section at the back of the book provides vital scientific facts, figure, tables, laws, and formulae. From simple summaries of the principal laws and theories of physics to incredible 3-D artworks of each of the body's systems, information is clearly set out by scientific discipline, creating a superbly illustrated and easy-to-access resource.
A Brief History of Time by Stephen Hawking

A landmark volume in science writing by one of the great minds of our time, Stephen Hawking's book explores such profound questions as: How did the universe begin – and what made its start possible? Does time always flow forward? Is the universe unending – or are there boundaries? Are there other dimensions in space? What will happen when it all ends?Told in language we all can understand, A Brief History of Time plunges into the exotic realms of black holes and quarks, of antimatter and "arrows of time," of the big bang and a bigger God – where the possibilities are wondrous and unexpected. With exciting images and profound imagination, Stephen Hawking brings us closer to the ultimate secrets at the very heart of creation.
The Grand Design by Stephen Hawking

When and how did the universe begin? Why are we here? What is the nature of reality? Is the apparent "grand design" of our universe evidence of a benevolent creator who set things in motion – or does science offer another explanation? In this startling and lavishly illustrated book, Stephen Hawking and Leonard Mlodinow present the most recent scientific thinking about these and other abiding mysteries of the universe, in nontechnical language marked by brilliance and simplicity. According to quantum theory, the cosmos does not have just a single existence or history. The authors explain that we ourselves are the product of quantum fluctuations in the early universe, and show how quantum theory predicts the "multiverse" – the idea that ours is just one of many universes that appeared spontaneously out of nothing, each with different laws of nature. They conclude with a riveting assessment of M-theory, an explanation of the laws governing our universe that is currently the only viable candidate for a "theory of everything": the unified theory that Einstein was looking for, which, if confirmed, would represent the ultimate triumph of human reason.



The Illustrated Theory of Everything by Stephen Hawking

Stephen Hawking is widely believed to be one of the world's greatest minds, a brilliant theoretical physicist whose work helped reconfigure models of the universe and define what's in it. Imagine sitting in a room listening to Hawking discuss these achievements and place them in historical context; it would be like hearing Christopher Columbus on the New World. Hawking presents a series of seven lectures – covering everything from big bang to black holes to string theory – that capture not only the brilliance of Hawking's mind but his characteristic wit as well. Of his research on black holes, which absorbed him for more than a decade, he says, "It might seem a bit like looking for a black cat in a coal cellar." Hawking begins with a history of ideas about the universe, from Aristotle's determination that the Earth is round to Hubble's discovery, more than 2,000 years later, that the universe is expanding. Using that as a launching pad, he explores the reaches of modern physics, including theories on the origin of the universe (e.g., the Big Bang), the nature of black holes, and space-time. Finally, he poses the questions left unanswered by modern physics, especially how to combine all the partial theories into a "unified theory of everything." "If we find the answer to that," he claims, "it would be the ultimate triumph of human reason." A great popularizer of science as well as a brilliant scientist, Hawking believes that advances in theoretical science should be "understandable in broad principle by everyone, not just a few scientists." In this book, he offers a fascinating voyage of discovery about the cosmos and our place in it. It is a book for anyone who has ever gazed at the night sky and wondered what was up there and how it came to be.
Etik av Ann Heberlein

Etikens huvudfrågor är tre: Det handlar om människan, om handlingarna och om det goda samhället. Vad är egentligen en god människa? Hur ska handlingar bedömas – är det avsikten eller konsekvensen som räknas? Och hur är ett gott samhälle beskaffat? Frågorna hänger naturligtvis ihop. Vi måste veta vem människan är – fri eller determinerad, ond eller god, ansvarig eller oansvarig – för att kunna besvara frågan om vad som är gott för henne, hur ett gott samhälle ska se ut och vilka handlingar som kan betraktas som rätt handlingar. I Etik diskuterar Ann Heberlein grundläggande etiska frågor med hjälp av tänkare från Aristoteles till Judith Butler och hon placerar de eviga etiska frågorna om människan, moralen och meningen i vår samtid, vår vardag.
god is not Great by Christopher Hitchens
With his unique brand of erudition and wit, Christopher Hitchens addresses the most urgent issue of our time: the malignant force of religion in the world. In this eloquent argument with the faithful, he makes the ultimate case against dogma (and for a more secular approach to life) through a close and learned reading of the major theological texts. Hitchens tells the personal story of his own dangerous encounters with religion and describes his intellectual journey toward a secular view of life based on science and reason, in which the heavens are replaced by the Hubble telescope's awesome view of the universe, and Moses and the burning bush give way to the beauty and symmetry of the double helix. Whether lifelong believer, devout atheist, or someone who remains uncertain about the role of religion in our lives, you will want to consider and engage in the arguments within these pages.
Människans rättigheter av Christopher Hitchens
Thomas Paine är en av historiens största politiska tänkare. Hans ryktbarhet har sin grund i utgivningen av Människans rättigheter, som först publicerades 1791. Paines bok är ett direkt svar på Edmund Burkes attack på det franska folkets resning och ett passionerat försvar av människans okränkbara rättigheter. I Människans rättigheter angriper Paine monarkin som styrelseskick och drar upp grundläggande riktlinjer för en framgångsrik republik. Dessa innefattade allmän utbildning, pensioner och nödhjälp till fattiga och arbetslösa som skulle finansieras genom inkomstskatt. Sedan publiceringen har Människans rättigheter prisats, kritiserats och marginaliserats. Men Christopher Hitchens förundras över hur genomtänkt den är och hur stridbar. Framför allt visar Hitchens varför Paines bok kom att utgöra ett så viktigt fundament i formandet av det demokratiska Amerika. Han placerar in Paine i tidens intellektuella och politiska sammanhang och porträtterar hans liv och gärning. Christopher Hitchens medarbetar i tidskriften Vanity Fair och är gästprofessor vid New School i New York. Bland hans böcker finns titlar som Why Orwell Matters och den omskrivna God is Not Great.
Alan Turing: The Enigma by
Andrew Hodges
It is only a slight exaggeration to say that the British mathematician Alan Turing (1912–1954) saved the Allies from the Nazis, invented the computer and artificial intelligence, and anticipated gay liberation by decades – all before his suicide at age forty-one. This New York Times–bestselling biography of the founder of computer science, with a new preface by the author that addresses Turing's royal pardon in 2013, is the definitive account of an extraordinary mind and life. Capturing both the inner and outer drama of Turing's life, Andrew Hodges tells how Turing's revolutionary idea of 1936– the concept of a universal machine – laid the foundation for the modern computer and how Turing brought the idea to practical realization in 1945 with his electronic design. The book also tells how this work was directly related to Turing's leading role in breaking the German Enigma ciphers during World War II, a scientific triumph that was critical to Allied victory in the Atlantic. At the same time, this is the tragic account of a man who, despite his wartime service, was eventually arrested, stripped of his security clearance, and forced to undergo a humiliating treatment program– all for trying to live honestly in a society that defined homosexuality as a crime. The inspiration for a major motion picture starring Benedict Cumberbatch and Keira Knightley, Alan Turing: The Enigma is a gripping story of mathematics, computers, cryptography, and homosexual persecution.
Gödel, Escher, Bach by Douglas R. Hofstadter

Douglas Hofstadter's book is concerned directly with the nature of "maps" or links between formal systems. However, according to Hofstadter, the formal system that underlies all mental activity transcends the system that supports it. If life can grow out of the formal chemical substrate of the cell, if consciousness can emerge out of a formal system of firing neurons, then so too will computers attain human intelligence. Gödel, Escher, Bach is a wonderful exploration of fascinating ideas at the heart of cognitive science: meaning, reduction, recursion, and much more.
Tankar som ändrar allt av Sören Holst

Rymdfärder med hastigheter nära ljusets. Transplanterade hjärnor. Skenande tågvagnar som inte går att stoppa med mindre än att människoliv offras. Tankelekar av det här slaget är vanliga inom vetenskap och filosofi. Ofta kretsar de kring fantastiska och verklighetsfrämmande situationer. Ändå säger de oss något om just verkligheten. Tankar som ändrar allt handlar om sådana tankeexperiment. De som utmanar vår världsbild i grunden. De som kan förändra allt.Vad är tid? Finns det ett "sant jag"? Har vi skäl att frukta vår död? Kan det vara rätt att döda någon för att rädda andra? Introspektion och religiösa uppenbarelser ses av många som den enda vägen till sann kunskap i existentiella frågor. Men intuitionen leder oftast fel. Med hjälp av rationellt tänkande och god argumentation kan vi däremot komma längre än vi anar. Och de insikter vi får är inte sällan omtumlande.Verkligheten visar sig långt mer osannolik än andevärldar och himmelriken.
How to Build a Dinosaur by Jack Horner
Jack Horner and his colleagues in molecular biology labs are in the process of building the technology to create a real dinosaur. Based on new research in evolutionary developmental biology on how a few select cells grow to create arms, legs, eyes, and brains that function together, Horner is taking science into a new age with his plan to "reverse evolution". This is the story of the awesome, even frightening, power being acquired to re-create the prehistoric past. The key in this puzzle is the dinosaur's genetic code that live on in modern birds – even chickens. Activate the genes that grow tails, deactivate the ones that grow feathers, adjust some growth factors, and behold: Chikenosaurus! It isn't quite that simple yet, but from cutting-edge biology labs to field digs underneath the Montana sun, How to Build a Dinosaur explains and enlightens evolution as it points to astonishing developments already under way.
Människornas rike på jorden av Julian Huxley

Efter ett anförande, hållet vid Generalförsamlingen i UNESCO den 30 september 1946 i Paris. Julian Huxley, framstående biolog och UNESCO:s generalsekreterare (1947-1949) utvecklar här sin världsåskadning och sin syn på människans framtid.
A Concise Introduction to Logic by Patrick J. Hurley

Unsurpassed for its clarity and comprehensiveness, Hurley's A Concise Introduction to Logic is the #1 introductory logic book on the market. In this Twelfth Edition, Hurley continues to build upon the tradition of a lucid, focused, and accessible presentation of the basic subject matter of logic, both formal and informal. The edition's new Previews connect a section's content to real-life scenarios, using everyday examples to "translate" new notions and terms into concepts that readers unfamiliar with the subject matter can relate to. An extensive, carefully sequenced collection of exercises guides readers toward greater proficiency with the skills they are learning.

Idéernas Historia
av
Sten Högnäs

Kan jag lita på det jag ser? Kan man finna ett mönster och en plan i världen, eller är allt styrt av en blind slump? Hur började allting? Frågor som dessa har alltid sporrat människor att reflektera över livet och världen. Sten Högnäs visar i Idéernas historia hur idéer formas i ett samspel mellan vetenskapliga, filosofiska och religiösa föreställningar. Från antikens Grekland och fram till våra dagar kan vi se hur Europas idéströmningar, kultur och tekniska utveckling har påverkat världen – på gott och ont. I den europeiska traditionen finner vi talesmän för förnuft och mänskliga rättigheter men också företrädare för fascismens och rasismens ideologier. I varje kapitel ger faktarutor fascinerande utblickar. En avslutande uppslagsdel innehåller ordförklaringar och ett omfattande personregister. Sten Högnäs är docent i idé- och lärdomshistoria vid Lunds universitet.
The Innovators
by
Walter Isaacson

Following his blockbuster biography of Steve Jobs, Walter Isaacson's New York Times bestselling and critically acclaimed The Innovators is a "riveting, propulsive, and at times deeply moving" (The Atlantic) story of the people who created the computer and the Internet. What were the talents that allowed certain inventors and entrepreneurs to turn their visionary ideas into disruptive realities? What led to their creative leaps? Why did some succeed and others fail? The Innovators is a masterly saga of collaborative genius destined to be the standard history of the digital revolution – and an indispensable guide to how innovation really happens. Isaacson begins the adventure with Ada Lovelace, Lord Byron's daughter, who pioneered computer programming in the 1840s. He explores the fascinating personalities that created our current digital revolution, such as Vannevar Bush, Alan Turing, John von Neumann, J.C.R. Licklider, Doug Engelbart, Robert Noyce, Bill Gates, Steve Wozniak, Steve Jobs, Tim Berners-Lee, and Larry Page. This is the story of how their minds worked and what made them so inventive. It's also a narrative of how their ability to collaborate and master the art of teamwork made them even more creative. For an era that seeks to foster innovation, creativity, and teamwork, The Innovators is "a sweeping and surprisingly tenderhearted history of the digital age" (The New York Times).
Steve Jobs
by
Walter Isaacson

Based on more than forty interviews with Jobs conducted over two years – as well as interviews with more than a hundred family members, friends, adversaries, competitors, and colleagues – Walter Isaacson has written a riveting story of the roller-coaster life and searingly intense personality of a creative entrepreneur whose passion for perfection and ferocious drive revolutionized six industries: personal computers, animated movies, music, phones, tablet computing, and digital publishing. At a time when America is seeking ways to sustain its innovative edge, and when societies around the world are trying to build digital-age economies, Jobs stands as the ultimate icon of inventiveness and applied imagination. He knew that the best way to create value in the twenty-first century was to connect creativity with technology. He built a company where leaps of the imagination were combined with remarkable feats of engineering. Although Jobs cooperated with this book, he asked for no control over what was written nor even the right to read it before it was published. He put nothing off-limits. He encouraged the people he knew to speak honestly. And Jobs speaks candidly, sometimes brutally so, about the people he worked with and competed against. His friends, foes, and colleagues provide an unvarnished view of the passions, perfectionism, obsessions, artistry, devilry, and compulsion for control that shaped his approach to business and the innovative products that resulted. Driven by demons, Jobs could drive those around him to fury and despair. But his personality and products were interrelated, just as Apple's hardware and software tended to be, as if part of an integrated system. His tale is instructive and cautionary, filled with lessons about innovation, character, leadership, and values
Forensic Science by
Stuart H. James
(ed.)
Covering a range of fundamental topics essential to modern forensic investigation, the fourth edition of the landmark text Forensic Science: An Introduction to Scientific and Investigative Techniques presents contributions from experts in the field who discuss case studies from their own personal files. This edition has been thoroughly updated to reflect the cutting edge of forensic science across many different areas. Designed for a single-term course at the lower undergraduate level, the book begins by discussing the intersection of law and forensic science, how things become evidence, and how courts decide if an item or testimony should be admissible. It takes the evidence from crime scene investigation into laboratory analysis and even onto the autopsy table for the fullest breadth of subject matter of any forensic text available. Topics include: forensic anthropology and the role of entomology in a death investigation; death investigation, including identifying the cause, manner, mechanism, and time of death; bloodstain pattern analysis, the identification of blood and body fluids, the work of forensic toxicologists, and seized drug analysis; the history and development of DNA typing and the many ways it can be used; fingerprint, firearm and ballistic, tool mark, tread impression, and trace evidence; the forensic analysis of questioned documents and computers; arson, fire, explosives, and the work of forensic engineers in vehicular accidents and structural collapses ; forensic psychology and psychiatry, including criminal profiling; and the future of forensic science. Going beyond theory to application, this text incorporates the wisdom of forensic practitioners who discuss the real cases they have investigated. Color-coded sidebars in each chapter provide historical notes, case studies, and current events as well as advice for career advancement. Each section and each chapter begins with an overview and ends with a summary, and key terms, review questions, and up-to-date references are provided. Appropriate for any sensibility, more than 300 photos from real cases give students a true-to-life learning experience.
Schopenhauer: A Very Short Introduction by
Christopher Janaway

Schopenhauer is considered to be the most readable of German philosophers. This book gives a succinct explanation of his metaphysical system, concentrating on the original aspects of his thought, which inspired many artists and thinkers including Nietzsche, Wagner, Freud, and Wittgenstein. Schopenhauer's central notion is that of the will – a blind, irrational force that he uses to interpret both the human mind and the whole of nature. Seeing human behavior as that of a natural organism governed by the will to life, Schopenhauer developed radical insights concerning the unconscious and sexuality which influenced both psychologists and philosophers.
Fakta eller Fantasier av Jesper Jerkert (red.)
Har Atlantis legat i Västergötland? Kan autism botas av Mozarts musik? Är currykryss något farligt? Botas öroninfektioner med mjölk? Kan man bli sjuk av bildskärmar? Vad är sant och vad är falsk? Många teorier framställs som vetenskapliga. Alternativmedicinens förespråkare åberopar vetenskapen som bevis för sin ståndpunkter. En del kristna hävdar att den bibliska skapelseberättelsen är vetenskapligt bevisad. Andra människor hävdar att parapsykologin är en vetenskap. Vad är fakta och vad är fantasier? I Fakta eller fantasier ställs frågor om Freuds teorier var en bluff, om magiker har övernaturliga krafter och om den förre amerikanske presidenten Jimmy Carter har sett ett ufo. Här finns också utförliga artiklar om vetenskap och folkbildning i den nya bibelöversättningen, vad som är speciellt med ekologisk odling, om kreationismen och evolutionsläran samt exempel på som kan hända när tron får maken över kunskapen och vetenskapen.
Från Ad Hoc till Önsketänkande av Jesper Jerkert

Från Ad hoc till Önsketänkande presenterar kunskap om kontroversiella ämnen som tankeläsning, reinkarnation, healing och homeopati och andra mystiska och otroliga fenomen. Oftast påstår anhängarna att det finns vetenskapligt stöd för det otroliga. Texterna är alfabetiskt ordnade och författarens ambition är att guiden ska fungera som en snabb och pålitlig referens med korta informativa artiklar samt lästips.
The Atheist Debater's Handbook by B. C. Johnson
Does God exist? Is there Divine intervention in our daily lives? Mr. Johnson contends that theist has now proved its case. This lively book was written to provide the skeptic with an arsenal of arguments against the theist. Some of the topics covered include: "God and Atheism", "God and Design", "God and Existence", "God and Religious Experience", "God and Morality", "God and Evil", and "God and Christianity".
Almost Like a Whale by Steve Jones
In his new book, Steve Jones takes on the challenge of going back to the book of the millennium, Charles Darwin's The Origin of Species. Before The Origin, biology was a set of unconnected facts. Darwin made it into a science, linked by the theory of evolution, the grammar of the living world. It reveals ties between cancer and the genetics of fish, between brewing and inherited disease, between the sex lives of crocodiles and the politics of Brazil. Darwin used the biology of the nineteenth century to prove his case. Now, that science has been revolutionized and his case can be reargued using the twentieth century's astonishing advances. From AIDS to dinosaurs, from conservation to cloned sheep, bursting with anecdotes, jokes and irresistible facts, Almost Like a Whale is a popular account of the science that makes biology make sense. It will catch the millennial mood and tell all those for whom Darwin is merely a familiar name what he really meant. It exposes the Darwinian delusions which try (and fail) to explain human behavior in evolutionary terms, and, while giving an up-to-date account of our own past, shows how humans are the first species to step beyond the constraints of biology.
Med tanke på Gud av Ulf Jonsson
Är det förnuftigt att tro på Gud? Kan man veta något om Gud? Finns Gud över huvud taget? Dessa eviga frågor har människor brottats med i alla tider. Man kan inte reda ut dem en gång för alla och sedan lägga dem åt sidan. Man får fortsätta att brottas med dem livet igenom. Men en viss hjälp med att skapa reda i tankarna kring dessa frågor kan man få genom att ägna sig åt religionsfilosofi, den disciplin där man reflekterar över religiös tro ur filosofins perspektiv. Denna bok ger en grundlig introduktion till religionsfilosofins centrala frågeställningar. Den kan användas som kursbok i religionsfilosofi, men lämpar sig också utmärkt för enskilt studium. Den innehåller dessutom ett längre idéhistoriskt kapitel om hur man sett på förhållandet mellan tro och förnuft från kristendomens början ända fram till våra egna dagar.
The Violinist's Thumb
by
Sam Kean

In The Disappearing Spoon, bestselling author Sam Kean unlocked the mysteries of the periodic table. In The Violinst's Thumb, he explores the wonders of the magical building block of life: DNA. There are genes to explain crazy cat ladies, why other people have no fingerprints, and why some people survive nuclear bombs. Genes illuminate everything from JFK's bronze skin (it wasn't a tan) to Einstein's genius. They prove that Neanderthals and humans bred thousands of years more recently than any of us would feel comfortable thinking. They can even allow some people, because of the exceptional flexibility of their thumbs and fingers, to become truly singular violinists. Kean's vibrant storytelling once again makes science entertaining, explaining human history and whimsy while showing how DNA will influence our species' future.
Darwin och Vår Herre av Helle Klein & Stefan Edman
Blommor, bin, fåglar, fiskar - hur kan det finnas ett sådant myller av levande varelser på vår jord? Och var kommer vi själva in i bilden, vi människor? Charles Darwin skakade om sin samtid när han 1859 kom ut med boken Om arternas uppkomst. Där försöker han förklara varför livet ständigt förändras och utvecklas. Med sin teori om det naturliga urvalet lade han grunden till den moderna evolutionsbiologin. Många spännande frågor återstår att lösa: Hur snabbt kan egentligen ny arter bli till? Och hur uppstod medvetandet och det mänskliga språket? Darwin förändrade långt mer än bara naturvetenskapen. Hans världsbild påverkar vår syn på oss själva, samhället och religionen. För många människor är vetenskapens upptäckter en källa till förundran och vördnad. Medan andra oroar sig för att de skall hota deras tro på Gud. Darwin och Vår Herre - en festskrift firar Charles Darwins dubbeljubileum 2009: tvåhundra år sedan han föddes och etthundrafemtio år sedan hans banbrytande tankar presenterades.
The Skeptic's Guide to the Paranormal by Lynne Kelly

Can a human being really spontaneously burst into flames? Just how deadly is the Bermuda Triangle? And what's the real story behind all those alien abductions? The answers to these and many other questions lie within the covers of The Skeptic's Guide to the Paranormal. Guaranteed to liven up any dinner party, this delightful, highly readable book offers color photographs and scientific case-by-case explanations for twenty-seven phenomena that appear to defy known science, including ghosts and poltergeists, the predictions of Nostradamus, and yogic levitation, among many others. Speaking directly to the reader, and always with respect for those who believe, Kelly gives us a bite-size, nonacademic approach to debunking hugely popular superstitions and mysteries. Did you know that you, too, can bend spoons and read minds? This book will show you how.
The Art of Reasoning by
David Kelley
A clear and accessible introduction to the elements of logic, with a wealth of problems and exercises. Students learn logic by practicing it – by working through problems, analyzing existing arguments, and constructing their own arguments in plain language and symbolic notation. The Art of Reasoning not only introduces the principles of critical thinking and logic in a clear, accessible, and logical manner – thus practicing what it preaches – but it also provides ample opportunity for students to hone their skills and master course content.

In this highly original defense of realism, Atlas Society founder David Kelley argues that perception is the discrimination of objects as entities, that the awareness of these objects is direct, and that perception is a reliable foundation for empirical knowledge. His argument relies on the basic principle of the "primacy of existence", in opposition to Cartesian representationalism and Kantian idealism. In the first part of the book, Kelley discusses the nature and validity of perception. He argues against classical sensationalist and modern computational theories, according to which perception involves inferences from sensory input. Unlike most realists, he also offers an in-depth consideration of the problems of perceptual relativity. His theory incorporates a key distinction between the object and the form in which it is perceived. This distinction provides insights into the status of phenomenal qualities, the nature of perceptual constancy, and the difference between primary and secondary qualities. In the second part of the book, Kelley is concerned with the way we distinguish conceptual knowledge from perception. His theory of non-propositional justification shows how perceptual judgments are supported by the direct awareness of objects, and it allows a novel defense of empiricism. An original and substantial contribution to the philosophical literature, this book will be invaluable to philosophers, psychologists, and anyone interested in the complex subject of perceptual theory.
Big Bang eller Varde Ljus? av Maria Gunther Axelsson & Per Kornhall
En kreationist anser sig ha vetenskapliga bevis på att Bibelns skapelseberättelse är ordagrant sann. Att jorden skapades för ungefär 6 000 år sedan och att allt liv på jorden är skapat av Gud. Här granskar Maria Gunther Axelsson vad medlemmarna av denna globalt växande rörelse egentligen tror och vad de har för agenda, både politiskt och religiöst. Kritiskt prövar hon alla de så kallade vetenskapliga bevis som kreationister världen över använder sig av när de hävdar att deras teori är lika hållbar som evolutionsteorin. Dessutom presenteras det som naturvetenskapen hittills har kommit fram till om universums uppkomst och utveckling: Hur kan forskarna veta att universum uppkom i Big Bang för 13,7 miljarder år sedan? Att alla levande varelser härstammar från samma urcell? Att alla jordens kontinenter en gång satt ihop i en enda jättekontinent? Maria Gunther Axelsson är vetenskapsjournalist och fysiker. Hon var själv tidigare kreationist och har därför en unik inblick i frågorna.
Livets Ord av Per Kornhall
Det är en svår sak att en dag vakna upp och begripa att man är medlem i en sekt. Grunden för ens tillvaro rycks undan när de värderingar man har handlat efter visar sig vara kulisser byggda på tomma löften och halvsanningar. När man förstår att de människor man trofast har följt och litat på är lögnare och manipulatörer. När man inser att religionen, det man upplevt vara guds och ledarens vilja, har blivit viktigare än förnuft och medmänsklighet. Livets Ord är utan tvekan det mest dramatiska som hänt i den svenska frikyrkligheten sedan Pingströrelsen. Genom ungdomsorganisationen Ny Generation och antiabortorganisationen Ja till livet har man inflytande också i andra kristna rörelser och inom Kristdemokraterna. Per Kornhall lämnade Livets Ord år 2000 efter att ha varit medlem i 17 år. Men sin bok vill han bidra till förståelsen av hur vi skall hantera auktoritära manipulativa ledare och hur det demokratiska samhället kan skydda sig mot försök att påverka det i fundamentalistisk riktning.
Skapelsekonspirationen av Per Kornhall
Finns det verkligen de som på fullt allvar tror att jorden är 6000 år gammal och att människor och dinosaurier levde sida vid sida? Ja, men de grupper som tror att Bibeln eller Koranen är bokstavligt sanna är långtifrån harmlösa. I själva verket pågår en utbredd konspiration för att omvandla dagens västerländska samhälle till ett fundamentalistiskt. I februari 1999 publicerades på nätet ett dokument kallat The Wedge. Där skisserades hur de skapelsetroende inom loppet av 20 år skulle ersätta Darwins "destruktiva moraliska, kulturella och politiska arv" med en förståelse av att naturen och mänskliga varelser är skapade av Gud. Per Kornhall diskuterar i sin bok Skapelsekonspirationen varför så många människor förkastar vetenskapen och vill ersätta den med trossatser. Han skildrar den s.k. rörelsen för Intelligent design och hur den med hjälp av pseudovetenskap, domstolar och lobbyverksamhet försöker omvandla samhället. Kornhall granskar kritiskt argumenten hos de ledande amerikanska förespråkarna och deras svenska avläggare som föreningen Genesis. Till sist diskuterar han hur ID-rörelsen ska bemötas och faran med religiösa friskolor.
What Is Atheism? by Douglas E. Krueger
What is atheism? Why would anyone be an atheist? Can atheists have meaningful lives? Wouldn't someone have to be all-knowing in order to argue that there is no God? These are just some of the many concerns that arise when theist discuss what they suspect is the lack of purpose and meaning in the lives of nonbelievers. The same questions also come up in philosophical and theological debates on the assumptions and merits of both belief and nonbelief. In this accessible primer on atheism, Douglas E. Krueger addresses these and related matters. Each chapter begins with a question often asked of atheist, such as: Can atheists have morals? Doesn't the Bible show that God exists? and What's wrong with believing on faith? In a clear and easy-to-read style, Krueger takes the reader through an analysis of each question, atheist responses, rebuttals, and related points. He shows that atheism is a powerful alternative to the religious outlook so prevalent today, and that atheists have a moral system often more rigorous than that of traditional believers. What Is Atheism? by a scholar who teaches philosophy and has years of experience engaging in public debates, is for everyone who wants to weigh honestly the arguments for what has been too often maligned as a "blasphemous" worldview.
Filosofi i Sverige under tusen år av Henrik Lagerlund

Den här boken är det första översiktsverket över filosofins historia i Sverige på nära femtio år. Den ger en heltäckande bild av hur filosofin sett ut i vårt land från skolastiken på medeltiden till den analytiska filosofin på 1900-talet. Vi får möta sådana svenska personligheter som Petrus av Dacia, Georg Stiernhielm, Drottning Kristina, Andreas Rydelius, Carl Gustaf af Leopold, Hedvig Charlotta Nordenflycht, Benjamin Höijer, Christopher Jacob Boström, Pontus Wikner, Ellen Key, Hans Larsson, Axel Hägerström och Ingemar Hedenius samt många fler både kända och okända filosofer. Vid sidan av den historiska översikten inkluderar boken också två tematiska studier; en över logikens utveckling i Sverige och en över tre generationer uppsalafilosofers religionskritik.
Released by Humanist Press in its degenderized eighth edition, this powerful book is the definitive study of the history and growth of the humanist movement in North America. Renowned philosopher and activist Corliss Lamont offers a vigorous argument for humanism and provides an affirmative, intelligent guidebook for shaping a better life in today's complex world. The Philosophy of Humanism was originally published in 1949 as Humanism as a Philosophy.
Kensington 1898 av Mats G. Larsson

En höstdag 1898 gräver svensk-amerikanen Olof Öhman upp ett märkligt fynd på sin farm i Kensington, Minnesota. Det är en sten fylld med runor, och den historia den berättar är fantastisk: en grupp nordbor hade rest långt in i Amerika mer än ett århundrade innan Columbus gjorde sin upptäckt! Det är nog ingen överdrift att säga att Kensingtonstenen i dag är världens mest kända runsten. Men vad är sanningen bakom den och dess märkliga inskrift? Är den ett unikt dokument från medeltiden eller är den ett skämt från förra sekelskiftet som fått orimliga proportioner? I Mats G. Larssons bok får vi följa stenens öden från upptäckten till i dag. Under denna tid har tilltron till den svängt flera gånger beroende främst på idérikedomen hos dem som trott på den. Men under samma tid har det också kommit fram nya fakta och observationer som sammantagna ger en ganska tydlig bild av hur det hela ligger till. Vissa frågor har dock inte kunnat få sin förklaring förrän under de allra senaste åren, då nya spår plötsligt dök upp. Och det var inte i Minnesota dessa spår legat och väntat på oss utan här i Sverige.
Believing Bullshit by Stephen Law

This book identifies eight key mechanisms that can transform a set of ideas into a psychological flytrap. The author suggests that, like the black holes of outer space, from which nothing, not even light, can escape, our contemporary cultural landscape contains numerous intellectual black-holes

–

belief systems constructed in such a way that unwary passers-by can similarly find themselves drawn in. While such self-sealing bubbles of belief will most easily trap the gullible or poorly educated, even the most intelligent and educated of us are potentially vulnerable. Some of the world's greatest thinkers have fallen in, never to escape. This witty, insightful critique will help immunize readers against the wiles of cultists, religious and political zealots, conspiracy theorists, promoters of flaky alternative medicines, and various other nutcases by clearly setting out the tricks of the trade by which such insidious belief systems are created and maintained.


Humanism: A Very Short Introduction by Stephen Law

People of faith often argue that without God, there can be no morality. Indeed, without religion, our lives are left without meaning and are likely to degenerate into moral chaos. In this

Very Short Introduction

, philosopher Stephen Law explains why these claims are false and why humanism

–

though a rejection of religion

–

nevertheless provides both a moral basis and a meaning for our lives. Indeed, Law shows that humanism is a quite positive alternative to religion. The humanist is not simply one who denies the truth of religious belief, but one who believes we can enjoy meaningful, purposeful, and good lives without religion. And far from embracing moral nihilism, humanists are often deeply committed people, to be found at the forefront of many important ethical campaigns. Law goes on to show how the term "humanism" is used in a variety of ways. Marx described himself as a "humanist" but the Pope has also expressed support for what he calls "humanism". Law argues for humanism as it is most commonly understood – as a positive, moral form of atheism.


Eyewitness Companions: Philosophy

by

Stephen Law


Covering not only the history of Western thought, but also the traditions of Eastern philosophy and schools of thought from the Indian subcontinent, this companion combines philosophical analysis with historical and biographical information to explain and explore the major issues, theories, and problems at the heart of all philosophies.


Filosofi
– ingen lära utan en aktivitet

av Martin Levander


Filosofi – ingen lära utan en aktivitet lyfter fram den filosofiska diskussionen som det väsentliga i ämnet. De klassiska frågorna får stort utrymme, men tonvikten ligger på 1900-talets filosofiska diskussioner. Boken lämpar sig väl för filosofi kurs 1 och 2. Innehåll: Filosofi och språk; Kunskap, sanning och vetenskap; Hur bör man leva och handla?; Har livet mening?; Tillämpningar och fördjupningar; Kunskap och verklighet; Logik; Vetenskapsfilosofi; Estetik; Filosofins nytta. För dem som vill fördjupa sig i samtida filosofi finns ett tematiskt kapitel där frågor kring fem områden – feminism, djurrätt, idrottsfilosofi, politisk filosofi samt dödsstraff – diskuteras. Alla områden inleds med en presentation och avslutas med förslag till fördjupningar. Till samtliga områden finns också lämpliga fördjupningstexter i antologin Filosofins värld.



Scientific Feuds by Joel Levy
This book is a collection of the most vicious, scandalous, dirty, drawn-out, petty, personal, bad-tempered and downright violent feuds in the history of science. While most scientific chronicles present a triumphant march through time, with great thinkers and their revolutionary ideas and discoveries following on in orderly progression, the reality is somewhat different. Science is as much a story of personalities as ideas and it has often progressed through fierce struggles and epic battles for scientific and personal supremacy. Whether arguing over the credit for new discoveries or espousing rival theories, the disputes in this book have in many cases spurred the feuding parties on to great things and, in some, caused their ruin. The book features such notable feuds as Huxley and Wilberforce's famous debate on Darwin's theory of evolution, Franklin and Wilkins' fight over the discovery of DNA, Galileo's trial by the Catholic Church for his heretic adoption of the heliocentric view and Tesla and Edison's 'War of Currents', which saw Edison electrocute dogs and horses in a vain attempt to discredit Tesla's alternating current electrical power system. From passionate rivalries to vindictive sniping, the arguments in this book prove that when it comes to the personalities behind the ideas, the world of science is far from cool and methodical.
Ett oändligt äventyr
av Sven-Eric Liedman


Det sägs som en självklarhet att vi i dag lever i ett kunskapssamhälle. Men vad är egentligen kunskap, närmare besett? I sin nya bok närmar sig Sven-Eric Liedman frågan på flera olika vis. Han visar hur världen tar form för det lilla barnet och understryker språkets avgörande roll i allt kunskapssökande. Han hävdar att alla de mångskiftande mänskliga kunskaperna i grunden är praktiska, t.o.m. den mest abstrakta matematik. Han visar på skillnaden mellan den artificiella intelligens som datorn besitter och den mänskliga intelligensen, och gör en grundläggande distinktion mellan information och kunskap. Han polemiserar mot föreställningen att kunskap kan snabbinhämtas och påpekar att nya upptäckter ofta görs på oförutsägbara omvägar. Han analyserar kunskapens förhållande till makten och till pengarna, och han ställer avslutningsvis frågan om det är meningsfullt att tala om visdom i dag och vad den i så fall har att göra med våra vanliga kunskapsområden. 1997 fick Sven-Eric Liedman Augustpriset för I skuggan av framtiden. Med sitt långa historiska perspektiv och sitt tydliga fokus på vår tids stora frågor har Ett oändligt äventyr alla förutsättningar att bli en lika betydelsefull och användbar bok för många läsare – en inspirerande guide i dagens motsägelsefulla och förvirrande verklighet. I mediernas osorterade värld finns inga gränser mellan det trovärdiga och partsintresset, insikten och fördomen, den sakliga upplysningen och reklamen, det snyltande medlidandet och inlevelsen. Både barnet och den vuxne måste skaffa sig redskap att hävda och utveckla sin egen välgrundade mening mitt i mångfaldens kaos. Hur detta ska ske är en av de stora kunskapsfrågorna, kanske den största.



I skuggan av framtiden av Sven-Eric Liedman

Vad är det som utmärker moderniteten? Vad skiljer den moderna tiden från tidigare epoker? Sven-Eric Liedmans stora undersökning tar avstamp i upplysningsprojektet och följer de senaste århundradenas väldiga förändringar i Europa och världen. Hur formades vår bild av människan, av tid, kunskap, förnyelse? Liedmans unika förening av lärdom och berättarglädje gör studien till ett omvälvande äventyr, där de stora perspektiven ofta fördjupas av överraskande infallsvinklar; den moderna idéutvecklingen tecknas inte enbart utifrån politiken, vetenskapen, ekonomin och religionen, utan också genom underhållande resonemang kring exempelvis klockan och multiplikationstabellen. I skuggan av framtiden är en bok som saknar direkta motsvarigheter,även internationellt sett. Den belönades med Augustpriset för bästa fackbok 1997. Sven-Eric Liedman är professor i idé- och lärdomshistoria i Göteborg. Hans bok vänder sig till en allmänhet som är trött på ytliga schabloner, men den är också tänkt som kurslitteratur vid universitet och högskolor.
Stenarna i själen

av Sven-Eric Liedman


"Form" och "materia" har under årtusenden varit föremål för de stora tänkarnas intensiva intresse. Platon och Aristoteles, Descartes och Hobbes, Kant och Hegel, Derrida och Deleuze är bara några namn i den långa raden. Orden i fråga har också en avgörande betydelse för vetenskapernas utveckling i snävare bemärkelse. Vad är fysikens och kemins historia utan materieteorierna? Och som "stoff" och "innehåll" spelar de en avgörande roll för förståelsen av konst, musik och litteratur. Föreställningarna kring form och materia har, kort sagt, något väsentligt att säga om människan och hennes sätt att göra sig hemmastadd i världen. Stenarna i själen är den första samlade framställningen på temat form och materia i modern tid. Men den vänder sig till alla och envar som har ett levande intresse inte bara för det förflutnas stora tankar utan också för den djupare bakgrunden till nutidens mest ingrodda tankevanor om vad som kan göras eller inte.



En fråga som alltid fascinerat människan är om vi är ensamma i universum. Under senare år har den hamnat alltmer i fokus inom forskningen. Sedan 1995 har astronomerna hittat närmare tusen exoplaneter, det vill säga planeter runt andra stjärnor än vår egen sol. Upptäckten av dessa exoplaneter är en historisk händelse och forskningen kring dem har snabbt blivit ett av astronomins hetaste områden. En ny vetenskap har tillkommit: astrobiologin. Vår bild av hur ett planetsystem ser ut måste revideras och nu förbereder sig forskarna för nästa steg – att försöka hitta jordliknande planeter med liv. Samtidigt letar andra forskare efter meddelanden utsända av civilisationer man tror kan finnas därute bland stjärnorna. Kommer vi människor att kunna överbrygga de enorma avstånden i rymden och själva besöka andra planeter? Hur stor är chansen att man ska få kontakt med en annan civilisation? Det skulle kunna vara den mest revolutionerande händelsen i mänsklighetens historia – eller en katastrof. I Jakten på liv i universum diskuterar astronomen Peter Linde dessa frågor och ger både spännande, oväntade och kunniga svar.
Magnus Gabriel von Block av Sten Lindroth

Block (1669-1722) hade många strängar på sin lyra, han talade bl.a. elva språk, var utbildad läkare och var flitig författare. Efter studier i Uppsala och längre utlandsresor, där Block bl.a. lärde känna Leibniz och studerade medicin, utnämndes han till provinsialläkare i Östergötland 1702 och slog sig ned i Norrköping. I flera av sina skrifter bekämpade han vidskepelse och mirakeltro som fortfarande hade ett starkt fäste i Sverige. Lindroth såg Block som en viktig föregångsman till upplysningsidéerna i Sverige.
Svensk lärdomshistoria I
–IV

av Sten Lindroth


"Svensk lärdomshistoria [...] bär traditionens alla kännetecken. Den spränglärdes kunnande, där inte den minsta skenbart obetydliga detalj tycks ha undsluppit den skarpögdes granskning. Varje enskild källa, varenda bok och dokument har Lindroth läst och sett med egna ögon. Aldrig någonsin nöjde han sig med att luta sig mot eller enbart referera de mer lättillgängliga specialstudierna som en den slöes och slapphäntes stödkäppar. Här finns lärdomen, men den får aldrig förfalla till fotnotstung ogenomtränglighet. Historien är fylld av smittande inspiration, och den ska föras vidare. Det finns hos Lindroth – och hela denna tradition – en självklar koppling mellan innehåll och stil. Det tråkigt och träaktigt skrivna äger inte, tycks han säga till oss, rang av vetenskap värd namnet. Svensk lärdomshistoria, som sträcker sig från vetenskapernas första stapplande steg under medeltiden till det ofullbordade bandets nosande på den gustavianska epoken, är heller inte bara ett självklart och oumbärligt vetenskapligt verk. Det är dessutom, i ordets alla innebörder, synnerligen läsvärt." [Källa]




The Human Story by Charles Lockwood

Anthropology professor Charles Lockwood tells the amazing story of human evolution in a concise and compelling introduction to all our ancestors and extinct relatives. He draws on the explosion of discoveries made over the past 20 years to demystify the fascinating cast of characters who hold the secret to our origins, and describes the main sites, individual fossils, key scientific breakthroughs, and latest research that have fed our knowledge. With the help of a rich assortment of photographs, reconstructions, and maps, Lockwood takes us from the earliest hominids, who date back six or seven million years ago, to contemporary homo sapiens, providing the basic facts about each species: what it looked like, what it ate, how and when it lives, and how we know this information. Created in association with London's Natural History Museum, this is a truly readable, up-to-date, well-illustrated, and user-friendly summary of the evidence as it stands today.
30-Second Philosphies by Barry Loewer

"I Think Therefore I Am", Existentialism, Dialectical Materialism? The Socratic Method and Deconstruction? Sure, you know what they all mean. That is, you've certainly heard of them. But do you know enough about them to join a dinner party debate or dazzle the bar with your knowledge?

30-Second Philsophies

takes a revolutionary approach to getting a grip on the 50 most significant schools of philosophy. The book challenges leading thinkers to quit fretting about the meaning of meaning for a while and explain the most complex philosophical ideas – using nothing more than two pages, 300 words, and a metaphorical image. Here, in one unique volume, you have the chance to pick the potted brains of our leading philosophers and understand complex concepts such as Kant's Categorical Imperative without ending up in a darkened room with an ice pack on your head.
Why I Became an Atheist by John W. Loftus
For about two decades John W. Loftus was a devout evangelical Christian, an ordained minister of the Church of Christ, and an ardent apologist for Christianity. With three degrees – in philosophy, theology, and philosophy of religion – he was adept at using rational argumentation to defend the faith. But over the years, doubts about the credibility of key Christian tenets began to creep into his thinking. By the late 1990s he experienced a full-blown crisis of faith. In this honest appraisal of his journey from believer to atheist, the author carefully explains the experiences and the reasoning process that led him to reject religious belief. The original edition of this book was published in 2006 and reissued in 2008. Since that time, Loftus has received a good deal of critical feedback from Christians and skeptics alike. In this revised and expanded edition, the author addresses criticisms of the original, adds new argumentation and references, and refines his presentation. For every issue he succinctly summarizes the various points of view and provides references for further reading. In conclusion, he describes the implications of life without belief in God, some liberating, some sobering. This frank critique of Christian belief from a former insider will interest freethinkers as well as anyone with doubts about the claims of religion.
The End of Christianity by John W. Loftus
In this successor to his critically acclaimed anthology,

The Christian Delusion: Why Faith Fails

, a former minister and now leading atheist spokesperson has assembled a stellar group of respected scholars to continue the critique of Christianity begun in the first volume. Contributors include Victor Stenger, Robert Price, Hector Avalos, Richard Carrier, Keith Parsons, David Eller, and Taner Edis. Loftus is also the author of the best-selling

Why I Became an Atheist: A Former Preacher Rejects Christianity

. Taken together, the Loftus trilogy poses formidable challenges to claims for the rationality of the Christian faith. Anyone with an interest in the philosophy of religion will find this compilation to be intellectually stimulating and deeply thought provoking.


The Man Who Changed Everything by Basil Mahon
James Clerk Maxwell (1831-1879) changed our perception of reality and laid the foundations for many of the scientific and technological advances of the twentieth century. By discovering the nature of electromagnetic waves, he made possible the development of television, radio, radar and the mobile telephone. He took the first color photograph and introduced the system of thought experiments, later used by Einstein. His influence across all the areas of physical science has been enormous and yet many of his ideas were so ahead of their time that we had to wait many years before others confirmed his theories.
Det är vår bestämda uppfattning att... av Andreas Malm
Du kanske trodde att du vid det här laget visste tillräckligt om klimatfrågan och de utmaningar vi står inför. När du har läst Andreas Malms omvälvande berättelser om livets uppkomst och hotet mot vår planet, kommer du att inse att frågan är akut. Vi har väntat länge redan, och ju längre vi väntar, desto nödvändigare är det att angreppet på de fossila bränslena blir kompromisslöst: en revolution.
Physics for Poets by Robert H. March
Very accessible, brief, introduction to physics for the non-science major. A text written for the curious, non-scientist who wants to know how modern physics came to be, and figure out what lies behind the stories in the science columns of their newspapers.
Christian No More by Jeffrey Mark
The Bible says that the world's languages began with the Tower of Bable. Today we know better. But how could the Bible contain stories that aren't true? Author Jeffrey Mark was a devout Christian throughout his life until, during his early 30s, he began studying the Bible more seriously than he ever had. And that's when he made the disturbing realization that so many stories were simply untrue. For him, this realization started with the Tower of Bable. That in turn launched a series of events that eventually led him to abandon his long-held beliefs. Letting go of his beliefs resulted in pain, anger, and distrust towards everyone around him. But slowly he was able to rebuild his life and come to terms with the realities of the world and ultimately find happiness. If you've ever questioned your beliefs, Jeff's story will inspire you. Travel with him through his journey as he explores the deeper truths behind the Bible while discovering science, logic and reason, and ultimately revealing Christianity for what it really is.
What Evolution Is by Ernst Mayr
Evolution is the most important idea in biology, with implications that go far beyond science. But despite more than a century's progress in understanding, there is still widespread confusion about what evolution is, how it works and why it is the only plausible mechanism that can account for the remarkable diversity of life on Earth. Now, for the first time in a book aimed at a general audience, one of the founding fathers of modern biology tells us what we know – and what we do not know – about evolution. In showing how evolution has gone from theory to fact, Mayr explores various controversial fads and fallacies such as punctuated equilibrium, the selfish-gene theory and evolutionary psychology. Mayr ends by looking at what we know about human evolution and how, in turn, this knowledge has affected the way in which we view ourselves and the world.
Atheism: A Philosophical Justification by Michael Martin
In this book Michael Martin provides logical reasons for being an atheist. Carefully examining the current debate in Anglo-American analytic philosophy regarding God's existence, Martin presents a comprehensive critique of the arguments for the existence of God and a defense of arguments against the existence of God, showing in detail their relevance to atheism. Claiming that atheism is a rational position while theistic beliefs are not, he relies both on logic and evidence and confines his efforts to showing the irrationality of belief in a personal supreme being who is omniscient, omnipotent, perfect, and the creator of heaven and earth. The author's approach is two-fold. By presenting and criticizing arguments that have been advanced in favor of belief, he makes a case for "negative atheism". By offering arguments against atheism and defending it from these attacks, he presents a case for "positive atheism". Along the way, he confronts the views of numerous philosophers - among them Anselm, Aquinas, Plantinga, Hick, and Swinburne - and refutes both classical and contemporary arguments that have been advanced through the history of this debate. In his conclusion, Martin considers what would and would not follow if his main arguments were widely accepted, and he defines and distinguishes atheism from other "isms" and movements. Building on the work of religious skeptics and atheists of the past and present, he justifies his reconstruction of this philosophical dispute by citing some of the most interesting and important arguments for atheism and criticisms of arguments for the existence of God that have appeared in recent journal articles and have yet to be systematically addressed.
Atheism, Morality, and Meaning by Michael Martin
Despite the pluralism of contemporary American culture, the Judeo-Christian legacy still has a great deal of influence of the popular imagination. Thus it is not surprising that in this context atheism has a slightly scandalous ring, and unbelief is often associated with the lack of morality and a meaningless existence. Distinguished philosopher and committed atheist Michael Martin sets out to refute such notions in this thorough defense of atheism as both a moral and meaningful philosophy of life. Martin shows not only that objective morality and a purposeful life are possible without belief in God but also that the predominantly Christian worldview of American society is seriously flawed as the basis of morality and meaning. Divided into four parts, this cogent and tightly argued treaties begins with a refutation of well-known criticisms of nonreligious ethics and then develops an atheistic metaethics. In part 2, Martin criticizes the Christian foundation of ethics, specifically the Divine Command Theory and the idea of imitating the life of Jesus as the basis of Christian morality. Part 3 demonstrates that life can be meaningful in the absence of religious belief. Part 4 evaluates the theistic point of view in general terms as well as the specific Christian doctrines of Atonement, Salvation, and the Resurrection. This highly informed and sophisticated defense of atheism is a stimulating challenge to religious believers and a serious contribution to ethical theory.


The Cambridge Companion to Atheism by Michael Martin
In this volume, eighteen of the world's leading scholars present original essays on various aspects of atheism: its history, both ancient and modern, defense and implications. The topic is examined in terms of its implications for a wide range of disciplines including philosophy, religion, feminism, postmodernism, sociology and psychology. In its defense, both classical and contemporary theistic arguments are criticized, and, the argument from evil, and impossibility arguments, along with a non-religious basis for morality are defended. These essays give a broad understanding of atheism and a lucid introduction to this controversial topic.
Finding Darwin's God by Kenneth R. Miller
In Finding Darwin's God, Kenneth R. Miller offers a surprising resolution to the evolutionism vs. creationism debate. A distinguished professor of biology at Brown University, Miller argues that the genuine world of science is far more interesting than either the scientific mainstream or its creationist critics have assumed. He begins by systematically demolishing the claims of evolution's most vocal critics, showing that Darwin's great insights continue to be valid, even in the rarified worlds of biochemistry and molecular biology. As he puts it, evolution "is the real thing, and so are we." Does this mean that evolution invalidates all worldviews that depend upon the spiritual? Does it demand logical agnosticism as the price of scientific consistency? And does it rigorously exclude belief in God? His answer, in each and every case, is a resounding No. Not, as he argues, because evolutions is wrong. Far from it. The reason, as Miller shows, is that evolution is right. In this lively, fast-paced book, Miller offers a thoughtful, cutting-edge analysis of the key issues that seem to divide science and religion. As his narrative shows, the difficulties that evolution presents for Western religions are more apparent than real. Properly understood, evolution adds depth and meaning not only to a strictly scientific view of the world, but also to a spiritual one. Millers's resolution of the issues that seem to divide Good from evolution will serve as a guide to anyone interested in the classic questions of ultimate meaning and human origins.
Only a Theory by Kenneth R. Miller
What does the challenge to Darwin's theory of evolution in America today mean for our future? To Kenneth R. Miller, award-winning professor of biology at Brown University, the rise of "Intelligent Design" is symptomatic of a much greater struggle: one involving a broad assault on the very reason and skepticism that fueled our stunning scientific advances. A truly comprehensive book, Only a Theory does more than show why ID collapses as a scientific movement - it passionately lay out a prescription for how we can save the "scientific soul" to which America owes so much.
Atheist Universe by David Mills
Atheist Universe details why God is unnecessary to explain the universe's diversity, organization and beauty. Using simple, straightforward logic, this book rebuts every argument that claims to "prove" God's existence. A comprehensive primer for countering today's religious dogma, Atheist Universe addresses all the historical and scientific questions, including: What is atheism, and why is it so misunderstood? If God is a myth, then how did the universe appear? Without God, is there an objective "right" and "wrong"? What is the meaning of life without God? Is there evidence of Jesus' miracles and resurrection? Can atheist explain "near death" experiences and medical miracles? Can science and the Bible realistically be reconciled? What is the behind-the-scenes relationship between politics and religion?
The Evolving World by David P. Mindell
In the 150 years since Darwin, evolutionary biology has proven as essential as it is controversial, a critical concept for answering questions about everything from the genetic code and the structure of cells to the reproduction, development, and migration of animal and plant life. But today, as David P. Mindell makes undeniably clear in The Evolving World, evolutionary biology is much more than an explanatory concept. It is indispensable to the world we live in. This book provides the first truly accessible and balanced account of how evolution has become a tool with applications that are thoroughly integrated, and deeply useful, in our everyday lives and our societies, often in ways that we do not realize.
Darwin and the Beagle by Alan Moorehead
When the Beagle sailed in 1831, she carried a young naturalist, Charles Darwin, at age 22 still unknown. Destined for the church, Darwin was cozily at ease with creation as explained in Genesis. But everything he encountered on the voyage - from the primitive people of Tierra del Fuego to the finches of the Galapagos Islands, from earthquakes and eruptions to fossil seashells gathered at 12,000 feet in the Andes - challenged biblical assumptions and led finally to The Origin of Species.
The Story of Science by Michael Mosley & John Lynch
Ever since we first became aware of ourselves, we have asked questions about our existence. Answering these questions has taken us on a journey of revelation, coincidence, imagination and insight. It is a story of soaring ambition and unparalleled achievement, of courage and of fear, of arrogance and disaster, of persistence and success. It is a story that continues to this day; it has shaped our lives and our world – it is the story of science. Accompanying a landmark BBC television series, The Story of Science tells this tale more clearly and compellingly than ever before. Organized into six chapters, it traces the breakthroughs in every area of science from classical times to today. The award-winning authors shows us that great science happens when brilliant minds collide with new discoveries and tools at specific points in history. Without the printing press and gunpowder, the discoveries of the Renaissance could not have happened; the theory of evolution owed its existence in part to the invention of the postage stamp. These intriguing insights are summarized in unique 'connection' diagrams. We see the human face of the quest for knowledge too: the frailty and fallibility as well as the genius. Scientists have always struggled against prejudice and closed minds – sometimes their own. It takes a great deal of evidence to shift our worldview. Challenging many of our assumptions about the history of science and helping to make the most demanding theories understandable, this is the perfect guide to where science has come from and why it is so vital today.
Filosofi av
Lars Mouwitz
Filosofi är en kursbok i filosofi för studieförberedande program under Gy2011. Boken har ett personligt och berättande språk. Eleverna får följa filosofins historia kronologiskt från antiken till i dag, och förståelsen av klassiska begrepp och frågeställningar fördjupas steg för steg. 1900-talets filosofi presenteras med hjälp av teman, bl.a.: Språk och tanke, Argumentationsanalys, Vetenskapsfilosofi och Ekosofi. Med djupgående biografier och en humoristisk ton gör författaren Lars Mouwitz filosofin både levande och intressant. Lars Mouwitz har lång erfarenhet som gymnasielärare i filosofi och matematik. Han är sedan en tid tillbaka verksam som forskare vid Göteborgs universitet och Linnéuniversitetet och arbetar där med matematikfilosofiska och tvärvetenskapliga frågeställningar med anknytning till utbildning och bildning.
A Book Forged in Hell by Steven Nadler

When it appeared in 1670, Baruch Spinoza's Theological-Political Treatise was denounced as the most dangerous book ever published – "godless," "full of abominations," "a book forged in hell [...] by the devil himself." Religious and secular authorities saw it as a threat to faith, social and political harmony, and everyday morality, and its author was almost universally regarded as a religious subversive and political radical who sought to spread atheism throughout Europe. Yet Spinoza's book has contributed as much as the Declaration of Independence or Thomas Paine's Common Sense to modern liberal, secular, and democratic thinking. In A Book Forged in Hell, Steven Nadler tells the fascinating story of this extraordinary book: its radical claims and their background in the philosophical, religious, and political tensions of the Dutch Golden Age, as well as the vitriolic reaction these ideas inspired. It is not hard to see why Spinoza's Treatise was so important or so controversial, or why the uproar it caused is one of the most significant events in European intellectual history. In the book, Spinoza became the first to argue that the Bible is not literally the word of God but rather a work of human literature; that true religion has nothing to do with theology, liturgical ceremonies, or sectarian dogma; and that religious authorities should have no role in governing a modern state. He also denied the reality of miracles and divine providence, reinterpreted the nature of prophecy, and made an eloquent plea for toleration and democracy. A vivid story of incendiary ideas and vicious backlash, A Book Forged in Hell will interest anyone who is curious about the origin of some of our most cherished modern beliefs.
The Last Word by Thomas Nagel

If there is such a thing as reason, it has to be universal. Reason must reflect objective principles whose validity is independent of our point of view – principles that anyone with enough intelligence ought to be able to recognize as correct. But this generality of reason is what relativists and subjectivists deny in ever-increasing numbers. And such subjectivism is not just an inconsequential intellectual flourish or badge of theoretical chic. It is exploited to deflect argument and to belittle the pretensions of the arguments of others. The continuing spread of this relativistic way of thinking threatens to make public discourse increasingly difficult and to exacerbate the deep divisions of our society. In The Last Word, Thomas Nagel, one of the most influential philosophers writing in English, presents a sustained defense of reason against the attacks of subjectivism, delivering systematic rebuttals of relativistic claims with respect to language, logic, science, and ethics. He shows that the last word in disputes about the objective validity of any form of thought must lie in some unqualified thoughts about how things are – thoughts that we cannot regard from outside as mere psychological dispositions.
What Does It All Mean by Thomas Nagel

In this cogent and accessible introduction to philosophy, the distinguished author of Mortal Questions and The View From Nowhere sets forth the central problems of philosophical inquiry for the beginning student. Arguing that the best way to learn about philosophy is to think about its questions directly, Thomas Nagel considers possible solutions to nine problems: knowledge of the world beyond our minds, knowledge of other minds, the mind-body problem, free will, the basis of morality, right and wrong, the nature of death, the meaning of life, and the meaning of words. Although he states his own opinions clearly, Nagel leaves these fundamental questions open, allowing students to entertain other solutions and encouraging them to think for themselves.
Atheism and Philosophy by Kai Nielsen
The indeterminacy of the modern concept of God has made the distinction between belief and unbelief increasingly problematic. Both the complexity of the religious response and the variety of skeptical philosophies preclude simplistic definitions of what constitutes belief in God. Making the discussion even more difficult are assertions by fundamentalists who dismiss the philosophical perplexities of religious claims as unreal pseudo-problems. Atheism and Philosophy is a detailed study of these and other issues vital to our understanding of atheism, agnosticism, and religious belief. Philosopher Kai Nielsen develops a coherent and integrated approach to the discussion of what it means to be an atheist. In chapters such as: How is Atheism to be Characterized?; Does God Exist?; Agnosticism; Religion and Commitment; and The Primacy of Philosophical Theology, Nielsen defends atheism in a way that answers to contemporary concerns. This paperback edition features a new preface in which Nielsen, showing the increasing influence of the later Ludwig Wittgenstein, Donald Davidson, the classical pragmatists, and such neo-pragmatists as Richard Rorty and Hilary Putnam, defends his account against some persistent and plausible criticisms, particularly against his skeptical arguments concerning the coherence and intelligibility of belief in God.
Mitt i labyrinten av Peter Nilson

Mitt i labyrinten

är en samling essäer och fantasier som växte fram medan jag skrev

Arken

. Där finns en essä,

Bevingade män och flygande skepp

, som handlar om flygkonstens förhistoria, den börjar med antiken och medeltiden och är praktiskt taget det enda som har skrivits på svenska om mycket tidiga flygförsök. En annan essä,

En labyrint där alla människor går vilse

, handlar om tidens gåta - vad är tiden för något, vad vet forskarna idag och hur har man spekulerat och diktat genom tiderna? Den sista essän,

Fallet med den osynlige ryttaren

, är en studie över minnet, evolutionen och glömskan. Peter Nilson föddes 1937 i Näsby och avled 1998. Han var författare och vetenskapsman. 1974 disputerade han i astronomi vid Uppsala universitet med en doktorsavhandling som blivit ett standardverk inom astronomin, en klassificeringskatalog över 13.000 galaxer i universum. 1977 lämnade han forskningen för författaryrket. Med fantasi och poesi förmedlade Peter Nilson kunskap på högsta nivå och satte in människan i de stora kosmiska sammanhangen.


Avgrundsbok av Peter Nilson

Avgrundsbok

bjuder på djup och svindlande visdom, i den suggestiva sägnens form. I kortare och längre legender och historier, som alla på ett eller annat sätt kretsar kring människans kunskap - den stora outgrundliga Kunskapens Bok som lockar och gäckar det mänskliga förnuftet - får vi möte Goethe och Heidenstam, Vår Herre och en rad andra kända och okända figurer. Peter Nilson är en av våra mest älskade författare. Det skönlitterära författarskapet speglar både bondsonen och vetenskapsmannen. Vissa böcker verkar vara skrivna av pojken som återberättar de historier han lyssnat till i barndomen, andra verkar vara skrivna av astronomen och vetenskapsmannen. Han har bl.a. belönats med Harry Martinson-priset för sitt författarskap.


Stjärnvägar av Peter Nilson

Den här boken handlar om vår tids världsbild. Den berättar om universum och människan, om stjärnor och vintergator, om jordens historia, om skapelsen, livet och naturlagarna. Här möter vi vetenskapens nyaste upptäckter, men också forskarnas spekulationer och fantasier. Hur fungerar universum, vad är naturens ordning, vad är kaos? Finns det kanske andra universa än vårt? Finns det ett kosmiskt minne, en naturens egen superdator? Boken är skriven av en författare som besitter den unika kombinationen av stor belästhet, praktisk vetanskaplig erfarenhet och litterär fantasi. Den handlar inte enbart om naturvetenskaplig forskning: här möter vi också fantasin, intuitionen och dikten som kunskapsvägar. Han har i samma serie skrivit böckerna

Rymdljus

och

Solvindar

. Peter Nilson ägnade hela sitt liv åt gåtan och mysteriet universum. Mängder av fantastiska böcker fyllda med tankegångar som ger svindlande perspektiv på tillvaron blev resultatet. Peter Nilson var en gränsöverskridare. Det fanns inget ämne som han aktade sig för, utan läsare av hans böcker får om och om igen konfronteras med dessa frågeställningar. Man kan säga att han var en populärvetenskaplig författare, men med viss modifikation. Det finns en "själ", något som inte går att förklara i ord, i Peter Nilsons författarskap. Men som populärvetenskap är hans rymdtrilogi (

Stjärnvägar

,

Rymdljus

och

Solvindar

) oslagbart. Språket är romanens men innehållet tillhör vetenskapen, filosofin och liknande ämnen. Han var unik. Tyvärr finns han inte bland oss längre, han avled den åttonde mars 1998. Peter Nilson föddes i en småländsk by och var under tidiga tonåren lantbrukare, men vetenskapen med dess storheter så som Darwin och Einstein gjorde intryck på honom, vilket resulterade i inläst realskola och gymnasium via korrespondens. I början av 1960-talet började han studera i Uppsala, först matematik, därefter teoretisk fysik, estetik, idé- och lärdomshistoria och astronomi. Nilson blev 1962 fil. kand. och 1967 fil. lic. vid Uppsala universitet. 1964 började han arbeta på Uppsala astronomiska observatorium. 1965-1971 var han där amanuens och 1971-1977 forskarassistent, och 1974 blev han fil.dr och docent i astronomi. Tre år senare lämnade han observatoriet för att bli författare.


Rymdljus av Peter Nilson

Essäsamling om livets märkligheter och mysterier.

"Laviner, katastrofer, förintelser. Vi börjar förstå att de är oundvikliga, men vi förstår ändå inte hela sammanhanget. På något sätt står de också i samband med att skapande kan pågå i naturen, att universum sedan miljarder år har kunnat frambringa vad som nyss inte fanns och vad som aldrig förr hade funnits. Sönderfallet och döden, skapandet och förnyelsen skulle då existera under samma villkor, de liknar varandra, de styrs av samma ordning."

Peter Nilson föddes 1937 i Näsby och avled 1998. Han var författare och vetenskapsman. 1974 disputerade han i astronomi vid Uppsala universitet med en doktorsavhandling som blivit ett standardverk inom astronomin, en klassificeringskatalog över 13.000 galaxer i universum. 1977 lämnade han forskningen för författaryrket. Med fantasi och poesi förmedlade Peter Nilson kunskap på högsta nivå och satte in människan i de stora kosmiska sammanhangen.



Solvindar av Peter Nilson

I hundratals år har astronomer spanat efter liv på andra planeter. Att deras ansträngningar hittills misslyckats behöver inte betyda att det inte skulle finnas liv någon annanstans i universum. Men vår naturvetenskap har bara funnits i trehundra år. Det är helt nyss, i kosmisk bemärkelse, som vi började se oss omkring i Vintergatan.


Hem till jorden av Peter Nilson

"Jag har skrivit en bok om jorden, om skogarna, ängarna, den odlade marken - allt det som sedan urminnes tid är människans hembygd, i verkligheten och i fantasin. Verklighet och fantasi är motsatserna som formar livets helhet. Tingen och landskapet omkring oss, sinnevärldens materia och mytens ljus. Ljuden, dofterna, stjärnljuset, minnets och drömmens röster. Men finns det ingenting mer?"

Efter den framgångsrika kosmiska trilogin

Stjärnvägar

,

Rymdljus

och

Solvindar

har Peter Nilsson skrivit en grön, jordisk bok. I

Hem till jorden

ställer han det stora perspektivet mot det lilla. Människan, som art på jorden; tidlösa ängar; åren och evigheten; farfar som var mjölnare i Småland; farfars far som gjorde klockor... Peter Nilssons kombination av formuleringskonst, lärdom och nya perspektiv är utmanande, tankeväckande och fantastisk. Peter Nilson föddes 1937 i Näsby och avled 1998. Han var författare och vetenskapsman. 1974 disputerade han i astronomi vid Uppsala universitet med en doktorsavhandling som blivit ett standardverk inom astronomin, en klassificeringskatalog över 13 000 galaxer i universum. 1977 lämnade han forskningen för författaryrket. Med fantasi och poesi förmedlade Peter Nilson kunskap på högsta nivå och satte in människan i de stora kosmiska sammanhangen.


Himlavalvets sällsamheter av Peter Nilson

Denna bok är skriven i två avsnitt. Det första handlar framför allt om nutidens stjärnhimmel och om de myter som är knutna till stjärnbilderna med de namn som de bär idag. Vem är björnen som blev Stora Björn och vem är Draken som slingrar sig vid norra himmelpolen? Det andra avsnittet handlar om historien. Steg för steg går vi bakåt mot det förflutna och möter astronomer, vetenskapsmän och stjärntydare från olika tider och många kulturer. Du kan läsa om gamla folks världsförklaringar och de gamla folkens märkliga värdsbilder. Före den grekiska och romerska kulturen har assyrier, babylonier och egyptier satt sina spår i astronomin; men det finns kanske spår av myter från ännu mer avlägsna tider... Peter Nilson föddes 1937 i Näsby och avled 1998. Han var författare och vetenskapsman. 1974 disputerade han i astronomi vid Uppsala universitet med en doktorsavhandling som blivit ett standardverk inom astronomin, en klassificeringskatalog över 13.000 galaxer i universum. 1977 lämnade han forskningen för författaryrket. Med fantasi och poesi förmedlade Peter Nilson kunskap på högsta nivå och satte in människan i de stora kosmiska sammanhangen.


Filosoferna av Svante Nordin

Vad är egentligen modern filosofi? Vad har filosoferna haft för sig under de senaste 110 åren? Vilka har de stora frågorna varit? Vilka riktningar har dominerat och vilka tvister har skilt filosoferna i olika länder och med olika övertygelser från varandra? Är det sant att det finns en skillnad mellan kontinental och anglosaxisk filosofi och vad består den i så fall i? Är det riktigt att filosofin har nått sitt slut? Eller pågår den fortfarande och kanske är viktigare än någonsin? Svar på dessa och andra frågor finner du i Svante Nordins bok Filosoferna: Det västerländska tänkandets historia sedan år 1900. Där finns filosoferna själva och deras tankar. Men också de miljöer de levde i, de tidssituationer som bidrog till att ge upphov till deras problem, de konflikter de var indragna i, de svårigheter de mötte och de lösningar de sökte. Somliga namn är kända och omtalade, andra numera tämligen okända. Men i sin tid bidrog de alla till att fylla det filosofiska landskapet med levande figurer. Deras frågor och ibland deras svar utmanar oss fortfarande.
Att leka med elden av Karl-Erik Nylund
Vilka är de farligaste sekterna i Sverige och i världen? Vad kännetecknar en sekt? Hur lätt är det att dras med? Och är det svårt att bli fri? Detta är några frågor som Karl-Erik Nylund behandlar i sin bok Att leka med elden – sekternas värld. Detta är en uppdaterad och bearbetad upplaga av boken, som första gången kom ut 1998. Boken tar upp ett 50-tal mer eller mindre farliga sekter – de flesta verksamma i Sverige i dag. Detta är en översikt som gör Att leka med elden till en unik uppslagsbok. Men det är inte bara en uppslagsbok. Här finns också berättelser av sådana som själva har varit bundna av sekter, men som nu har kommit loss. Boken tar också upp vart man vänder sig för att få hjälp och råd. Detta gör Att leka med elden till en mycket mångsidig och användbar bok om det ständigt lika aktuella ämnet sekter. Karl-Erik Nylund är präst i Svenska kyrkan och ofta anlitad av massmedierna som sektexpert. Han föreläser också om etik, sekter och nyandlighet samt är konsult i organisationsutveckling och krishantering.
Filosofi – från Sokrates till Anderberg av Richard Ohlsson

Det som i alla tider har sporrat människor att ägna sig åt filosofi är tvivlet och det de önskat uppnå är visshet. I det avseendet skiljer sig inte dagens filosofer från de som levt och verkat i andra tider. Det är utgångspunkten i den här boken, som på ett lättillgängligt men för den skull inte ytligt sätt guidar läsaren genom den västerländska filosofihistorien – från det antika Greklands stora tänkare till samtida filosofer som Peter Singer och Thomas Anderberg. Efter ett inledande kapitel om ämnet filosofi, följer tjugonio porträtt av framträdande filosofer – sju av dessa helt nyskrivna för denna utökade andra upplaga. Urvalet bygger på författarens mångåriga erfarenhet som gymnasiebibliotekarie och är i första hand framtaget för att passa elever på denna nivå. Boken vänder sig dock till alla som är nyfikna på filosofi och vill bekanta sig med människorna bakom de stora idéerna och idéerna som sådana. Så ska du bara läsa en introduktion till filosofi låt det bli Filosofi – från Sokrates till Anderberg; det är en idealisk guide till tänkandets historia och en perfekt inkörsport till en värld där frågorna ibland är viktigare än svaren.
A Hands-On Introduction to Forensic Science by
Mark Okuda
One failing of many forensic science textbooks is the isolation of chapters into compartmentalized units. This format prevents students from understanding the connection between material learned in previous chapters with that of the current chapter. Using a unique format, A Hands-On Introduction to Forensic Science: Cracking the Case approaches the topic of forensic science from a real-life perspective in a way that these vital connections are encouraged and established. The book utilizes an ongoing fictional narrative throughout, entertaining students as it provides hands-on learning in order to "crack the case." As two investigators try to solve a missing persons case, each succeeding chapter reveals new characters, new information, and new physical evidence to be processed. A full range of topics are covered, including processing the crime scene, lifting prints, trace and blood evidence, DNA and mtDNA sequencing, ballistics, skeletal remains, and court testimony. Following the storyline, students are introduced to the appropriate science necessary to process the physical evidence, including math, physics, chemistry, and biology. The final element of each chapter includes a series of cost-effective, field-tested lab activities that train students in processing, analyzing, and documenting the physical evidence revealed in the narrative. Practical and realistic in its approach, this book enables students to understand how forensic science operates in the real world.
Grundläggande kriminalteknik av Jan Olsson & Thomas Kupper

Denna bok är unik! Det är den enda bok som på ett både övergripande och detaljerat sätt går igenom ämnet kriminalteknik med utgångspunkt från svenska förhållanden och svensk lagstiftning. Bokens upplägg följer läroplanerna i kriminalteknik vid Polishögskolan i Sörentorp och polisutbildningen vid Växjö universitet. Innehållet har granskats av elev- och lärargrupperna vid de båda utbildningsorterna. Författarna har gemensamt drygt 80 års erfarenhet av polisarbete i allmänhet och kriminalteknik i synnerhet. Thomas Kupper har arbetat som kriminalteknisk fotograf under närmare 40 år. Han har arbetat vid tekniska roteln i Uppsala, Rikspolisstyrelsens Nationella Fingeravtrycksavdelning, NFA, och drygt 24 år vid Polishögskolan. Han har även arbetat vid polisutbildningen vid Växjö universitet. Thomas Kupper har erfarenhet från kriminaltekniskt arbete i Mellanöstern, Serbien, Montenegro och Estland. Han har även producerat utbildningsfilmer och informationsmaterial. Jan Olsson är hemmahörande i Göteborg. Han har varit polis i drygt 45 år och har arbetat som kriminaltekniker i över 25 år och har också arbetat som förundersökningsledare. Även Jan Olsson har utlandserfarenhet från kriminaltekniskt arbete i bl.a. Serbien, Litauen, Montenegro och Palestina. De senaste åren har Jan Olsson arbetat vid Polishögskolan i Stockholm och under sju år som ämnesansvarig lärare i kriminalteknik vid polisutbildningen vid Växjö universitet.
Arguing about Gods by Graham Oppy

In this book, Graham Oppy examines arguments for and against the existence of God. He shows that none of these arguments is powerful enough to change the minds of reasonable participants in debates on the question of the existence of God. His conclusion is supported by detailed analyses of the arguments as well as by the development of a theory about the purpose of arguments and the criteria that should be used in judging whether or not arguments are successful. Oppy discusses the work of a wide array of philosophers, including Anselm, Aquinas, Descartes, Locke, Leibniz, Kant, Hume and, more recently, Plantinga, Dembski, White, Dawkins, Bergman, Gale and Pruss.
Den kosmiska koden av Heinz Pagels
Universum är ett meddelande skrivet i kod, en kosmisk kod, säger författaren, fysikern Heinz Pagels, i denna introduktion till mysterierna i mikrokosmos. Kvantfysiken, d.v.s studiet av de partiklar som kallas kvanta och som är den materiella världens byggstenar, är den vetenskap som försöker tyda koden. Den har redan gjort djupgående och förbluffande upptäckter som utmanar våra föreställningar om hur verkligheten är beskaffad. Då författaren följer kvantfysikens utveckling beskriver han den till synes förbryllande och laglösa världen av leptoner, hadroner, gluoner och kvarkar. Dessa är nycklarna till den kosmiska koden. Boken är indelad i tre delar. Den första delen Vägen till kvantfysikens verklighet beskriver utvecklingen av kvantteorin för atomen. Bokens andra del beskriver Resan in i materien. Här avslöjas materiens minsta partiklar och upptäcker av de grundlagar som förenar naturens krafter. Vägen till dessa rön går via kunskaper om universums uppkomst, the big bang. Bokens tredje del Den kosmiska koden beskriver de fysikaliska lagarnas natur och hur fysikerna upptäckt dem. Här kommer också några personliga reflektioner över meningen med vetenskapliga företag av det här slaget. Kunskaper av det här slaget är ju minst sagt revolutionerande - de påverkar såväl verklighetsuppfattning, filosofi som vetenskap.
On What Matters I–III by Derek Parfit

On What Matters is a major work in moral philosophy. It is the long-awaited follow-up to Derek Parfit's 1984 book Reasons and Persons, one of the landmarks of twentieth-century philosophy. In this first volume Parfit presents a powerful new treatment of reasons and rationality, and a critical examination of three systematic moral theories – Kant's ethics, contractualism, and consequentialism – leading to his own ground-breaking synthetic conclusion. Along the way he discusses a wide range of moral issues, such as the significance of consent, treating people as a means rather than an end, and free will and responsibility. On What Matters is already the most-discussed work in moral philosophy: its publication is likely to establish it as a modern classic which everyone working on moral philosophy will have to read, and which many others will turn to for stimulation and illumination.
Exploring Evolution by Michael Allan Park
The topic of evolution is both fascinating and controversial. For an educated reader who may know little about the topic, this book helps to demystify the subject in a clear, straightforward way, explaining the basic principles of evolutionary theory, the role it has played in the history of science and the reaction of society to the concept of evolution. While in the public mind, human evolution and the controversies that surround it are seen as almost synonymous with the concept of evolutionary theory, in fact the basic elements of evolution apply equally to humans, sponges and geraniums. The author, an anthropologist with a specialty in evolutionary theory, discusses how it fits into the way we view the world and our fellow creatures as well as how thethinking behind evolutionary theory has been influential in a broader cultural context. Engagingly written and more than 140 illustrations to illuminate the concepts, Exploring Evolution helps to answer questions such as "do all living things continue to evolve?" and "what does it mean when they say that we share 99% of our genes with chimpanzees?". Michael Alan Park is a professor and past-chairman of the Anthropology Department, and coordinator of the Arts and Sciences Academy for the Public Understanding of Science at Central Connecticut State University. He is the author or co-author of six college textbooks in anthropology and a frequent speaker to academic and public audiences on topics in antrophology and science. He lives in Connecticut with his wife and, at last count, three Labrador retrievers and two cats.
Things to Make and Do in the Fourth Dimension by Matt Parker

A book from the stand-up mathematician that makes math fun again! Math is boring, says the mathematician and comedian Matt Parker. Part of the problem may be the way the subject is taught, but it's also true that we all, to a greater or lesser extent, find math difficult and counterintuitive. This counter intuitiveness is actually part of the point, argues Parker: the extraordinary thing about math is that it allows us to access logic and ideas beyond what our brains can instinctively do – through its logical tools we are able to reach beyond our innate abilities and grasp more and more abstract concepts. In the absorbing and exhilarating Things to Make and Do in the Fourth Dimension, Parker sets out to convince his readers to revisit the very math that put them off the subject as fourteen-year-olds. Starting with the foundations of math familiar from school (numbers, geometry, and algebra), he reveals how it is possible to climb all the way up to the topology and to four-dimensional shapes, and from there to infinity – and slightly beyond. Both playful and sophisticated, Things to Make and Do in the Fourth Dimension is filled with captivating games and puzzles, a buffet of optional hands-on activities that entices us to take pleasure in math that is normally only available to those studying at a university level. Things to Make and Do in the Fourth Dimension invites us to re-learn much of what we missed in school and, this time, to be utterly enthralled by it.

Innumeracy by John Allen Paulos
Why do even well-educated people understand so little about mathematics? And what are the costs of our innumeracy? John Allen Paulos, in his celebrated bestseller first published in 1988, argues that our inability to deal rationally with very large numbers and the probabilities associated with them results in misinformed governmental policies, confused personal decisions, and an increased susceptibility to pseudoscience of all kinds. Innumeracy lets us know what we're missing, and how we can do something about it. Sprinkling his discussion of numbers and probabilities with quirky stories and anecdotes, Paulos ranges freely over many aspects of modern life, from contested elections to sports stats, from stock scams and newspaper psychics to diet and medical claims, sex discrimination, insurance, lotteries, and drug testing. Readers of Innumeracy will be rewarded with scores of astonishing facts, a fistful of powerful ideas, and, most important, a clearer, more quantitative way of looking at their world.
Irreligion by John Allen Paulos
Are there any logical reasons to believe in God? The mathematician and bestselling author John Allen Paulos thinks not. In Irreligion he presents the case for his own irreligious worldview, organizing his book into a series of chapters that refute the twelve arguments most often put forward for believing in God's existence. Those arguments, Paulos relates in his characteristically lighthearted style, "range from what might be called the golden oldies of religious thought to those with a more contemporary beat. On the playlist are the first-cause argument, the argument from design, the ontological argument, arguments from faith and biblical codes, the argument from the anthropic principle, the moral universality argument, and others." Interspersed among his twelve counterarguments are remarks on a varitey irreligious themes, ranging from the nature of miracles and creationist probability to cognitive illusions and prudential wagers. Special attention is paid to topics, arguments, and questions that spring from his incredulity "not only about religion but also about others' credulity." Despite the strong influence of his day job, Paulos says, there isn't a single mathematical formula in the book.
Once Upon a Number by John Allen Paulos
What two things could be more different than numbers and stories? Numbers are abstract, certain, and eternal, but to most of us somewhat dry and bloodless. Good stories are full of life: they engage our emotions and have subtlety and nuance, but they lack rigor and the truths they tell are elusive and subject to debate. As ways of understanding the world around us, numbers and stories seem almost completely incompatible. Once Upon a Number shows that stories and numbers aren't as different as you might imagine, and in fact they have surprising and fascinating connections. The concepts of logic and probability both grew out of intuitive ideas about how certain situations would play out. Now, logicians are inventing ways to deal with real world situations by mathematical means – by acknowledging, for instance, that items that are mathematically interchangeable may not be interchangeable in a story. And complexity theory looks at both number strings and narrative strings in remarkably similar terms.Throughout, renowned author John Allen Paulos mixes numbers and narratives in his own delightful style. Along with lucid accounts of cutting-edge information theory we get hilarious anecdotes and jokes; instructions for running a truly impressive pyramid scam; a freewheeling conversation between Groucho Marx and Bertrand Russell (while they're stuck in an elevator together); explanations of why the statistical evidence against O.J. Simpson was overwhelming beyond doubt and how the Unabomber's thinking shows signs of mathematical training; and dozens of other treats. This is another winner from America's favorite mathematician.
Objectivism: The Philosophy of Ayn Rand by Leonard Peikoff
This brilliantly conceived and organized book is based on a lecture course given by Dr. Leonard Peikoff in 1976, entitled The Philosophy of Objectivism. The lectures were attended by Ayn Rand, who helped prepare them and also joined Peikoff in answering questions. Ayn Rand said of these lectures: "Until or unless I write a comprehensive treatise on my philosophy, Dr. Peikoff's course is the only authorized presentation of the entire theoretical structure of Objectivism - that is, the only one that I know of my own knowledge to be fully accurate." Dr. Peikoff, Rand's designated heir and foremost interpreter, reveals the abstract fundamentals of Objectivism and its practical applications in the everyday world. He covers every branch of philosophy recognized by Rand and every philosophic topic that she regarded as important - from certainty to money, form logic to art, from measurement to sex. Illustrated with quotes from her published works, complete with an abundance of new material that Ayn Rand offered only in private conversations with Peikoff, these clear, cogent chapters illuminate Objectivism - and its creator - with startling clarity. Now the millions of readers who have been transformed by Atlas Shrugged and The Fountainhead will discover the full philosophical system underlying Ayn Rand's stories about life "as it might be and ought to be".
But is it Science by Robert T. Pennock and Michael Ruse
The emotionally charged debate pitting creationism against evolution has been swirling since the publication of Charles Darwin's Origins of Species in 1859. The primary locus of controversy in the United States has been the courts, which have stepped in repeatedly to rule on the constitutionality of laws and policies regarding how each may be taught in the public schools. In 1981 the US Supreme Court ruled in McLean v. Arkansas that so-called creation science was not science but religion and therefore should not the taught in public schools. But proponents of this theory did not accept defeat, and creationism was resurrected almost immediately in the form of intelligent design (ID), which claimed to be a new and truly scientific view. But on December 20, 2005, a US district court in Harrisburg, Pennsylvania, ruled in Kitzmiller et al. v. Dover Area School Board that ID is "creationism relabeled" and does not belong in science classes. In each case a central issue dealt with philosophy of science, namely, whether creationism could qualify as real science. This fully updated anthology will inform readers about the history of the debate and bring philosophical clarity to the complex arguments on both sides. The editors, both whom served as expert witnesses in these high-profile cases (Ruse in McLean and Pennock in Kitzmiller), begin by chronicling the intense discussion that surrounded the publication of Darwin's famous work regarding its status as science. They move on to articles that continue this discussion as it relates to modern evolutionary theory. The second major section discusses creation science, focusing on the philosophical questions arising from the McLean case. In the final section, the philosophical distinction between religion and science is brought up to date as it is resolved with respect to ID in the Kitzmiller case. This captivating overview of one of America's most hotly contested social issues show the vital role philosophy plays in laying bare the best competing arguments in an effort to reach objective decisions affecting education and interpretations of science and religion.
Filosofi – frågor och argument av Ulf Persson
Bjud in dina elever till det filosofiska samtalet! Nyfikenhet leder via frågor och argument fram till åsikter. Därför äger filosoferandet rum i samtal, vilket också är utgångspunkten för denna bok. Boken vill stimulera till eget tänkande och ställningstagande varför stor vikt läggs vid att redovisa argument både för och emot de olika filosofiska uppfattningar som lyfts fram.



Stora matematiker av Ettore Picutti

Denna bok innehåller skildringar av femton stora matematiker, deras verk och deras relationer till sin samtid. Den framställning som ges av deras verksamhet är mer än anekdotisk: den belyser hur nya idéer uppkommer och påvisar den djärva, dynamiska och fantasifulla karaktären hos innovationer i matematiken. Dessutom innehåller boken några nutida franska matematikers minnen och personliga synpunkter samt en skildring av hur det gick till när Andrew Wiles 1994 lyckades bevisa Fermats stora sats.
Nonsense on Stilts by Massimo Pigliucci
Creationists who dismiss Darwin's theory of evolution. Parents who refuse to vaccinate their children. Climate change deniers who dismiss the warming planet as a hoax. These are just some of the groups that, despite robust scientific evidence, embrace pseudoscientific beliefs and practices. Why do they believe bunk? And how does their ignorance threaten us all? Noted skeptic Massimo Pigliucci sets out to separate the fact from the fantasy in this entertaining exploration of the nature of science, the borderlands of fringe science, and - borrowing a famous phrase from philosopher Jeremy Bentham - the nonsense on stilts. Covering a range of controversial topics, Pigliucci cuts through the ambiguity surrounding science to look more closely at how science is conducted, how it is disseminated, how it is interpreted, and what it means to our society. The result is in many ways a "taxonomy of bunk" that explores the intersection of science and culture at large.
Free Will: A Very Short Introduction by Thomas Pink

Every day we seem to make and act upon all kinds of choices: some trivial, others so consequential that they change the course of one's life, or even the course of history. But are these choices really free, or are we compelled to act the way we do by factors beyond our control? Is the feeling that we could have made different decisions just an illusion? And if our choices are not free, is it legitimate to hold people morally responsible for their actions? Thomas Pink looks at the fundamental philosophical question of free will, critically examining the claim: If our actions are causally determined by events beyond our control, that means that we can never act freely, and so can never be held responsible for our actions.
How to Win Every Argument by Madsen Pirie

Publisher's warning: In the wrong hands this book is dangerous. We recommend that you arm yourself with it whilst keeping it out of the hands of others. Only buy this book as a gift if you are sure that you can trust the recipient. In this witty and infectious book, Madsen Pirie provides a complete guide to using – and indeed abusing – logic in order to win arguments. He identifies with devastating examples all the most common fallacies popularly used in arguments. We all like to think of ourselves as clear-headed and logical – but all readers will find in this book fallacies of which they themselves are guilty. The author shows you how to simultaneously strengthen your own thinking and identify the weaknesses in other peoples arguments. And, more mischievously, Pirie also shows how to be deliberately illogical – and get away with it! This book will make you maddeningly smart: your family, friends and opponents will all wish that you had never read it.

501 Things You Should Have Learned About Philosophy by Michael Powell

If you're honest, how much do you really know about any of this stuff? The older we get the less we seem to know and the less time we have to bone up on the essentials. One day, you tell yourself, you'll get round to finding out. Well that day has arrived, so welcome to your intensive vacation primer! Forget boring lectures and dusty professors, this book presents history's greatest philosophers and their big ideas in fascinating, easy-to-understand and manageable chucks. You'll learn how philosophical ideas have shaped the world around us, from our politics and religion to our language and ethics, and be challenged by some of the puzzles and paradoxes that have had philosophers thinking for centuries. By the end of this book, you'll know your Descartes from your Dewey, Hobbes from Hegel and so much more. This really is everything you should have learned about philosophy.
Logic: A Very Short Introduction by Graham Priest

Logic is often perceived as having little to do with the rest of philosophy, and even less to do with real life. In this lively and accessible introduction, Graham Priest shows how wrong this conception is. He explores the philosophical roots of the subject, explaining how modern formal logic deals with issues ranging from the existence of God and the reality of time to paradoxes of probability and decision theory. Along the way, the basics of formal logic are explained in simple, non-technical terms, showing that logic is a powerful and exciting part of modern philosophy. Combining authority with wit, accessibility, and style, Very Short Introductions offer an introduction to some of life's most interesting topics. Written by experts for the newcomer, they demonstrate the finest contemporary thinking about the central problems and issues in hundreds of key topics, from philosophy to Freud, quantum theory to Islam.
Evolution by Donald R. Prothero
Over the past twenty years, paleontologists have made tremendous fossil discoveries, including fossils that mark the growth of whales, manatees, and seals from land mammals and the origins of elephants, horses, and rhinos. Today there exists an amazing diversity of fossil humans, suggesting we walked upright long before we acquired large brains, and new evidence from molecules that enable scientists to decipher the tree of life as never before. The fossil record is now one of the strongest lines of evidence for evolution, and yet it continues to come under attack by present-day creationists and advocates of Intelligent Design for not supporting the theory of biological evolution. With this engaging and richly illustrated book, leading paleontologist Donald R. Prothero sets the record straight. Prothero weaves an entertaining though intellectually rigorous history out of the transitional forms and series that dot the fossil records. Beginning with a brief discussion of the nature of science and the "monkey business of creationism", Prothero tackles subjects ranging from flood geology and rock dating to neo-Darwinism and macroevolution. He covers the ingredients of the primordial soup, the effects of communal living, invertebrate transitions, the development of the backbone, the reign of dinosaurs, the mammalian explosion, and the leap from early primates to Homo sapiens. Prothero pays particular attention to the recent discovery of "missing links" that complete the fossil timeline and the controversy among contemporary scientists over the mechanisms of evolution. Evolution: What the Fossils Say and Why It Matters is an absorbing combination of firsthand observation, scientific discovery, and trenchant analysis. With the teaching of evolution still challenged by advocates of Intelligent Design and those who wish to teach both evolution and a creationist alternative, there couldn't be a better moment for a book clarifying the nature and value of fossil evidence in support of evolution.
Introduction to Objectivist Epistemology by Ayn Rand
Today man's mind is under attack by all the leading schools of philosophy. We are told that we cannot trust our senses, that logic is arbitrary, that concepts have no basis in reality. Ayn Rand opposes that torrent of nihilism, and she provides the alternative in this eloquent presentation of the essential nature - and power - of man's conceptual faculty. She offers a startlingly original solution to the problem that brought about the collapse of modern philosophy: the problem of universals. This brilliantly argued, superbly written work, together with a remarkable essay by philosophy professor Leonard Peikoff, is vital reading for all those who seek to discover that human beings can and should live by the guidance of reason. And now Ayn Rand's masterwork has been greatly expanded to include never-before-published excerpts from a series of near legendary workshops on Objectivist epistemology that Ayn Rand conducted between 1969 and 1971. These workshops were opportunities for a select group of professionals in the fields of philosophy, physics, and mathematics to question Rand about her theory of concepts. This is a rare opportunity to witness Ayn Rand in action - in the swift cut-and-parry of debate - at the very peak of her intellectual prowess and power.

The Faith Healers by James Randi

James Randi, the celebrated magician, has written a damning indictment of the faith-healing practices of the leading televangelists and others who claim divine healing powers. Randi and his team of researchers attended scores of "miracle services" and often were pronounced "healed" of the nonexistent illnesses they claimed. They viewed first-hand the tragedies resulting from the wide-spread belief that faith healing can cure every conceivable disease. The ministries, they discovered, were rife with deception, chicanery, and often outright fraud. Self-anointed ministers of God convince the gullible that they have been healed – and that they should pay for the service. The Faith Healers examines in depth the reasons for belief in faith healing and the catastrophic results for the victims of these hoaxes. Included in Randi's book are profiles of a highly profitable"psychic dentist", and the "Vatican-approved wizard".
Flim-Flam! by James Randi

James Randi is internationally known as a magician and escape artist. But for the past thirty-five years of his professional life, he has also been active as an investigator of the paranormal, occult, and supernatural claims that have impressed the thinking of the public for a generation: ESP, psychokinesis, psychic detectives, levitation, psychic surgery, UFOs, dowsing, astrology, and many others. Those of us unable to discriminate between genuine scientific research and the pseudoscientific nonsense that has resulted in fantastic theories and fancies have long needed James Randi and Flim-Flam! In Flim-Flam! Randi explores and exposes what he believes to be the outrageous deception that has been promoted widely in the media. Unafraid to call researchers to account for their failures and impostures, Randi tells us that we have been badly served by scientists who have failed to follow the procedures required by their training and traditions. Here he shows us how what he views as sloppy research has been followed by rationalizations of evident failures, and we see these errors and misrepresentations clearly pointed out. Mr. Randi provides us with a compelling and convincing document that will certainly startle and enlighten all who read it.
The Truth About Uri Geller by James Randi

There is more to Uri Geller than his countless "miracles" – and James (The Amazing) Randi tells all in this fascinating examination of the Geller myth. What really makes Geller run? Why have scientists reported on all Geller's"successful" psychic tests and ignored his many failures? Why will Uri perform almost anywhere, anytime, except in front of professional magicians? Can Geller actually bend spoons, keys and nails with his"psychic" powers? Why do people around the world continue to believe Geller has magic powers, when his tricks have been exposed many times? In an eye-opening exposé, Randi provides a devastating blow to Geller and the pseudoscience of parapsychology.
The Story of Measurement by Andrew Robinson
Measurement has defined society, government and progress since the dawn of civilization. Length, area, volume, angle, weight, value, language, and time all had to be quantified and systematized in marking out land, planting crops, building palaces, trading goods, taxing individuals, keeping records and celebrating festivals. In the form of science, measurement has given rise to the modern world, with its cash registers, communication satellites and brain scanners. It regulates almost every aspect of our lives – through exams, interest rates, drug prescriptions and opinion surveys – whether we like it or not. The Story of Measurement is the first fully illustrated survey to cover the entire subject. This diverse, long-overdue book explains the ideas behind measurement units and measuring instruments, and shows how they are applied to both the physical universe – electrons, earth and stars – and human body and mind. Part fascinating history, part cutting-edge science, it explores everything measurable, from temperature, earthquakes and radioactivity to music, blood and social attitudes, as well as the origins of the metric system in the French Revolution. It is a story that transports the reader from Hubble space telescope images of the galaxies at the edge of the known world to intelligence tests of the innermost recesses of the mind. Anyone interested in the role of science in everyday life will find here accessible, intelligent, visual and often entertaining answers to the questions we all ask about how we measure ourselves, our planet and the Universe.
Atheism: What Everyone Needs to Know by Michael Ruse

Over the last decade, "New Atheists" such as Sam Harris, Richard Dawkins, and Christopher Hitchens have pushed the issue of atheism to the forefront of public discussion. Yet very few of the ensuing debates and discussions have managed to provide a full and objective treatment of the subject. Atheism: What Everyone Needs to Know provides a balanced look at the topic, considering atheism historically, philosophically, theologically, sociologically and psychologically. Written in an easily accessible style, the book uses a question and answer format to examine the history of atheism, arguments for and against atheism, the relationship between religion and science, and the issue of the meaning of life – and whether or not one can be a happy and satisfied atheist. Above all, the author stresses that the atheism controversy is not just a matter of the facts, but a matter of burning moral concern, both about the stand one should take on the issues and the consequences of one's commitment.
Autobiography by Bertrand Russell
Bertrand Russell was born in 1872 and died in 1970. One of the most influential figures of the twentieth century, he transformed philosophy and can lay claim to being one of the greatest philosophers of all time. He was a Nobel Prize winner for Literature and was imprisoned several times as a result of his pacifism. His views on religion, education, sex, politics and many other topics, made him one of the most read and revered writers of the age. This, his autobiography, is one of the most compelling and vivid ever written. This one-volume, compact paperback edition contains an introduction by the politician and scholar, Michael Foot, which explores the status of this classic nearly 30 years after the publication of the final volume.
A History of Western Philosophy by Bertrand Russell
Since its first publication in 1945 Lord Russell's A History of Western Philosophy has been universally acclaimed as the outstanding one-volume work on the subject – unparalleled in its comprehensiveness, its clarity, its erudition, its grace and wit. In seventy-six chapters he traces philosophy from the rise of Greek civilization to the emergence of logical analysis in the twentieth century. Among the philosophers considered are: Pythagoras, Heraclitus, Parmenides, Empedocles, Anaxagoras, the Atomists, Protagoras, Socrates, Plato, Aristotle, the Cynics, the Sceptics, the Epicureans, the Stoics, Plotinus, Ambrose, Jerome, Augustine, Benedict, Gregory the Great, John the Scot, Aquinas, Duns Scotus, William of Occam, Machiavelli, Erasmus, More, Bacon, Hobbes, Descartes, Spinoza, Leibniz, Locke, Berkeley, Hume, Rousseau, Kant, Hegel, Schopenhauer, Nietzsche, the Utilitarians, Marx, Bergson, James, Dewey, and lastly the philosophers with whom Lord Russell himself is most closely associated – Cantor, Frege, and Whitehead, co-author with Russell of the monumental Principia Mathematica.
The Problems of Philosophy is one of Bertrand Russell's attempts to create a concise and accessible guide to the problems of philosophy. Focusing on various issues he believes will cause a positive and constructive discussion. Russell focuses on knowledge and not on metaphysics. It gives the reader a distinction between "knowledge by acquaintance and knowledge by description", and introduces important theories of Plato, Aristotle, Descartes, David Hume, John Locke, Immanuel Kant, Georg Hegel and others to lay the foundation of philosophical inquiry as readers and scholars.

Religion and Science by Bertrand Russell
In this timely work, Russell, philosopher, agnostic, mathematician, and renowned peace advocate, offers a brief yet insightful study of the conflicts between science and traditional religion during the last four centuries. Examining accounts in which scientific advances clashed with Christian doctrine or biblical interpretations of the day, from Galileo and the Copernican Revolution, to the medical breakthroughs of anesthesia and inoculation, Russell points to the constant upheaval and reevaluation of our systems of belief throughout history. In turn, he identifies where similar debates between modern science and the Church still exist today. This classic is sure to interest all readers of philosophy and religion, as well as those interested in Russell's thoughts and writings.
Criminalistics: An Introduction to Forensic Science

by

Richard Saferstein

Criminalistics: An Introduction to Forensic Science

strives to make the technology of the modern crime laboratory clear and comprehensible to the non-scientist. The nature of physical evidence is defined, and the limitations that technology and current knowledge impose on its individualization and characterization are examined. By combining case stories with applicable technology,

Criminalistics

: An Introduction to Forensic Science

endeavors to capture the pulse and fervor of forensic science investigations. A major portion of the text centers on discussions of the common items of physical evidence encountered at crime scenes. These chapters include descriptions of forensic analysis, as well as updated techniques for the proper collection and preservation of evidence at crime scenes. Particular attention is paid to the meaning and role of probability in interpreting the evidential significance of scientifically evaluated evidence.


Billions & Billions by Carl Sagan
In this book, his last, Carl Sagan shows once again his extraordinary ability to interpret the mysteries of life and the majesty of the universe for the general reader. In Billions and Billions Sagan applies what we know about science, mathematics, and space to everyday life as well as to the exploration of many essential questions concerning the environment and our future. Ranging far and wide in subject matter, he takes his readers on a soaring journey, from the invention of chess to the possibility of life on Mars, from Monday Night Football to the relationship between the United States and Russia, from global warming to the abortion debate. And, on a more intimate note, we are given a rare glimpse of the author himself as he movingly describes his valiant fight for his life, his love for his family, and his personal beliefs about death and God.
Cosmos by Carl Sagan
The Cosmos is all that is or ever was or ever will be. Our feeblest contemplations of the Cosmos stir us - there is a tingling in the spine, a catch in the voice, a faint sensation, as if a distant memory, of falling from a height. We know we are approaching the greatest of mysteries. The size and age of the Cosmos are beyond ordinary human understanding. Lost somewhere between immensity and eternity is our tiny planetary home. In a cosmic perspective, most human concerns seems insignificant, even petty. And yet our species is young and curious and brave and shows much promise. In the last few millenia we have made the most astonishing and unexpected discoveries about the Cosmos and our place within it, explorations that are exhilarating to consider. They remind us that humans have evolved to wonder, that understanding is a joy, that knowledge is prerequisite to survival. I believe our future depends on how well we know this Cosmos in which we float like a mote of dust in the morning sky. Those explorations required skepticism and imagination both. Imagination will often carry us to worlds that never were. But without it, we go nowhere. Skepticism enables us to distinguish fantasy from fact, to test our speculations. The Cosmos is rich beyond measure - in elegant facts, in exquisite interrelationships, in the subtle machinery of awe.
The Demon-Haunted World by Carl Sagan
How can we make intelligent decisions about our increasingly technology-driven lives if we don't understand the difference between the myths of pseudoscience and the testable hypotheses of science? Pulitzer Prize-winning author and distinguished astronomer Carl Sagan argues that scientific thinking is critical not only to the pursuit of truth but to the very well-being of our democratic institutions. Casting a wide net through history and culture, Sagan examines and authoritatively debunks such celebrated fallacies of the past as witchcraft, faith healing, demons, and UFOs. And yet, disturbingly, in today's so-called information age, pseudoscience is burgeoning with stories of alien abduction, channeling past lives, and communal hallucinations commanding growing attention and respect. As Sagan demonstrates with lucid eloquence, the siren song of unreason is not just a cultural wrong turn but a dangerous plunge into darkness that threatens our most basic freedoms.
The Dragons of Eden by Carl Sagan
Dr. Carl Sagan takes us on a great reading adventure offering his vivid and startling insight into the brain of man and beast, the origin of human intelligence, the function of our most haunting legends - and their amazing links to recent discoveries.
Pale Blue Dot by Carl Sagan
In Cosmos, the late astronomer Carl Sagan cast his gaze over the magnificent mystery of the Universe and made it accessible to millions of people around the world. Now in this stunning sequel, Carl Sagan completes his revolutionary journey through space and time. Future generations will look back on our epoch as the time when the human race finally broke into a radically new frontier - space. In Pale Blue Dot Sagan traces the spellbinding history of our launch into the cosmos and assesses the future that looms before us as we move out into our own solar system and on to distant galaxies beyond. The exploration and eventual settlement of other worlds is neither a fantasy nor luxury, insists Sagan, but rather a necessary condition for the survival of the human race.
How to Think about Weird Things by Theodore Schick
This brief, affordable text helps students to think critically, using examples from the weird claims and beliefs that abound in our culture to demonstrate the sound evaluation of any claim. It explains step-by-step how to sort through reasons, evaluate evidence, and tell when a claim (no matter how strange) is likely to be true. The emphasis is neither on debunking nor on advocating specific assertions, but on explaining principles of critical thinking that enable readers to evaluate claims for themselves. The authors focus on types of logical arguments and proofs, making How to Think about Weird Things a versatile supplement for logic, critical thinking, philosophy of science, or any other science appreciation courses.

Evolution vs. Creationism by Eugenie C. Scott
Evolution vs. Creationism provides a badly needed, comprehensive, and balanced survey of the debate over the teaching of evolution. Written by one of the leading advocates for the teaching of evolution in the United States, this accessible resource provides an introduction to the many facets of the current debate - the scientific evidence for evolution, the legal and educational basis for its teaching, and various religious points of view - as well as concise history of the evolution/creationism controversy.
Kant: A Very Short Introduction by Roger Scruton

Immanuel Kant is arguably the most influential modern philosopher, but is also one of the most difficult. In this illuminating

Very Short Introduction

, Roger Scruton – a well-known and controversial philosopher in his own right – tackles his exceptionally complex subject with a strong hand, exploring the background to Kant's work and showing why

Critique of Pure Reason

has proved so enduring. Combining authority with wit, accessibility, and style,

Very Short Introductions

offer an introduction to some of life's most interesting topics. Written by experts for the newcomer, they demonstrate the finest contemporary thinking about the central problems and issues in hundreds of key topics, from philosophy to Freud, quantum theory to Islam.
De otroliga tefaten av Eugen Semitjov
Sker det något runt vår planet som vi inte vet om - eller vägrar att fatta? Utforskas jorden av främmande rymdskepp? Döljer regeringar och militärstaber sanningen? Eller är alltsammans bara fantasier - detta tidernas största mysterium? Aldrig har de otaliga frågorna besvarats som i denna bok. Semitjov har varit i alla läger - han har talat med astronauter, forskare, militärer och ufologer i både öst och väst - från Houston och Moskva till de UFO-troendes Mekka i californiska öknen. Här är direkta svar från berörda personer - inte de vanliga förvanskade ryktena. Har flygande tefat landat? Har människor mött varelser från andra världar - kämpat mot dem, älskat med dem? Boken sjuder av sällsamma händelser - sedda i ny belysning. De otroliga tefaten är den första UFO-boken i Sverige som skrivits av en icke-fantast - en vetenskaplig skribent som står med båda fötterna på jorden.
If A, Then B by Michael Shenefelt & Heidi White

While logical principles seem timeless, placeless, and eternal, their discovery is a story of personal accidents, political tragedies, and broad social change.

If A, Then B

begins with logic's emergence twenty-three centuries ago and tracks its expansion as a discipline ever since. It explores where our sense of logic comes from and what it really is a sense of. It also explains what drove human beings to start studying logic in the first place. Logic is more than the work of logicians alone. Its discoveries have survived only because logicians have also been able to find a willing audience, and audiences are a consequence of social forces affecting large numbers of people, quite apart from individual will. This study therefore treats politics, economics, technology, and geography as fundamental factors in generating an audience for logic – grounding the discipline's abstract principles in a compelling material narrative. The authors explain the turbulent times of the enigmatic Aristotle, the ancient Stoic Chrysippus, the medieval theologian Peter Abelard, and the modern thinkers René Descartes, David Hume, Jeremy Bentham, George Boole, Augustus De Morgan, John Stuart Mill, Gottlob Frege, Bertrand Russell, and Alan Turing. Examining a variety of mysteries, such as why so many branches of logic (syllogistic, Stoic, inductive, and symbolic) have arisen only in particular places and periods,

If A, Then B

is the first book to situate the history of logic within the movements of a larger social world.

If A, Then B

is the 2013 Gold Medal winner of

Foreword Reviews'

IndieFab Book of the Year Award for Philosophy.
The Borderlands of Science by Michael Shermer
In The Borderlands of Science, Michael Shermer takes us to the place where real science, borderline science – and just plain nonsense – collide. Shermer argues that while science is the best lens through which to view the world, it is often difficult to decipher where valid science leaves off and borderland, or "fuzzy" science begins. To solve this dilemma, he looks at a range of topics that put this boundary line in high relief. For instance, he debunks the many "theories of everything" that try to reduce the complexity of the world to a single principle. He examines the work of Darwin and Freud, explaining why one is among the great scientists in history, while the other has become nothing more than a historical curiosity. And he reveals how scientists themselves can be led astray, as seen in the infamous Piltdown hoax – the set of ancient hominid bones discovered in England that after decades turned out to be an enormous forgery. From SETI and acupuncture to hypnosis and human cloning, this enlightening book will help readers stay grounded in common sense amid the flurry of supposedly scientific theories that inundate us every day.
Why Darwin Matters by Michael Shermer
In Why Darwin Matters, Michael Shermer, the bestselling author of Why People Believe Weird Things and the publisher of Skeptic magazine, decodes the facts of evolution and show how natural selection achieves the elegant design of life. Shermer, once an evangelical Christian and a creationist, argues that Intelligent Design proponents invoke a combination of bad science, political antipathy, and flawed theology in their new brand of creationism. He refutes their pseudoscientific arguments and then demonstrates why conservatives and people of faith can and should embrace evolution. Why Darwin Matters is an incisive examination of what is at stake in the debate over evolution.
Why People Believe Weird Things by Michael Shermer
Why do so many people believe in mind reading, past-life regression therapy, abductions by extraterrestrials, and ghosts? What has led to the rise of "scientific creationism" and the belief that the Holocaust never happened? Why, in this age of supposed scientific enlightenment, do we seem to be more impressionable than ever? With a no-holds-barred assault on popular superstitions and prejudices, science historian Michael Shermer debunks these extraordinary claims and explores the very human reasons we find otherworldy phenomena, conspiracy theories, and cults so appealing. But Shermer also reveals the more worrisome side of wishful thinking, including the recovered memory movement, satanic rituals and other moderns with crazes, and ideologies of racial superiority. Shermer concludes by describing his confrontations of those who take advantage of people's gullibility to advance their own, often self-serving, agendas. In a brand-new chapter, he explores the trend among major, respected researchers to corrupt the scientific process in support of their own nonscientific belief systems. Compelling and often disturbing, Why People Believe Weird Things is not only an insightful portrait of our immense capacity for self-delusion but, ultimately, a celebration of the scientific spirit.
The God Debates by John R. Shook

The existence of God is a subject that has occupied individual thinkers and entire schools of philosophy for thousands of years, and it remains one of the greatest debates of our day. In The God Debates: A 21st Century Guide for Atheists and Believers, John R. Shook, Director of Education and Senior Research Fellow at the Center for Inquiry and a self-professed "fair and open-minded skeptic", explains prominent arguments over God's existence in a non-technical manner, and justly analyzes the chances of their success. Shook challenges believers and non-believers alike to engage in an informed dialogue about the existence of God. This book equips everyone with key information about important theological arguments, offering insights into the timeless quest that can give meaning to our lives:" This book is aimed at people who want to know what is going on with all this God debating. They want to learn the arguments and their pros and cons as efficiently as possible without encountering too much technical philosophy or theology. Even scholars interested in the God debates will profit, since I organize theological debating in a vastly more useful way and I distill complex arguments into their most essential formulations for logical appreciation and digestion. Christians and atheists and agnostics and Hindus and Buddhists and pagans can benefit from this book." Shook presents a comprehensive, non-technical survey of the quest for knowledge of God. Using current ideas and concepts such as modernism, postmodernism, fideism, evidentialism, presuppositionalism, and mysticism, Shook ushers the importance of theological debates into a present-day context, steering clear of outdated caricatures of religion. By mastering the clear and concise strategies Shook presents in each chapter, readers of all levels can participate in a thoughtful debate, grounded in knowledge of key arguments for and against the existence of God. Shook helps nonbelievers learn important theological standpoints while also acknowledging the shortcomings of some faith-based arguments. A final chapter considers the possibility of harmonizing reason and faith in light of several current worldviews, including fundamentalism and secularism.
Your Inner Fish by Neil Shubin
Why do we look the way we do? Neil Shubin, the paleontologist and professor of anatomy who co-discovered Tiktaalik, the "fish with hands", tells the story of our bodies as you've never heard it before. By examining fossils and DNA, he shows us that our hands actually resemble fish fins, our heads are organized like long-extinct jawless fish, and major parts of our genome look, and function, like those of worms and bacteria. Your Inner Fish makes us look at ourselves and our world in an illuminating new light. This is science writing at its finest - enlightening, accessible, and told with irresistible enthusiasm.
The Universe Within by Neil Shubin
In The Universe Within, Neil Shubin reveals the connection between the evolution of the cosmos and the evolution of the human body. Just as the history of the earth is written in the rocks, so too is the universe's 14-billion-year history written in the human body. Starting at the smallest level, with our very molecular composition, Shubin explores the question of why we are the way we are, tracing the formation of the planets, the moon, and the globe of Earth through the development of the organs, cells, and genes that make up human life.
Wienkretsen: Filosofi vid avgrundens rand av Karl Sigmund

Detta är en berättelse om mord och självmord, antisemitism, passion och nervösa sammanbrott som drivs av eldiga kontroverser och djupa filosofiska meningsskjiljaktigheter. I början av 1900-talet hade Wien en central roll inom filosofin. En grupp filosofer som gick under namnet Wienkretsen träffades regelbundet för att diskutera frågor om sanning, kunskap och verklighetens natur. Bland medlemmarna fanns bland annat Moritz Schlick, Rudolf Carnap, Otto Neurath, Olga Hahn-Neurath och Kurt Gödel som i dialog med Ludwig Wittgenstein och Karl Popper formulerande grunden till 1900-talets analytiska filosofi och vetenskapsfilosofi. Trots att det finns flera biografier om de inblandade filosoferna är detta den första boken som skildrar hela den dramatiska historien med alla dess förvecklingar inklusive kretsens upplösande i och med mordet på Moritz Schlick. Wienkretsen är en episk krönika, snarare än en bukett av biografier. Karl Sigmund är professor i matematik vid universitetet i Wien och en av pionjärerna inom evolutionär spelteori. Han är ledamot av de österrikiska och tyska vetenskapsakademierna.
Hegel: A Very Short Introduction by Peter Singer

Hegel is regarded as one of the most influential figures on modern political and intellectual development. After painting Hegel's life and times in broad strokes, Peter Singer goes on to tackle some of the more challenging aspects of Hegel's philosophy. Offering a broad discussion of Hegel's ideas and an account of his major works, Singer explains what have often been considered abstruse and obscure ideas in a clear and inviting manner.
Salvekvick och Kvacksalveri av Simon Singh & Edzard Ernst
Tusen och åter tusen är de som försökt att kurera sig med akupunktur, örtmediciner eller homeopatiska produkter. Men vilka metoder fungerar egentligen och vilka är farliga eller i bästa fall harmlösa? Äntligen kan den vetgirige få svar, tack vare Simon Singh och Edzard Ernst, världens förste professor i alternativmedicin. Tillsammans har de skrivit den definitiva boken i ämnet, Salvekvick och kvacksalveri - Alternativmedicinen under luppen. Akupunktur, aromterapi, Feng Shui, homeopati, kiropraktik, kristallterapi, reiki och trettio andra populära behandlingar behandlas och utvärderas. Det är en ärlig, opartisk och besk medicin som serveras.
Understanding Arguments by Walter Sinnot-Armstrong & Robert Fogelin

Construct effective arguments with Understanding Arguments: An Introdcution to Informal Logic. Primarily an introduction to informal logic, this text provides a guide to understanding and constructing arguments in the context of academic studies and subsequent professional careers. Exercises, discussion questions, and readings help clarify difficult concepts and make the material meaningful and useful.
The Top 10 Myths about Evolution by Cameron M. Smith & Charles Sullivan
Fierce debate over established facts of biology and religious dogma – often cropping up in the political arena and America's schools – has been going on since Charles Darwin first published On the Origin of Species. Recent surveys reveal that about half of all Americans don't realize that humans and dinosaurs never lived side by side, and about the same number reject the fact that humans evolved from earlier species of animals. But why do such misunderstandings persist? The poor state of science education in our public schools, misinformation in the mass media, and deliberate obfuscation by creationists and intelligent design supporters contribute to this never-ending, nationally debated monkey trial. In this concise, accessible handbook, educators Cameron M. Smith and Charles Sullivan dispel the ten most common myths about evolution. By explaining why the myth that evolution is just a theory falls flat; by discounting the idea that humans are somehow the ultimate goal of evolution; by clarifying what randomness means in nature and showing that evolution is not random; and by unmasking creationist and intelligent design arguments as simple magic tricks of tortured logic, the authors get down to the nitty-gritty of why evolution happens and how we know for a fact that it does.
Atheism: The Case Against God by George H. Smith
"Does a god exist? This question has undoubtedly been asked, in one form or another, since man has had the ability to communicate. . . Thousands of volumes have been written on the subject of a god, and the vast majority have answered the questions with a resounding 'Yes!' You are about to read a minority viewpoint." With this intriguing introduction, George H. Smith sets out to demolish what he considers the most widespread and destructive of all the myths devised by man, the concept of a supreme being. With painstaking scholarship and rigorous arguments, Mr. Smith examines, dissects, and refutes the myriad "proofs" offered by theists - the defenses of sophisticated, professional theologians, as well as the average religious layman. He explores the historical and psychological havoc wrought by religion in general - and concludes that religious belief cannot have any place in the life of modern, rational man. "It is not my purpose to convert people to atheism . . . (but to) demonstrate that the belief in God is irrational to the point of absurdity. If a person wishes to continue believing in a god, that is his prerogative, but he can no longer excuse his belief in the name of reason and moral necessity."
Why Atheism? by George H. Smith
George H. Smith, author of the influential contemporary classic Atheism: The Case Against God, continues his defense of reason, freethought, and personal liberty by answering the age-old question: Why Atheism? Why would anyone question the existence of a supernatural deity? Smith reviews the historical roots of unbelief dating back to the ancient Greeks, argues that philosophy can serve as an important alternative to religion, and defends reason as the most reliable method we humans have for establishing truth and conducting our lives. Why Atheism? tackles a wide range of subjects, some of which have never been thoroughly analyzed from the atheistic point of view. Beginning with the problem of atheism's credibility. Smith points out the various ways in which religious opponents have sought to exclude atheism from serious consideration. He also analyzes a number of classical philosophical issues, such as the nature of knowledge and belief, concluding that modern atheism is largely an unintended consequence of the religious diversity brought about by the Protestant Reformation. Two chapters are devoted to ethics, one focusing on the ethics of belief with particular attention given to the views of Thomas Aquinas and John Locke. Other chapters discuss the persecution of religious dissenters as well as the nature and content of an ethical system devoid of belief in God. Smith's characteristic lucidity, analytical rigor, and piercing wit make Why Atheism? an accessible and enjoyable guide to living a positive life without belief in a supreme being.
Atheism: A Beginner's Handbook by Philip A. Stahl
Atheism: A Beginner's Handbook is a basic introduction to why atheists think and act the way they do. In particular, what factors drive their unbelief, and why is the phrase "atheist morality" not an oxymoron. Recent surveys have shown atheists to be the least trusted group in the nation, despite the fact that atheists espouse the use of reason in determining acceptance of claims. So why is reason so distrusted, and how did the atheist come to be seen in a negative light? Until these questions are addressed, the U.S. will remain a highly polarized nation along both cultural and political lines. This we cannot afford, nor can we afford closing the popular mind to what atheism is about. This book makes a major effort toward casting much needed light on atheist thinking, and how the position of unbelief in God or gods is arrived at on the basis of diligently applaying scientific principles and reason. The book is not about "converting" anyone toward an atheist mindset. Instead, it is more about shining a light onto the basis for atheist thought and logic. For the novice, a blueprint is provided for living authentically in a religous culture.
Atheism Explained by David Ramsay Steele
Atheism Explained explores the claims made both for and against the existence of God. On the pro side: that the wonders of the world can only be explained by an intelligent creator; that the universe had to start somewhere; telepathy, out-of-body experiences, and other paranormal phenomena demonstrate the existence of a spirit world; and that those who experience God directly provide evidence as real as any physical finding. After disputing these arguments through calm, careful criticism, David Ramsay Steele presents the reasons why God cannot exist: monstrous, appalling evils; the impossibility of omniscience; and the senseless concept that God is a thinking mind without a brain. He also explores controversial topics such as Intelligent Design, the power of prayer, religion without God, and whether a belief in God makes people happier and healthier. Steele's rational, easy-to-understand prose helps readers form their own conclusions about this eternally thorny topic.
God: The Failed Hypothesis by Victor J. Stenger
Many authors claim that modern science supports the proposition that God exists, but very few authors have directly challenged this assertion. Physicist Victor J. Stenger points out that if scientific arguments for the existence of God are included in intellectual, not to mention political discourse, then arguments against his existence should also be considered. In God: The Failed Hypothesis, Stenger argues that science has advanced sufficiently to make a definitive statement on the existence — or nonexistence — of the traditional Judeo-Christian-Islamic God. He invites readers to put their minds and the scientific method to work to test this claim. By using five principal conditions for evaluating extraordinary claims, Stenger treats the existence of God like any other scientific hypothesis, stipulating that God should be detectable by scientific means, given that he is supposed to play a central role in the operation of the universe and in the lives of humans. Stenger provides hypothetical examples in which scientific research could in principle demonstrate conclusively that God exists. By examining the studies done by reputable institutions on the power of prayer; the writings of philosophers who have puzzled over the problem of God and of good and evil; the efforts of biblical scholars to prove the accuracy of holy scriptures; and the work of biologists, geologists, and astronomers looking for clues to a creator on Earth and in the cosmos, Stenger determines that all these human endeavors fail to demonstrate the existence of a divine creator. He convincingly shows that not only is there no evidence for the existence of God, but scientific observations actually point to his nonexistence. Life on Earth looks just as it should look if it were not designed, and indeed, the universe looks and operates just as it should if it appeared spontaneously from nothing. Even though the scientific community has largely disavowed "theories" such as intelligent design that claim to prove God's existence, ancient beliefs in a creator deity persist. Stenger concludes, after reflecting on the long history of misrepresentation and manipulation of scientific fact regarding God, that our world actually is worse off as a result of religious faith. "The certainty and exclusiveness of the major monotheisms make tolerance of differences very difficult to achieve, and these differences are the major source of conflict," he writes. Instead of holding on to ancient superstitions, Stenger stresses the importance of finding meaning internally rather than externally and reminds us that beauty and inspiration can indeed arise from secular sources.
The New Atheism by Victor J. Stenger
In recent years a number of best-selling books have forcefully argued that belief in God can no longer be defended on rational or empirical grounds, and that the scientific worldview has rendered obsolete the traditional beliefs held by Christianity, Judaism, and Islam. The authors of these books - Richard Dawkins, Daniel Dennett, Sam Harris, Christopher Hitchens, and Victor J. Stenger - have come to be known as the "New Atheists." Predictably, their works have been controversial and attracted a good deal of critical reaction. In this new book, Victor J. Stenger, whose God: The Failed Hypothesis was on the New York Times bestseller list in 2007, reviews and expands upon the principles of New Atheism and answers many of its critics. He demonstrates in detail that naturalism - the view that all of reality is reducible to matter and nothing else - is sufficient to explain everything we observe in the universe, from the most distant galaxies to the inner workings of the brain that result in the phenomenon of mind. Stenger disputes the claim of many critics that the question of whether God exists is beyond the ken of science. On the contrary, he argues that absence of evidence for God is, indeed, evidence of absence when the evidence should be there and is not. Turning from scientific to historical evidence, Stenger then points out the many examples of evil perpetrated in the name of religion. He also notes that the Bible, which is still taken to be divine revelation by millions, fails as a basis for morality and is unable to account for the problem of unnecessary suffering throughout the world. Finally, he discusses the teachings of ancient non-theist sages such as Buddha, Lao Tzu, and Confucius, whose guidelines for coping with the problems of life and death did not depend upon a supernatural metaphysics. Stenger argues that this "way of nature" is far superior to the traditional supernatural monotheisms, which history shows can lead to a host of evils. The New Atheism is a well-argued defense of the atheist position and a strong rebuttal of its critics.
In Pursuit of the Unknown by
Ian Stewart

Most people are familiar with history's great equations: Newton's Law of Gravity, for instance, or Einstein's theory of relativity. But the way these mathematical breakthroughs have contributed to human progress is seldom appreciated. In In Pursuit of the Unknown, celebrated mathematician Ian Stewart untangles the roots of our most important mathematical statements to show that equations have long been a driving force behind nearly every aspect of our lives. Using seventeen of our most crucial equations – including the Wave Equation that allowed engineers to measure a building's response to earthquakes, saving countless lives, and the Black-Scholes model, used by bankers to track the price of financial derivatives over time – Stewart illustrates that many of the advances we now take for granted were made possible by mathematical discoveries. An approachable, lively, and informative guide to the mathematical building blocks of modern life, In Pursuit of the Unknown is a penetrating exploration of how we have also used equations to make sense of, and in turn influence, our world.
From Here to Infinity
by
Ian Stewart

A retitled and revised edition of Ian Stewart's The Problem of Mathematics, this is the perfect guide to today's mathematics. Read about the latest discoveries, including Andrew Wile's amazing proof of Fermat's Last Theorem, the newest advances in knot theory, the Four Colour Theorem, Chaos Theory, and fake four-dimensional spaces. See how simple concepts from probability theory shed light on the National Lottery and tell you how to maximize your winnings. Discover how infinitesimals become respectable, why there are different kinds of infinity, and how to square the circle with the mathematical equivalent of a pair of scissors.
The Mathematics of Life
by
Ian Stewart

Biologists have long dismissed mathematics as being unable to meaningfully contribute to our understanding of living beings. Within the past ten years, however, mathematicians have proven that they hold the key to unlocking the mysteries of our world – and ourselves. In The Mathematics of Life, Ian Stewart provides a fascinating overview of the vital but little-recognized role mathematics has played in pulling back the curtain on the hidden complexities of the natural world – and how its contribution will be even more vital in the years ahead. In his characteristically clear and entertaining fashion, Stewart explains how mathematicians and biologists have come to work together on some of the most difficult scientific problems that the human race has ever tackled, including the nature and origin of life itself.
Nature's Numbers by
Ian Stewart

A mathematical sightseeing tour of the natural world from the author of The Magical Maze. Why do many flowers have five or eight petals, but very few six or seven? Why do snowflakes have sixfold symmetry? Why do tigers have stripes but leopards have spots? Mathematics is to nature as Sherlock Holmes is to evidence. Mathematics can look at a single snowflake and deduce the atomic geometry of its crystals; it can start with a violin string and uncover the existence of radio waves. And mathematics still has the power to open our eyes to new and unsuspected regularities – the secret structure of a cloud or the hidden rhythms of the weather. There are patterns in the world we are now seeing for the first time – patterns at the frontier of science, yet patterns so simple that anybody can see them once they know where to look.


Jorden – en biografi av Iain Stewart & John Lynch
Jorden – en biografi är en berättelse om jordens dramatiska historia, en berättelse om överlevnad och om en planet som är otroligt uthållig med en fenomenal förmåga att läka sig själv. Jorden har överlevt katastrofer som meteoritnedslag, istider och perioder med extrem värme. Det tycks faktiskt som om dessa nära döden-upplevelser fungerade som viktiga vändpunkter och var helt nödvändiga för utvecklingen av livet på jorden och människans uppkomst. På grund av dessa traumatiska händelser blev planeten ett hem för livet - vårt hem. Nu ser det ut som om jorden åter befinner sig i riskzonen. Den här gången är det vi människor som har tvingat fram de förändringar som aktiverar jordens försvarssystem. Vi påverkar därmed planetens utveckling, med jorden överlever nog, det visar den motståndskraft som vår planet tidigare har uppvisat under historiens gång. Många talar nu om att "rädda vår planet", men det är snarare människan som behöver räddas.
Tro och vetande 2.0 av Christer Sturmark

Tro och vetande 2.0 handlar om den mest grundläggande frågan i vår tid: Idékonflikten mellan sekulär humanism och religiös dogmatik, mellan förnuftet och de irrationella, religiösa och vidskepliga föreställningar som präglar stora delar av vår värld. Boken handlar i grund och botten om hur vi människor kan förstå världen och varandra. Boken lägger grunden för en förnuftsbaserad och ickereligiös livssyn, med humanistiska och livsbejakande värden i centrum. Den ger läsaren de nödvändiga verktygen för att kunna möta vidskepelse, new age och religiösa vanföreställningar på ett stabilt och välgrundat sätt.
Upplysning i det 21:a århundradet av Christer Sturmark

Detta är en bok för att alla som intresserar sig för frågor om sanning och lögn, om själen, vetenskap, hokuspokus och meningen med livet ska få del av några verktyg för att stärka förmågan att genomskåda bluff, vidskepelse och orimliga påståenden. Många frågeställningar konkretiseras genom exempel och tanke­experiment. Upplysning i det 21:a århundradet tar sig också an ett stort antal av vår tids besvärligaste och samtidigt politiskt känsliga frågor: Grundtesen är att världen behöver återuppväcka upplysningstraditionens ideal med tilltro till förnuftet, en sekulär etik och politik och ett förkastande av religiösa dogmer. Christer Sturmark uttrycker en stark tro på människan, samtidigt som han går hårt åt samtidens intellektuella tankelättja och alla dem som gillar att halka fram till slutsatser. Han vill återuppväcka upplysningstraditionens värden och ideal så att människan kan träda ut ur sin självförvållade omyndighet. Boken är en vidareutveckling av temat i författarens förra bok Tro och vetande 2.0.
The Oldest Living Things in the World by Rachel Sussman

The Oldest Living Things in the World is an epic journey through time and space. Over the past decade, artist Rachel Sussman has researched, worked with biologists, and traveled the world to photograph continuously living organisms that are 2,000 years old and older. Spanning from Antarctica to Greenland, the Mojave Desert to the Australian Outback, the result is a stunning and unique visual collection of ancient organisms unlike anything that has been created in the arts or sciences before, insightfully and accessibly narrated by Sussman along the way. Her work is both timeless and timely, and spans disciplines, continents, and millennia. It is underscored by an innate environmentalism and driven by Sussman's relentless curiosity. She begins at "year zero," and looks back from there, photographing the past in the present. These ancient individuals live on every continent and range from Greenlandic lichens that grow only one centimeter a century, to unique desert shrubs in Africa and South America, a predatory fungus in Oregon, Caribbean brain coral, to an 80,000-year-old colony of aspen in Utah. Sussman journeyed to Antarctica to photograph 5,500-year-old moss; Australia for stromatolites, primeval organisms tied to the oxygenation of the planet and the beginnings of life on Earth; and to Tasmania to capture a 43,600-year-old self-propagating shrub that's the last individual of its kind. Her portraits reveal the living history of our planet – and what we stand to lose in the future. These ancient survivors have weathered millennia in some of the world's most extreme environments, yet climate change and human encroachment have put many of them in danger. Two of her subjects have already met with untimely deaths by human hands. Alongside the photographs, Sussman relays fascinating – and sometimes harrowing – tales of her global adventures tracking down her subjects and shares insights from the scientists who research them. The oldest living things in the world are a record and celebration of the past, a call to action in the present, and a barometer of our future.
Det okända av Clas Svahn
Drar vissa platser till sig det övernaturliga? Finns det spöken? Har Sverige haft besök av utomjordingar? Fanns det en okänd högteknologi för 4000 år sedan? Är osannolika sammanträffanden bara en slump? Varifrån kommer de lysande glober av ljus som syns vandra längs vägar i många länder? Vi lever i en värld fylld av små och stora mysterier. Miljoner människor säger sig ha mött det okända och upplevt det som andra kallar övernaturligt - möten som har lämnar minnen för livet. Författaren, journalisten och ufoexperten Clas Svahn berättar historierna du aldrig tidigare hört och han funderar över vad som som kan ligga bakom dem. Möt ögonvittnen från Sverige och övriga världen och lyssna till fascinerande berättelser för förr och nu. Din värld blir sig aldrig mera lik!
Berättelser om det okända av Clas Svahn
Här berättar Clas Svahn om mysterier från Sverige och världen. Han undersöker sanningen bakom mumiens förbannelse, vandrande bord, bönesvar och djurens sjätte sinne. Och går det verkligen att se in i framtiden eller att resa i tiden? Vem är det som placerar plattor med ett svårbegripligt budskap på gatorna i flera amerikanska städer? Finns det fotografier av Jesus? Följ med på en resa in i det okända och träffa ögonvittnen som sett havsodjur, sjöjungfrur och fiskar regna från himlen, men också mannen som lyfte en traktor för att rädda sin vän.
Möten med det okända av Clas Svahn
I sjön Norra Dellen i Hälsingland såg makarna Alf och Barbro Hult ett dinosaurieliknande djur med två meter lång hals. I Bogen i Värmland bytte Jonas Guttkes hästar oförklarligt plats i sina spiltor om nätterna. I Ulfsryd i Småland mötte grannarna Ewy Johansson och Stig Karlsson två olika ljusklot som paralyserade dem så att de inte kunde röra sig. I den här boken berättar Clas Svahn om märkliga möten med det okända från Sverige och resten av världen. Han lyssnar till människor vars bilar slutat att fungera när ett okänt ljus plötsligt uppenbarat sig, personer som sett hus dyka upp och försvinna och han berättar om snömannen, spökskepp, älvor och om ödesåret 2012.
Bilder av det okända av Clas Svahn
När kyrkoherden R W Hardy bad de andra besökarna att vänta så att han kunde ta en bild av den vackra trappan hade han aldrig väntat sig att fånga en hukande, grå gestalt som tung griper om räcket på sin bild. I dag är kyrkoherdens fotografi ett av få som kanske kan föreställa ett verkligt spöke. Kan man fotografera något som inte finns? Finns det äkta bilder av utomjordingar, änglar, sjöodjur och flygande tefat? Det är frågor som har engagerat forskare och privatpersoner sedan de första kamerorna började användas under seanser i mitten av 1800-talet. I dag har foton av okända fenomen blivit vanliga i takt med att allt fler bär med sig kameror i sina mobiler. På internet finns hundratusentals fotografier och filmer utlagda som kittlar fantasin men också är svåra att kontrollera. Vilka bilder kan man egentligen lita på? I den här boken visar Clas Svahn en lång rad foton av märkliga och fantasieggande fenomen och varelser. Han diskuterar deras äkthet och vad de kan föreställa. Många av bilderna har aldrig tidigare publicerats i Sverige.
Fakta om UFO av Clas Svahn
Tiotusentals människor över hela världen ser varje år fenomen och föremål på himlen som de inte kan identifiera. De allra flesta får till slut sin förklaring. Ett fåtal får beteckningen UFO. I den här boken sammanfattar Riksorganisationen UFO-Sverige vad vi i dag vet om UFO-fenomenet och dess historia.
Mötet i gläntan av Clas Svahn & Gösta Carlsson
Gösta Carlsson är född 1918 i byn Skörpinge utanför Ängelholm. Under 1950-talet lade han grunden till företagen Cernelle och Allergon som i dag är miljonindustrier i läkemedelsbranschen. "Pollenkungen" blev känd i hela Sverige när han gjorde Rögle BK till landets första proffslag i ishockey i mitten på 1960-talet. Men bakom alla framgångar ligger ett möte med några varelser från en annan värld i en glänta utanför Ängelholm den 18 maj 1946. Ett möte som förändrade hela hans liv. I den här boken visar Gösta Carlsson för första gången den kristallstav och guldring som han hittills förvarat i ett bankfack utomlands. För första gången berättar han också hela historien om de kontakter som gjorde honom till "Pollenkungen". Clas Svahn är född 1958 och verksam som journalist på Dagens Nyheter i Stockholm. Sedan 1991 är han ordförande i Riksorganisationen UFO-Sverige med 2.000 medlemmar. Mötet i gläntan är hans andra bok och resultatet av flera års undersökningar av Gösta Carlssons upplevelser.
Sekter och hemliga sällskap i Sverige och världen av Clas Svahn
Vad är det som får en vanlig människa att gå med i sekt där han riskerar att dö? Varför startades världens mest kända hemliga sällskap, Prieuré de Sion, som blev känt genom Da Vinci-koden? Vilka beslut tar egentligen världens makthavare bakom våra ryggar när de träffas i grupper där ingen skriver protokoll och ingen får berätta vad man talade om? Clas Svahn berättar om hur vi människor dras till hemligheter och låter oss utnyttjas av sekter trots att vi borde veta bättre och om hur lite svenska politiker gör för att stoppa detta. En svensk riksdagsledamot berättar hur hennes telefon avlyssnades, avhoppare från omstridda sekter som Jehovas vittnen och Scientologerna talar om förtryck och iskall beräkning, och en medlem i Moon-kyrkan ger sin bild av hur denna högerextrema sekt fungerar. I den här boken får vi möta till synes oskyldiga hemliga sällskap, religiösa sekter som förvränger våra sinnen och domedagssekter som inte tvekar att ta livet av sina egna medlemmar.
Stora boken om naturfenomen av Clas Svahn
Jordbävningar, tsunamier och extremt väder har hamnat i fokus för nyheterna de senaste åren. Naturens krafter kan dränka städer i vatten och orsaka hungersnöd. Vi människor inser allt mer hur små vi är jämfört med de krafter som styr vår jord. I den här boken återger Clas Svahn ögonvittnesskildringar från människor som varit nära att träffas av klotblixtar, utsatts för märkligt åsknedslag, sett jättevågor slå in över den svenska kusten, kastats iväg av tromber och fått sina bilar träffade av isblock från en klarblå himmel. I häpnadsväckande bilder och med hjälp av fantastiska berättelser tar läsaren med in i den värld vi alla lever i. En värld som ibland gränsar till det otroliga. I mer än 30 år har författaren samlat vittnesskildringar om fenomen som ofta kan verka ofattbara. Här finns märkliga lysande hjul under vattnet, snurrande isringar på svenska älvar, mark som flyttar på sig, dubbla solar och många andra ovanliga fenomen som skapas av naturens krafter. Läs boken och upptäck världen som du aldrig sett den förut!
Naturfenomen av Clas Svahn
När det blåser från solen lyser vackra norrsken upp himlen över våra huvuden. Samtidigt riskerar satelliter och gps-navigatorer att sluta fungera, elförsörjningen att slås ut och radiotrafiken att förvandlas till ett brus. Och de närmaste åren kommer solen att bli allt mer aktiv vilket ökar risken för störningar på jorden. I den här boken presenterar Clas Svahn en lång rad fenomen som förvånar och förbluffar, som får oss att känna ödmjukhet inför den storslagna naturen men också respekt för dess verkningar. Lysande hjul under havets yta har rapporterats av sjömän i århundraden. Skimrande ringar runt solen får oss att förvånat vända blicken mot skyn. Backar där bilar rullar uppför utan att motorn är på har blivit turistattraktioner. I Naturfenomen - från grodregn och märkliga moln till solstormar och norrsken förklaras allt detta och vi får ta del av ögonvittnenas egna berättelser och se deras unika fotografier. Clas Svahn är journalist och författare och har tidigare bland annat skrivit Stora boken om naturfenomen, Sekter och hemliga sällskap samt Det okända.
Osannolikt av Clas Svahn
Alla har vi någon gång förvånat höjt på ögonbrynen när en person vi just tänkte på ringer upp oss eller när vi på semesterresan till ett avlägset hörn av världen oväntat råkar sätta oss vid samma bord som vår granne hemma i Sverige eller möter barndomskamraten som vi inte sett på 45 år. Hur mycket kan vi själva påverka det som händer omkring oss och hur mycket är "styrt" av krafter som vi ännu inte riktigt känner? Hur fungerar egentligen slumpen? Och hur mycket kan vi egentligen själva påverka det som händer omkring oss? I en värld fylld av brus och tillfälligheter uppstår för några ögonblick mönster och mening och den grå vardagen får en klick av färg. I den här boken berättar Clas Svahn om en lång rad till synes fantastiska händelser som vi alla kan uppleva men som vi knappast vågar tro kan hända. Vi får möta det osannolika och oväntade, det sällsynta och spännande men också ta del av möjliga förklaringar.
UFO-mysteriet av Clas Svahn
I UFO-mysteriet berättar Clas Svahn om några av de inressantaste UFO-rapporterna under 1900-talet. Här får vi möta vanliga människor med ovanliga upplevelser. Östen Engström som 1922 var med om en säregen närkontakt på en grusväg i Västmanland; Sven Karlsson som jagade den mystiske "spökflygaren" på 1930-talet; Karl-Gösta Bartoll som på uppdrag av försvarsstaben sökte efter kraschade cigarrföremål 1946; Nils Frost som 1952 tog Sveriges bästa UFO-bild; Karin Lagerstrand som fick sin tröja genombränd efter en närobservation i Bispberg 1987; familjen Lundström i Håknäs som hösten 1991 såg en jättecigarr segla fram över huset och många, många fler. Dessutom ger boken den hittills mest omfattande beskrivningen av cirkelfenomenet. Clas Svahn har kartlagt detta världsomfattande fenomen med tonvikt på Sverige och Skandinavien. Har har mött och intervjuat såväl nattliga cirkelmakare som personer som tolkar fenomenet som ett budskap från en högre existens.
UFO: Möte med det okända av Clas Svahn
1999 rapporterade rekordmånga svenskar, 562 personer, att de hade gjort iakttagelser av misstänkta UFO-fenomen. Runda lysande glober, avlånga cigarettformade föremål, varelser som plötsligt dyker upp i sovrummet. Samtidigt fylls böcker och hemsidor på Internet med berättelser om tillfångatagna utomjordingar, kraschade rymdskepp, ombordtagningar och världsomfattande konspirationsteorier. Men vad är egentligen fakta? Vad vet den svenska militären om UFO-fenomenet? Har vi besök av varelser från andra världar - eller finns det andra förklaringar? Riksorganisationen UFO-Sveriges ordförande Clas Svahn har ägnat nästa 30 år att undersöka gåtan med de oidentifierade flygande föremålen. I den här spännande boken tar han upp många intressanta fall till granskning, såväl svenska som utländska.
UFO: Spökraketer, ljusglober och utomjordingar av Clas Svahn
Människor har i alla tider sett fenomen och föremål på himlen som de inte har kunnat förklara: flygande kors, glober av ljus, cigarrformade farkoster och "flygande tefat". När dessa inte har gått att identifiera har de fått beteckningen"ufo" . Här skriver Clas Svahn, journalist på Dagens Nyheter, om en rad spännande svenska ufoobservationer gjorda under 100 år. Observationer som han själv har dokumenterat och undersökt. Vi får möta de som säger sig ha sett okända varelser på nära håll och de som menar att de står i kontakt med utomjordingar, de som fångat föremålen på bild eller hittat delar av dem på marken efteråt. Författaren berättar också historien om det märkligaste av alla svenska ufofenomen, spökraketerna. Föremål som inte bara setts av hundratals vanliga svenskar utan också jagats av flygvapnets piloter och som flera gånger slagit ner i sjöar.
Den blinde skaparen av Sverker Sörlin
"We may all be netted together". Charles Darwin, urtypen för det ensamma geniet, förstod bättre än alla andra hur viktigt nätet han verkade i var. Han teori om människans ursprung och arternas utveckling må vara välkänd men hur gjorde Darwin när han blev "Darwin", vetenskapsikonen? Sverker Sörlin, prisbelönt idéhistoriker, riktar ljusset just mot hans person och nätet runt honom. Darwins rika släkt och dess makalösa sociala förbindelser. Den älskade hustrun och hennes tvekan inför hans ifrågasättande av Guds ordning. Mot Darwins lust, till vetenskapen och familjen, mot hans tvivel och hans längtan. Darwin utan nätet hade aldrig blivit "Darwin".
The Voyage of the Beagle by James Taylor
The Beagle has become synonymous with Charles Darwin and his groundbreaking title On the Origin of Species. But how did Darwin come to be onboard? For the first time in a single volume, all the various strands of the Beagle story have been woven together to reveal the circumstances that set the expedition in motion and characters who circumnavigated the world together. Enriched with first-hand commentary from personal letters and diaries, and the official narrative of the voyage, as well as artworks, sketches and charts produced by the shipboard artists and surveyors, James Tayolor has produced a thoroughly engaging and informative account that will appeal to historians, art lovers, and anyone with a sense of adventure.
Our Mathematical Universe
by

Max Tegmark
Max Tegmark leads us on an astonishing journey through past, present and future, and through the physics, astronomy and mathematics that are the foundation of his work, most particularly his hypothesis that our physical reality is a mathematical structure and his theory of the ultimate multiverse. In a dazzling combination of both popular and groundbreaking science, he not only helps us grasp his often mind-boggling theories, but he also shares with us some of the often surprising triumphs and disappointments that have shaped his life as a scientist. Fascinating from first to last – this is a book that has already prompted the attention and admiration of some of the most prominent scientists and mathematicians.
Short Handbook of Atheistic Apologetic by Francois Tremblay

A short handbook, made for all atheists at a low price. Includes handy refutations of more than 20 Christian arguments, a discussion of the problem of evil, and arguments for stong-atheism.
Bones, rocks and stars by Chris Turney
What is the Turin Shroud? When were the Pyramids built? Where are the branches on the human family tree? Why did the dinosaurs die out? How did the Earth take shape? With questions like these, says Chris Turney, time is of the essence. And understanding how the pinpoint the past, he cautions, is crucial to putting the present in perspective and planning for the future. In eleven chapters, each focusing on a famous dating controversy (from the existence of King Arthur to the last Ice Age), Turney reveals the legwork behind the headlines. Drawing on years of professional experience, most recently with the celebrated "Hobbit" skeleton of Indonesia, Turney explains how written records, carbon, pollen, tree rings, constellations and DNA sequencing can help archaeologist, paleontologists and geologists to "tell the time". We ignore or misunderstands these techniques and their results at our peril, he concludes.
Idéer om livet I–II av Nils Uddenberg

"Kära läsare, jag har haft nästan oförskämt roligt då jag arbetet med denna bok. Om den kan förmedla en liten del av all denna samlade glädje har den nått sitt syfte." Så inleder Nils Uddenberg sin Augustprisbelönta biologihistoria Idéer om livet som nu utkommer i en ny utgåva. På senare år har en dramatisk kunskapsutveckling ägt rum inom biologin. Frågorna som människan ställs inför då hon närmar sig naturens hemligheter visar sig nu tydligt vara en angelägenhet för många, inte bara för forskarna. Vad är en människa? Hur skiljer hon sig från djuren om hon nu gör det? Hur förhåller sig hennes mentala förmågor till hennes kroppsliga egenskaper? Vad är liv och hur har det först uppstått? Biologin sysselsätter i dag fler forskare än någonsin förut. Den gör sig nyttig inom jord- och skogsbruk, livsmedelsteknik, sjukvård, miljövård och mycket annat. Kapitalstarka investerare uppfattar livsvetenskaperna som en framtidsbransch; biologiska och medicinska uppfinningar patenteras i ökande omfattning. Etiska aspekter av utvecklingen diskuteras i olika fora. Hur blev det så här? Vilka var de avgörande vändpunkterna i biologins vetenskapshistoria? I Idéer om livet ges en bred och populärt hållen bakgrund till vår tids biologi. Biografiska avsnitt och ett stort antal färgillustrationer levandegör de vetenskapliga idéerna. De olika avsnitten kan mycket väl läsas var för sig, men verket som helhet utgör samtidigt en sammanhängande framställning av biologins utveckling under mer än tvåtusen år. Idéer om livet är skriven för att fungera som ett lättillgängligt standardverk som kan användas vid universitetsstudier både i biologi och i humaniora, men kan utan vidare lustläsas.
Lidande och läkedom I–II av Nils Uddenberg

Medicinhistorien är lika gammal som människan själv; vi har i alla tider sökt bot för våra åkommor – med varierande resultat. I medicinhistorien finns otaliga exempel på absurda kurer som skulle göra den friskaste sjuk, men också exempel på metoder som överlevt i årtusenden. I Lidande och läkedom följer vi vetenskapsutvecklingen från de äldsta kilskriftstavlorna, där varje ny upptäckt banar väg för nästa. Genom århundraden går medicinen hand i hand med både konsten, vetenskapen och kyrkan. Synen på människokroppen och livet har förändrats i takt med kulturers och samhällens utveckling.

Darwins idé av Staffan Ulfstrand
Den otroliga mångfald och de fantastastiska anpassningar till de mest skilda levnadssätt som kännetecknar livet på jorden upphör inte att fascinera oss. År 1859 lade Charles Darwin fram en teori som efter 150 år fortfarande är den moderna biologins viktigaste redskap i arbetet på att klarlägga livets sanna historia och dess drivkrafter på vår jord. Mask, mus och människa - alla har formgivits genom darwinskt naturligt urval. År 2009 firas jorden runt ett darwinskt dubbeljubileum. Förutom att det är 150 år sedan Darwin kom ut med sin viktigaste bok är det också 200 år sedan han föddes. I denna bok berättar Staffan Ulfstrand den spännande historien om hur Darwin kom fram till sin upptäckt. Men därtill ger han oss framför allt en fängslande inblick i dagens moderna evolutionsbiologiska forskning som han sätter i relation till Darwins fortfarande livskraftiga teori - "den bästa idé någon människa någonsin haft".
Fågel, fisk och folk av Staffan Ulfstrand
Finns det några principiella skillnader mellan männniskans och andra djurarters beteende? Finns hjälpsamhet och oegennytta? Varför lever somliga arter i monogami, andra i polygami, och hur väljer fåglar och fiskar sina partners? I denna bok ges en framställning av det evolutionsbiologiska synsättet på utvecklingen av framför allt de sociala beteendena hos människa och djur. Inverkan av olika omgivningsfaktorer åstadkommer ett urval bland genetiskt olika individer. Detta urval är den enda mekanism som vetenskapen kunnat identifiera som förklaring till de levande varelsernas mångskiftande anpassningar och uppenbara "ändamålsenlighet".


Kaxiga fåglar av Brutus Östling & Staffan Ulfstrand
I

Kaxiga fåglar

blandas Brutus Östlings personliga fågelporträtt med unika och häftiga bilder av slagsmål mellan kungsörnar, handgemäng mellan bofinkar och andra småfåglar, badande koltrastar, hackspettar som räcker ut tungan, maffiga pelikaner och ormhalsfåglar, biätare och tuffa blåkråkor – de senare ökända just för sin kaxighet och sin förmåga att i alla lägen attackera även större rovfåglar – och en mängd andra fåglar som i Östlings märkliga bilder röjer helt nya inslag i sitt liv och leverne. Hot kan som bekant signaleras på många sätt, och de flesta kontroverser går inte till handgemäng. I grund och botten är en kaxig attityd till just för att undvika fysiska sammandrabbningar. Det gäller att visa vem som är herre på täppan. Bilderna ackompanjeras av spännande och infallsrika texter kring fåglars personligheter och sociala samspel av Staffan Ulfstrand. Brutus Östling är naturfotograf och förläggare. Två av hans böcker om fåglar har blivit Årets Pandabok hos WWF och en har augustnominerats. Förra året utsågs han till Årets Nordiska Naturfotograf, en titel som delas ut vartannat år. Hans böcker är utgivna på flera andra språk, och bl.a. i Storbritannien och USA. Staffan Ulfstrand är prtofessor emeritus i zooekologi. För sina böcker, samtliga tillkomna efter pensioneringen, har han augustnominerats tre gånger.




Hemma i världsrymden av Esko Valtaoja

På senare år har man funnit liv på ställen som man tidigare ansett så osannolika att man inte ens tänkt på att söka där, t.ex. djupt inne i berggrunden och i anslutning till vulkanisk aktivitet på djuphavens bottnar. Faktum är att det är svårt att hitta platser på vår jord där liv inte existerar. Skulle då livet ha kunnat utvecklas någon annanstans också? Naturens lagar verkar vara skräddarsydda för uppkomsten av liv, som om hela meningen med universum skulle vara att ge upphov till liv. Om det verkligen förhåller sig så – var är då alla andra? Esko Valtaoja, professor i astronomi, erövrar rymden och bekantar under tiden läsaren med en ny vetenskap: astrobiologin. Han hämtar inspiration från såväl naturvetenskapen och kulturantropologin som konsten och science-fiction litteraturen. Boken belönades med Fakta Finlandia-priset år 2002.




God and the Reach of Reason by Erik J. Wielenberg

C. S. Lewis is one of the most beloved Christian apologists of the twentieth century; David Hume and Bertrand Russell are among Christianity's most important critics. This book puts these three intellectual giants in conversation with one another on various important questions: the existence of God, suffering, morality, reason, joy, miracles, and faith. Alongside irreconcilable differences, surprising areas of agreement emerge. Curious readers will find penetrating insights in the reasoned dialogue of these three great thinkers.


Robust Ethics by Erik J. Wielenberg

Erik J. Wielenberg draws on recent work in analytic philosophy and empirical moral psychology to defend non-theistic robust normative realism and develop an empirically-grounded account of human moral knowledge. Non-theistic robust normative realism has it that there are objective, non-natural, sui generis ethical features of the universe that do not depend on God for their existence. The early chapters of the book address various challenges to the intelligibility and plausibility of the claim that irreducible ethical features of things supervene on their non-ethical features as well as challenges from defenders of theistic ethics who argue that objective morality requires a theistic foundation. Later chapters develop an account of moral knowledge and answer various recent purported debunkings of morality, including those based on scientific research into the nature of the proximate causes of human moral beliefs as well as those based on proposed evolutionary explanations of our moral beliefs.

Value and Virtue in a Godless Universe by Erik J. Wielenberg

Suppose there is no God. This supposition implies that human life is meaningless, that there are no moral obligations and hence people can do whatever they want, and that the notions of virtue and vice, right and wrong, and good and evil have no place in the universe. Erik J. Wielenberg believes this view to be utterly erroneous and, in this thought-provoking book, he explains the reasons why. He argues that, even if God does not exist, human life can still have meaning, humans do have moral obligations, and human virtue is still possible. Wielenberg offers readers a cogent explanation of the ethical implications of naturalism – a view that denies the existence of the supernatural in human life. In his view virtue exists in a godless universe but it is significantly different from virtue in a Christian universe, and he develops naturalistic accounts of humility, charity, and hope. The overarching theme of Value and Virtue in a Godless Universe is what ethics might look like without God. Erik J. Wielenberg takes readers on an extraordinary tour of some of the central landmarks of this under-explored territory.
Atheism: A Guide for the Perplexed by Kerry Walters

This title moves beyond the polemics to present an overview of atheism that is rigorous yet accessible. Interest in atheism has surged since the "New Atheism" trinity of Sam Harris, Richard Dawkins, and Christopher Hitchens launched their attack on religious belief. Their militant, in-your-face style has delighted readers who are already nonbelievers and infuriated theists, and in the process made them best-selling authors. But the cost of their approach is that the current cultural and intellectual dialogue about atheism frequently generates more heat than light: acrimony replaces reasoned investigation, polemic overpowers philosophical analysis, and too often the outcome is confusion rather than truth. Atheism: A Guide for the Perplexed moves beyond the polemics to present an overview of atheism that is rigorous but still accessible to the educated layperson as well as the undergraduate student in philosophy and theology courses. After a preliminary investigation of what atheists mean when they use the words "atheism" and "God" - a much more complex investigation than one might suspect - the book explores the differences and similarities between"old" and "new" atheism; places atheism of either variety in context by examining the naturalistic worldview that grounds it; provides a short historical sketch of atheism; examines a number of arguments against God-belief; investigates whether an atheist worldview is consistent with ethics and a sense of purposefulness; asks is an atheist "spirituality" is possible; inquires into whether the current militancy against religious belief is pertinent or a red herring; and, concludes with a few suggestions for continued dialogue between believers and nonbelievers. The goal throughout is to present a balanced, non-partisan introduction to the worldview, principles, and arguments of atheism that highlights the positions strengths as well as its weaknesses. Continuum's Guides for the Perplexed are clear, concise and accessible introductions to thinkers, writers and subjects that students and readers can find especially challenging - or indeed downright bewildering. Concentrating specifically on what it is that makes the subject difficult to grasp, these books explain and explore key themes and ideas, guiding the reader towards a thorough understanding of demanding material.
Philosophy: The Basics by Nigel Warburton

Philosophy: The Basics gently eases the reader into the world of philosophy. Each chapter considers a key area of philosophy, explaining and exploring the basic ideas and themes including: Can you prove God exists?; How do we know right from wrong?; What are the limits of free speech?; Do you know how science works?; Is your mind different from your body?; Can you define art?; How should we treat non-human animals? For the fifth edition of this best-selling book, Nigel Warburton has added an entirely new chapter on animals, revised others and brought the further reading sections up to date. If you've ever asked "what is philosophy?", or wondered whether the world is really the way you think it is, this is the book for you.
A Little History of Philosophy by Nigel Warburton

Philosophy begins with questions about the nature of reality and how we should live. These were the concerns of Socrates, who spent his days in the ancient Athenian marketplace asking awkward questions, disconcerting the people he met by showing them how little they genuinely understood. This engaging book introduces the great thinkers in Western philosophy and explores their most compelling ideas about the world and how best to live in it. In forty brief chapters, Nigel Warburton takes us on a chronological tour of the major ideas in the history of philosophy. He provides interesting and often quirky stories of the lives and deaths of thought-provoking philosophers from Socrates, who chose to die by hemlock poisoning rather than live on without the freedom to think for himself, to Peter Singer, who asks the disquieting philosophical and ethical questions that haunt our own times. Warburton not only makes philosophy accessible, he offers inspiration to think, argue, reason, and question in the tradition of Socrates.

A Little History of Philosophy

presents the grand sweep of humanity's search for philosophical understanding and invites all to join in the discussion.


Philosophy Bites by David Edmonds & Nigel Warburton

What does Anthony Grayling think about atheism? Adrian Moore about infinity? For the last three years, some of the world's leading philosophers have held forth on their favorite topics on the immensely popular website philosophybites.com. The site now features more than one hundred short conversations, has had some 7 million downloads to date, and is listened to all over the globe. Philosophy Bites brings together the twenty-five best interviews from this hugely successful website. Leading philosophers – including Simon Blackburn, Alain de Botton, Will Kymlicka, Alexander Nehamas, and more than twenty others – discuss a wide range of philosophical issues in a surprisingly lively, informal, and personal way. For instance, Peter Singer, arguably the world's leading animal rights philosopher, states that for people living in the western world, vegetarianism is the only moral choice, but he allows that this would not be the case for an Inuit who lives by killing fish – causing an animal to suffer must be balanced against the necessity to survive. Julian Savulescu talks about the "yuk factor" – the natural revulsion that keeps us from practicing incest or cannibalism – attacking its use as an argument against gay rights and abortion. Anthony Appiah discusses cosmopolitanism, the idea that emphasizes that people around the world have much in common, and that we have to be able to live with people despite our differences. And Stephen Law shows why it is unreasonable to believe in an all-powerful, all-good deity. Time, infinity, evil, friendship, animals, wine, sport, tragedy – all of human life is here. And as these bite-sized interviews reveal, often the most brilliant philosophers are eager and able to convey their thoughts, simply and clearly, on the great ideas of philosophy.
Philosophy Bites Back by David Edmonds & Nigel Warburton

Philosophy Bites Back is the second book to come out of the hugely successful podcast Philosophy Bites. It presents a selection of lively interviews with leading philosophers of our time, who discuss the ideas and works of some of the most important thinkers in history. From the ancient classics of Socrates, Plato, and Aristotle, to the groundbreaking modern thought of Wittgenstein, Rawls, and Derrida, this volume spans over two and a half millennia of western philosophy and illuminates its most fascinating ideas. Philosophy Bites was set up in 2007 by David Edmonds and Nigel Warburton. It has had over 12 million downloads, and is listened to all over the world.


Thinking from A to Z by Nigel Warburton

What is humpty-dumptying? Do arguments from analogy ever stand up? How do I know when someone is using weasel words? What's the difference between a red herring and a straw man? This superb book, now in its third edition, will help anyone who wants to argue well and think critically. Using witty and topical examples, this fully-updated edition includes many new entries and updates the whole text. New entries include: Principle of Charity; Lawyer's Answer; Least Worst Option; Poisoning the Well; Sentimentality; Sunk Cost Fallacy; Weasel Words;"You would say that wouldn't you". Thinking from A to Z may not help you win every argument, but it will definitely give you the power to tell a good one from a bad one.
Den dubbla spiralen av James D. Watson
"Det har aldrig skrivits någonting som helt liknar denna indiskreta och verkligt uppseendeväckande bok (...) Han skriver med en driven romanförfattares bravur." Orden är tagna ur Alex Comforts recension i The Guardian. I både England och Amerika har den redan väckt en ofantlig uppmärksamhet och betecknas som ett kontroversiellt mästerstycke. Vad James D. Watson berättar är hur det gick till när han, blott 24-årig, tillsammans med Francis Crick gjorde den revolutionerande upptäckten av arvsanlagens struktur som senare renderade dem Nobelpriset 1962. Den dubbla spiralen är just benämningen på den molekyl i kroppens celler som reglerar ärftlighetens mekanism. Mycket talar för att Cricks och Watsons prestation innebär den viktigaste naturvetenskapliga upptäckten under detta århundrade, vid sidan av atomkraften, och målet vanns i en intensiv kapplöpning med vetenskapliga celebriteter på båda sidor om Atlanten. Watsons berättelse om kamp, tvivel, misslyckanden och den slutliga triumfen är i själva verket en memoar - och som sådan av högst ovanligt slag. Den berättar vad den unge mannen upplevde i Cambridge i England och på andra platser i Europa medan han arbetade sig fram mot sitt stora fynd. Den berättar om hans eget vardagsliv, hans förhållande till sina lärare och kamrater, sina medtävlare och vänner. Den handlar om ärelystnad och avundsjuka, om misstänksamhet och tillgivenhet. Det är en djupt mänsklig bok. Samtidigt har den genom den gradvisa, vetenskapliga bevisföringen fått något av en detektivroman över sig, och Watson har utnyttjat dessa möjligheter på ett briljant sätt. Hans bok erbjuder en verkligt spännande läsning på samma gång som den är nästa chockartat roande.
Before the Deluge by Herbert Wendt
In 1650 Bishop Usher calculated the age of the earth from the evidence of the Old Testament, and concluded that it was created at precisely 9 a.m. on October 26, 4004 B.C. Nowadays the 'uranium clock' estimates that the earth has been in existence between 3.5 and 5 billion years. This unimaginable increase in our time-scale raises the attendant problem of when life began to exist on our planet, how it developed, and when man first appeared. These are the questions which the science of paleontology set out to answer, using as its main evidence the petrified remains of the many forms of life, animal and vegetable, which flourished in earlier ages. And how paleontology found the answers - and what those answers are - is the subject of this fascinating book; and who found the answers, for Mr. Wendt has told the story primarily in terms of the men who have explored that remote world, and thus had done for this absorbing field what Gods, Graves and Scholars did for archaeology.
A History of the Warfare of Science with Theology in Christendom by Andrew D. White
Andrew D. White (1832-1918), historian, diplomat, and first president of Cornell University, advocated such progressive causes as equal rights for women and the removal of religious sectarianism from higher education. In this important work, which spawned a great deal of controversy at its appearance, White exhaustively documents the battle between science and religion in matters of creation versus evolution, the geocentric versus the heliocentric universe, and the 'fall of man' versus anthropology. The struggle of science over outmoded medieval concepts is still emerging. Even a century after its publication, White's great work has much to teach us about the dangerous effects of religious doctrinalism on education and moral growth.
Crimes Against Logic by Jamie Whyte
In the daily battle for our hearts and minds - not to mention our hard-earned cash - the truth is usually the first casualty. It's time we learned how to see through the rhetoric, faulty reasoning, and misinformation that we're subjected to from morning to night by talk-radio hosts, op-ed columnists, advertisers, self-help gurus, business "thinkers," and, of course, politicians. And no one is better equipped to show us how than award-winning philosopher Jamie Whyte. In Crimes Against Logic Whyte take us on a fast-paced, ruthlessly funny romp through the mulligan stew of can, folderol, and bogus logic served up in the media, at the office, and even in your own home. Applying his laserlike wit to dozens of timely examples, Whyte cuts through the haze of facts, figures, and double-talk and gets at the real truth behind what they're telling us.
The Third Man of the Double Helix by Maurice Wilkins
Francis Crick and Jim Watson are well known for their discovery of the structure of DNA in Cambridge in 1953. But they shared the Nobel Prize for their discovery fo the Double Helix with a third man, Maurice Wilkins, a diffident physicist who did not enjoy the limelight. He and his team at King's College London had painstakingly measured the angles, bonds, and orientations of the DNA structure - data that inspired Crick and Watson's celebrated model - and they then spent many years demonstrating that Crick and Watson were right before the Prize was awarded in 1962. Wilkins's career had already embaraced another momentous and highly controversial scientific achievement - ha had worked during World War II on the atomic bomb project - and he was to face a new controversy in the 1970s when his coworker at King's, the late Rosalind Franklin, was proclaimed the unsung heroine of the DNA story, and he was accused of exploiting her work. Now aged 86, Maurice Wilkins marks the fiftieth anniversary of the discovery of the Double Helix by telling, for the first time, his own story of the discovery of the DNA structure and his relationship with Rosalind Franklin. He also describes a life and career spanning many continents, from his idyllic early childhood in New Zealand via the Birmingham suburbs to Cambridge, Berkeley, and London, and recalls his encounters with distinguished scientists including Arthur Eddington, Niels Bohr, and J. D. Bernal. He also reflects on the role of scientists in a world still coping with the Bomb and facing the implications of the gene revolution, and considers, in this intimate history, the successes, problems, and politics of nearly a century of science.
Hjärnknäppt av Richard Wiseman
Påverkas ditt liv av det namn du fått? Hur skiljer du ett äkta leende från ett falskt? Kan någon får dig att minnas sånt som aldrig hänt? Är människor i småstäder hjälpsammare än de i storstan, och i så fall varför? I sin bok Hjärnknäppt undersöker professor Richard Wiseman många av vardagens underligheter och oväntade psykologiska samband. Till exempel att det stjärntecken vi är födda i verkligen har betydelse för vår personlighet. Fast bara om vi tror på astrologi! Att de flesta av oss är usla på att upptäcka lögn och bedrägeri får vi också veta. Men lite hjälp på traven får vi: Richard Wiseman ger några enkla tumregler för att avslöja lögnare (till exempel att de påfallande sällan använder order "jag"). Andra områden som Wiseman gör djupdykningar i är fenomen som tur (kan man vara född med den?), vidskeplighet (har dödat miljoner människor), beslutsfattande (det är svårt) och världens roligaste skämt (jo, det finns ett par). Kort sagt, i denna häpnadsväckande bok finns många märkliga insikter om den mänskliga naturen, insikter som du faktiskt har nytta av trots att de upptäckter som Wiseman gjort vid första anlblicken kan verka, just det, knäppa.
Quantum Leaps in the Wrong Direction by Charles M. Wynn & Arthur W. Wiggins
Get the straight story on things like astrology, ghosts, spontaneous human combustion, psychic surgery, and ESP. You hear about these fantastic happenings every day on television and in the supermarket tabloids. Is any of this true or are they making it all up? While many people tune in just for laughs, plenty of readers belive their outrageous claims - often because the simply don't have a clear notion of what science really is. So how do you figure out what constitutes real science and what is nonsense? Quantum Leaps in the Wrong Direction carefully deconstructs five examples of pseudoscience - UFOs, out-of-body experiences, astrology, creationism, and ESP - and gives easy recipes to test other dubious notions so that you can tell what lies in the realm of real science and what more properly deserves the tag of pseudoscience. Brilliantly illustrated with hilarious cartoons by the renowned science cartoonist Sidney Harris, Quantum Leaps in the Wrong Direction is wonderful fun as well as illuminating science. This witty, disarmingly delightful book is for anyone - but especially for those folks who secretly check their horoscope every day.
Logic for Dummies by
Mark Zegarelli
Logic concepts are more mainstream than you may realize. There's logic every place you look and in almost everything you do, from deciding which shirt to buy to asking your boss for a raise, and even to watching television, where themes of such shows as CSI and Numbers incorporate a variety of logistical studies. Logic For Dummies explains a vast array of logical concepts and processes in easy-to-understand language that make everything clear to you, whether you're a college student of a student of life. You'll find out about: Formal logic, syllogisms, constructing proofs and refutations, propositional and predicate logic, modal and fuzzy logic, symbolic logic, and deductive & inductive reasoning. Logic For Dummies tracks an introductory logic course at the college level. Concrete, real-world examples help you understand each concept you encounter, while fully worked out proofs and fun logic problems encourage you to apply what you've learned.
At the Water's Edge by Carl Zimmer
At the Water's Edge will change the way you think about your place in the world. The awesome journey of life's transformation from the first microbes 4 billion years ago to Homo sapiens today is an epic that we are only now beginning to grasp. Magnificent and bizarre, it is the story of how we got here, what we left behind, and what we brought with us. We all know about evolution, but it still seems absurd that our ancestors were fish. Darwin's idea of natural selection was the key to solving generation-to-generation evolution - microevolution - but it could only point us toward a complete explanation, still to come, of the engines of macroevolution, the transformation of body shapes across millions of years. Now drawing on the latest fossil discoveries and breakthrough scientific analysis, Carl Zimmer reveals how macorevolution works. Escorting us along the trail of discovery up to the current dramatic research in paleontology, ecology, genetics, and embryology, Zimmer shows how scientists today are unveiling the secrets of life that biologist struggled with two centuries ago. In this book, you will find a dazzling, brash literary talent and a rigorous scientific sensibility gracefully brought together. Carl Zimmer provides a comprehensive, lucid, and authoritative answer to the mystery of how nature actually made itself.
Evolution: The Triumph of an Idea by Carl Zimmer
Charles Darwin's Origin of Species was beautifully written, staunchly defended, and defiantly radical. Yet it emerged long before paleontologists and geologists worked out the chronology of life on Earth, and long before biologists uncovered the molecules that underlie heredity and natural selection. Carl Zimmer's Evolution presents a rich and up-to-date view of evolution that explores the far-reaching implications of Darwin's theory and emphasizes its power, significance, and relevance to our lives today. Filled with rich narrative, award winning science writing, and the most current information on topics ranging from Darwinian medicine and sexual selection to the origins of language, evolutionary psychology, and the controversies surrounding creationism, Evolution tells in riveting detail the story of a remarkable scientific journey, from the emergence to the triumph of an idea.
Microcosm by Carl Zimmer
What is life? Can we make it from scratch? Are there rules that all living things must obey? Can there be life without death? Biologists today are seeking answers to these fundamental questions about life. Few people know that many of those answers may reside in a species of bacteria that live in our guts: E. coli. In this startlingly original biography of a germ, Carl Zimmer traces E. coli's pivotal role in the history of biology, from the discovery of DNA to the latest advances in biotechnology. Zimmer describes the remarkably sophisticated strategies E. coli uses to stay alive, from practicing chemical warfare to building microbial cities. He reveals the many surprising and alarming parallels between E. coli's life and our own. Zimmer describes the profound insights E. coli has offered about evolution, by changing in real time and by revealing billions of years of history encoded in its genome. E. coli is also the most engineered species on Earth, and as scientists retool this microbe to produce life-saving drugs and clean fuel, they are discovering just how far the definition of life can be stretched. Microcosm is the first full story of the one species on Earth scientists know best. It is also the story of life itself, of its rules, its mysteries, and its future.
Parasite Rex by Carl Zimmer
Imagine a world where parasites control the minds of their hosts, sending them to their destruction. Imagine a world where parasites are masters of chemical warfare and camouflage, able to cloak themselves with their hosts' own molecules. Imagine a world where parasites steer the course of evolution, where the majority of species are parasites. Welcome to earth. Parasites are among the world's most successful and sophisticated organisms. They can transform the insides of other creatures into hospitable homes. They can evade the onslaught of the immune system and even make it serve them. They can even control the minds of their hosts and force them to do their bidding. And thanks to these skills, parasites may make up the majority of all species. Parasite Rex offers a guided tour to the hidden, fascinating world of parasites, from protozoans that turn rats into suicidal kamikazes to wasps that turn their own DNA into viruses to help them parasitize caterpillars. It follows scientists who are beginning to appreciate how parasites can control the fate of entire ecosystems and even steer the course of evolution.
A Planet of Viruses by Carl Zimmer
Viruses are the smallest living things known to science, and yet they hold the entire planet in their sway. We're most familiar with the viruses that give us colds or the flu, but viruses also cause a vast range of other diseases, including one disorder that makes people sprout branch-like growths as if they were trees. Viruses have been a part of our lives for so long, in fact, that we are actually part virus: the human genome contains more DNA from viruses than our own genes. Meanwhile, scientists are discovering viruses everywhere they look: in the soil, in the ocean, even in deep caves miles underground. A Planet of Viruses pulls back the veil on this hidden world. It presents the latest research on how viruses hold sway over our lives and our biosphere, how viruses helped give rise to the first life-forms, how viruses are producing new diseases, how we can harness viruses for our own ends, and how viruses will continue to control our fate for years to come.
Smithsonian Intimate Guide to Human Origins by Carl Zimmer
Charles Darwin knew that what made his theory of evolution so dangerous was what it said about the human race. People had, like all living things, evolved from older species - an African ape, in Darwin's own opinion. The notion was so scandalous that Darwin left it out altogether from the Origin of Species in 1859. Almost 150 years later, a vast amount of new evidence is now emerging to support Darwin's revolutionary insight - not only from fossils of our ancient relatives, but from our own DNA. The Smithsonian Guide to Human Evolution is a beautifully illustrated, elegantly brief tour of the new revolution in the study of where we came from.
Soul Made Flesh by Carl Zimmer
Soul Made Flesh tells the story of a dramatic turning point in history - the discovery of the role and importance of the human brain. The secrets of the brain were uncovered in seventeenth century England, against a deadly backdrop of civil war, regicide, and plague. At the beginning of this turbulent century, no one know how the brain worked; they didn't even know what an intact brain looked like. By the century's close, the science of the brain had been established, helping to overturn misconceptions about the body and to unseat philosophies about the mind and the universe that had ruled Western thought for centuries. Presiding over the rise of this new science was the founder of modern neurology, Thomas Willis, a fascinating yet forgotten figure who stood at the center of an extraordinary group of natural philosophers known as the Oxford Circle. Soul Made Flesh chronicles their groundbreaking revelations and gory experiments that first enshrined the brain as the chemical engine of reason, emotion, and madness - as the very seat of the human soul.
Den siste alkemisten i Paris av Lars Öhrström

Detta är en bok om upptäckter och katastrofer, exploatering och uppfinning, krig och vetenskap och om relationen mellan människor och de kemiska ämnen som vi och vår planet består av. Genom berättelser om vanliga och ovanliga människor runt om i världen presenterar Lars Öhrström ett flertal viktiga grundämnen och dessas märkvärdiga egenskaper. Vi får träffa afrikanska diktatorer som kontrollerar livsviktiga urantillgångar, upptäcktsresande från 1800-talet som söker ädelmetaller på oväntade ställen och industrispioner som stjäl hemligheterna bakom stålframställning. Vi får veta varför Hindenburg tragiskt fylldes med väte i stället för helium, hur nagellacksborttagning spelade en nyckelroll i första världskriget och den sanna historien bakom legenden om Napoleon och tennknapparna. Varje kapitel visar ett grundämnes kännetecknande egenskaper och de praktiska tillämpningar som de möjliggör. Detta är fascinerande, och ibland skrämmande, berättelser om hur kemin har använts genom historien.